Should I buy shares in sugar companies?
Jim Rogers darling sugar starts catching up - India's stocks explode, is Südzucker following?
There is movement again in the sugar market. In the autumn of last year, the sugar price shot up by more than 50 percent. Reason at the time: worries about unfavorable weather conditions in Asia and South America, the largest sugar producers in the world. In the meantime, the price has corrected somewhat, but has recently increased significantly again. Reason this time: The last El Nino was one of the strongest ever. That is why the International Sugar Organization (ISO) has raised its forecast for the supply deficit from 3.5 to 5.02 million tons. The sugar price has now risen by around 20 percent since the correction low in February.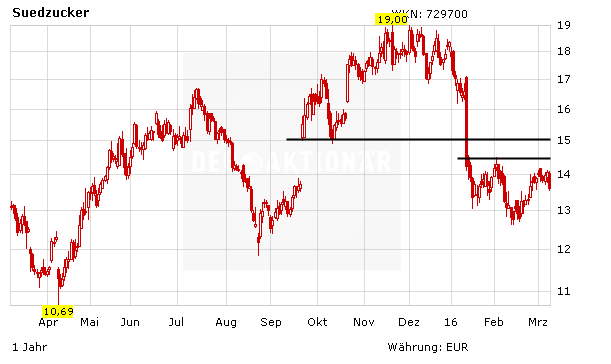 Photo: Börsenmedien AG
India's sugar stocks will not be slowed
However, the Indian sugar companies have recently started a real rally. On yesterday's trading day alone, Dwarikesh Sugar gained almost 18 percent. In the past few months, the paper has even increased eightfold. Things also went well at Mawana Sugars. The share gained ten percent yesterday, and the share has quadrupled since the low.
A sugar producer is also listed in Germany: Südzucker. The company has a market share of around 20 percent in the European sugar market. However, the share is not only lagging behind the Indian companies, but also the sugar price. On Tuesday the paper lost more than three percent to 13.60 euros. But here is an interesting entry opportunity. The Düsseldorf Bankhaus Lampe also sees it that way, rating the Südzucker share as "Buy" and a price target of EUR 20. The share should benefit from the soaring world market price for sugar as a result of the increased forecast for global sugar shortages by the International Sugar Organization (ISO), explains analyst Marc Gabriel.
And sugar prices could rise even further. At least Jim Rogers has been convinced of this for a long time. Last but not least, he cites the increasing demand, especially in the emerging countries, as the reason. In addition, the growing troubles around the world are likely to continue to fuel the situation on the sugar market.