Eight Boeing 787 Dreamliners have to stay on the ground
Economical in consumption, comfortable for the passengers - "Dreamliner" is what Boeing calls its innovative aircraft, which is made with a high proportion of particularly light composite materials. But eight machines of the type 787 have now been taken out of operation for investigations and repairs.
The reason: Boeing had found problems connecting fuselage parts. The US aircraft manufacturer announced that there were two production errors in the rear of the aircraft in the affected jets. Together they created a "condition that does not meet our design standards".
The website "The Air Current" had previously reported, citing informed circles, that the errors could cause part of the fuselage to fail under extreme stress. The eight machines are in use at United Airlines, Singapore Airlines and Air Canada, it said. Boeing did not provide any details on the production errors and their consequences, nor on the airlines concerned. The US aviation authority FAA had been informed, the company said.
The US company United Airlines announced that it owns one of the aircraft concerned and the jet is currently not in operation. Singapore Airlines also admitted that one of their 787-10 Dreamliners was affected by the technical problem. "The plane is not in service and we will work closely with Boeing on a solution," a spokesman for the Asian airline told Reuters.
Best seller 787
The 787 has been in passenger service since 2011. The machine is popular with airlines as a long-haul jet and a top seller because of its size and fuel efficiency. Boeing has already delivered almost 1,000 Dreamliners.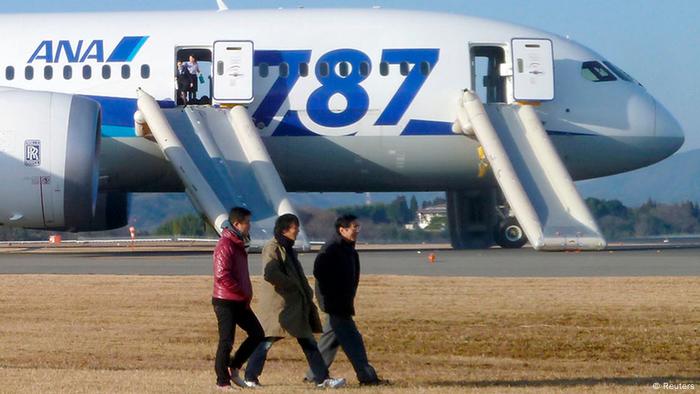 ANA 787 crashed after battery problems in Takamatsu (2013)
The problem with the hull is not the first breakdown in the history of this type. In 2013, when around 50 Dreamliners were in service around the world, the aircraft had to remain on the ground for three months after the batteries of two aircraft overheated. Regulators allowed the 787 to resume operations after Boeing redesigned the lithium-ion battery case. Last year, Singapore Airlines temporarily took two of its 787 off the flight schedule because the condition of some Rolls-Royce engines had deteriorated faster than expected.
The current shutdown of eight Dreamliners is another setback for Boeing. The group is currently going through a deep crisis. The company's most important model, the Boeing 737 MAX, has had to remain on the ground for more than a year after two crashes in which a total of 346 people were killed and may not be delivered. In addition, the corona-related slump in air traffic is causing airlines to reconsider ordering new aircraft.
AR / sth (dpa, ap, rtr)