How is our primary education going?
Welcome
News from January 22nd, 2021
Dear parents,
after two weeks of school closure and learning at a distance or in emergency care, all signs point to an extension of the restrictive measures (probably until mid-February initially). It also means we need to make changes to our schedule.
The School Development Day (SET) on February 1st, 2021 is canceled. Thus, the day is a completely "normal" lockdown day with emergency care, distance learning, etc.
On February 12th we wanted to celebrate Mardi Gras. We have to cancel this beautiful event because of the occasion.
For issuing certificates

The original certificate can be picked up at the school:
(However, only one child or one parent is allowed to enter the school grounds at a distance and MNB for this purpose. The certificate issue is then in building B, opposite the secretariat, in the foyer.
Please refer to the table for the delivery times!)
Only applies to the Lütjenburg location! The Seekrug location informs the parentsexternally through the issuing of certificates.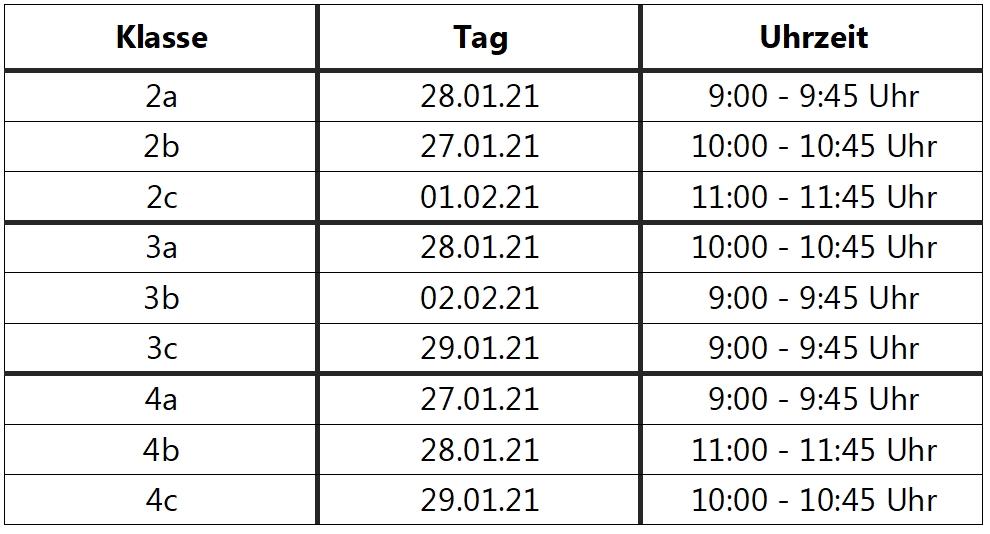 The certificate assessments can be given by phone / video on request. The original certificate will be handed out when face-to-face classes take place again.

You will receive a copy of the certificate by email on request, taking into account the data protection regulations.

As an exception, the original of the certificate can also be sent by post.
A large number of their children are now registered with the learning management system and can therefore be easily reached from a distance. If you have any problems, please contact the class teacher!
Your parental commitment is particularly important during this time! We would like to thank you very much for this!
With best regards
Matthias Esch
(Principal)