What are the Benefits of Tulsi Garlic
Pluck the basil, wash and dry in the salad spinner. Roast the pine nuts very lightly without fat. Finely dice the cheese and garlic. Then grate the garlic with the salt in a mortar. (The classic pesto is prepared in a mortar, of course you can also use a mixer). Add the pine nuts and mash. Then add the basil in smaller portions and work in. Also add the cheese and mash. Mix this paste with enough oil in a bowl to form a smooth cream.
The pesto tastes best fresh. It will keep for a few months in a boiled glass if you fill the glass to the brim with oil. You can keep the jars in the refrigerator or freeze them in plastic containers.
Pesto tastes wonderful with pasta but also as a spread, as a dip for vegetable sticks or as a seasoning sauce, for example. B. to grilled vegetables and to refine salads.
Asian pesto
Ingredients (for 6 servings):
100 g Indian basil (or Thai basil "Gaprao")
100 g coriander herb
4 cloves of garlic
50 g cashew nuts
Some coarse sea salt
Approx. 80 ml of peanut oil or sesame oil
Preparation:
Wash the herbs, pat dry, pluck the leaves off and chop finely. Finely chop the garlic and add to the blender with the cashew nuts and herbs. Puree with the oil and salt to a fine paste. If you prepare the pesto with a mortar, as in the recipe for classic pesto, it tastes even better. It goes well with Asian noodles like the carbohydrate-free konjac noodle, steamed vegetables, fish, and summer rolls.
Vegan strawberry cream with sweet basil pesto
Ingredients (for 4 servings)
For the cream:
150 g tofu
300 g strawberries
3 tbsp soy cream
1 ½ tbsp lemon juice
2 pinches of vanilla or 2 tablespoons of real vanilla sugar
Sweeteners as desired (rice syrup, coconut blossom sugar, xylitol or yacon syrup)
For the sweet pesto:
plucked basil leaves from 2 bunches
40 g almonds (soak in water overnight, then remove the brown skin, which can now be removed very easily)
2 tbsp lemon juice
3 tbsp oil (vegetable oil with as little taste as possible, e.g. almond oil)
3 tbsp sweetener of your choice (rice syrup, coconut blossom sugar or xylitol)
1 pinch of vanilla
Preparation:
Put some strawberries aside for decoration. Wash the remaining strawberries, drain them, pluck the green and puree with the lemon juice. Add the diced tofu and puree with all the ingredients to a cream. Sweeten as needed. For the sweet pesto, wash and dry the plucked leaves. Put the peeled almonds in the blender and grind them finely. Chop the basil leaves and put them in the blender with the rest of the ingredients. Puree everything into a creamy pesto. Spread the cream on dessert glasses, cover with pesto and decorate with strawberries and basil leaves.
Tip: Here you can also use the Indian or a Thai basil (tulsi) very well. Pine nuts, cashews or macadamia nuts are also suitable instead of almonds.
Pad Ga Prao: stir-fry tofu with holy basil
This stir-fry dish is often served with a fried egg on rice in Thailand. If you want, you can also prepare the dish with high-quality organic meat. Of course, it is also very tasty with tofu.
Ingredients per serving:
1 tbsp oil (coconut oil) 1 tbsp chopped garlic 2-10 small Thai chillies, depending on the desired heat 100 g finely diced tofu (the original recipe calls for pork, beef or chicken) 1 tbsp ume-su or soy sauce ( the original recipe calls for fish sauce) 1 teaspoon black soy sauce ¼ teaspoon rice syrup or coconut blossom sugar 2 teaspoons water 1 handful of plucked tulsi basil leaves and flowers
Preparation:
Grind the chillies in a mortar, add the garlic, mash and set aside. Wash the basil, pat dry and pluck the leaves and flowers. Heat the oil in the pan. Add the chillies and garlic and stir until lightly browned. Then add the tofu. Chop up with the spatula in the pan and fry evenly until nothing red is visible. Add syrup or sugar and sauces and keep stirring. When the liquid is soaked up, add the water and basil leaves. Stir briefly and serve over rice. If you want, you can fry an organic fried egg in the same pan and add it to the tofu.
Have fun trying out, enjoying and staying healthy!
* This article contains advertising. Our website contains affiliate links (* mark), i.e. references to partner companies, e.g. to the Amazon website. If a reader clicks on an affiliate link and subsequently on a product from our partner company, we may receive a small commission. This means that we cover part of the costs we have for the operation and maintenance of our website and can continue to keep the website free of charge for our readers.
donation
Your donation helps us
If you enjoyed this article, we would appreciate a small contribution to our work! Donate now with Paypal.
display
Distance training to become a holistic nutritionist
Are you interested in what's in our food and want to know how nutrients and vital substances affect the body? Do you want a healthy life for yourself, your family and fellow human beings? Nutritionists are popular - but the holistic aspect that is needed for sustainable health is often forgotten when giving advice. At the Academy of Naturopathy, you will get to know the connections between lifestyle and diet as well as physical and psychological well-being.
That educates interested people like you in around 16 months to become a holistic nutritionist out.
Is this article worth reading?
Share this article
swell
Prakash P, Gupta N. "Therapeutic uses of Ocimum sanctum Linn (Tulsi) with a note on eugenol and its pharmacological actions: a short review", Indian Journal Physiol. Pharmacol 2005, (Therapeutic Benefits of Tulsi Basil with a Reference to Eugenol and Its Pharmacological Effects: A Brief Review)
Goel RK, Sairam K, Dorababu M, Prabha T, Rao ChV. "Effect of standardized extract of Ocimum sanctum Linn on gastric mucosal offensive and defensive factors", Indian J Exp Biol., 2005 (effect of standardized basil extract on the gastric mucosa)
Pratima Nangia-Makker, Larry Tait, Victor Hogan, Fred Miller and Avraham Raz "Inhibition of breast tumor growth and angiogenesis by a medicinal herb: Ocimum sanctum", International Journal of Cancer, August 2007, (inhibition of breast cancer growth and angiogenesis by the Medicinal herb basil)
Premalatha Balachandran, Rajgopal Govindarajan, "Cancer an ayurvedic perspective", (PDF) Pharmacological Research, 2005, (Cancer from an Ayurvedic perspective)
Iten F, Saller R, "Fennel tea: risk assessment of the phytogenic monosubstance estragole in comparison to the natural multicomponent mixture", Research Complementary Medicine and Classical Naturopathy, April 2004
Sunarunsawat T., Boonnak T., Na Ayutthaya WD, Thirawarapan S, "Anti-hyperlipidemic and cardioprotective effects of Ocimum sanctum L. fixed oil in rats fed a high fat diet", J Basic Clin Physiol Pharmacol. 2010 (Anti-hyperlipidic and cardioprotective effects of basil in oil in rats fed a high-fat diet)
Baliga MS et al., "Ocimum sanctum L (Holy Basil or Tulsi) and its phytochemicals in the prevention and treatment of cancer", Journal of Nutrition Cancer, 2013, (Tulsi basil and its phytochemicals in the prevention and treatment of cancer)
Shinde V. et al., "Phytochemical and antibacterial studies on Ocimum kilimandscharicum", Planta Medica, 2010, (Phytochemical and antibacterial studies on Ocimum kilimandscharicum)
Shinde V. et al., "Comparative Phytochemical and Pharmacological Evaluations of Two Varieties of Ocimum basilicum for Antiarthritic Activity", Journal of Pharmacognosy and Phytochemistry, (Comparative phytochemical and pharmacological analyzes of two varieties of basil with regard to their antiarthritic activity)
Kalabharathi HL et al., "Antiinflammatory Activity of Fresh Tulsi Leaves (Ocimumm Sanctum) in Albino Rats," International Journal of Pharma & amp; Bio Sciences, October December 2011, (Anti-inflammatory activity of fresh Tulsi basil leaves in albino rats)
Carmen, "Medicinal Uses and Health Benefits of Basil," Natural Health, 2011.
Notice on health issues
This information is passed to the best of my knowledge and belief. They are intended exclusively for those interested and for further training and are in no way to be understood as diagnostic or therapeutic instructions. We do not assume any liability for damages of any kind, which arise directly or indirectly from the use of the information. If you suspect illness, please consult your doctor or alternative practitioner
Related articles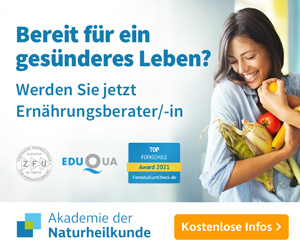 Subscribe to Newsletter
Exciting information about health and nutrition
1x per month
Login Successful. You will shortly receive a confirmation at the specified email address.
With your registration you allow the regular sending of the newsletter and accept the data protection regulations.
HEALTH CENTER © 2021 Neosmart Consulting AG. All rights reserved.