The world's first webcam
---
As of December 2013
---
How it all started
According to legend, Quentin Stafford Fraser and his colleagues developed the webcam in the computer laboratory at Cambridge University in 1991 because they wanted to save themselves wasting trips to the coffee machine. This was in the corridor in front of a room known as the Trojan Room and was used by around 15 employees who were distributed throughout the computer laboratory. A networked Acorn Archimedes computer, which was equipped with a video grabber card, was running in the Trojan Room. A camera placed in front of the coffee machine was connected to this computer. Paul Jardetzky wrote a server program that refreshed the camera's image every three minutes, and Fraser wrote the associated client XCoffee. In this way, all employees could check the level of the coffee pot over the network without leaving their workplace.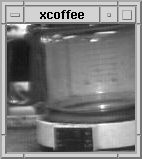 Fill level in XCoffee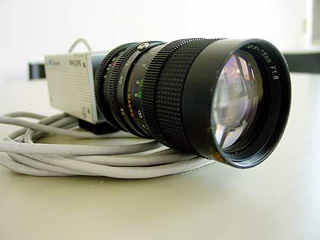 Philips CCD camera - the world's first webcam
---
A legend is born
XCoffee first attracted attention after Bob Metcalfe visited the lab and reported on it in Comm Week in January 1992. When Daniel Gordon and Martyn Robertson took over the project, the pictures were published for the first time in November 1993 on the internet, which was then still quite clear. This is how the cult object Trojan Room Coffee Machine emerged from the ordinary Krups ProAroma. In 1996 the number of visitors reached the magical limit of one million.

The website with the picture of the coffee pot
---
The end
The coffee machine was replaced several times with identical models. In the spring of 2001, the last machine in Cambridge had boiled out. The water tank was leaking, the move to a new building was imminent and the coffee was supposedly more iconic than good. For these reasons, the last "Trojan Room Coffee Machine" on duty since 1997 should be auctioned on eBay. By then, around 2.4 million people had visited the Internet place of worship. The last image from the webcam showed the server being switched off.

The last picture
---
The resurrection
The auction began with a desired bid of £ 300, and Spiegel Online won the bid for £ 3,350 or DM 10,452.70 on August 11, 2001 at 2:39:29 pm. The "Trojan Room Coffee Machine" made history again - as the most expensive broken coffee machine in the world. After it was repaired free of charge by Krups, the relic from the old days is brewing steaming coffee again and can be watched again on the Internet via the new Trojan Room Caffee Cam from Spiegel Online.

The coffee machine bought at auction
The FogCam at San Francisco State University, which was launched in 1994 as a student project, now bears the honorable title of "Oldest Active Webcam".
---
Comments | Visitors since January 1998: 8968383
---
© 1998-2021 by Harald Gabler