How do I start doing photo shoots
Homestory Indoor Portraits: How to make a photo shoot at home
On cold or rainy days, an outdoor portrait photo shoot is not always an advantage. But not every photographer feels comfortable in the photo studio against a white background. Therefore, indoor portrait photo shoots, so-called home stories, are currently more and more in the making. However, they not only offer a great alternative to outside in bad weather.
As the name suggests: The photo shoot can take place at home or in other apartments. The atmosphere is usually very relaxed, which is also reflected in the pictures.
If you feel like doing such shootings more often in the future, I have put together some useful tips in this post.
I see shooting indoor portraits & home stories as a sub-category of general people photography, about which you can find all portrait basics in the large guide.
1. Find a suitable outfit for the home shoot
There are actually hardly any "rules" for the outfit. Depending on the apartment in which the shoot is taking place, it can be adjusted. E.g. in terms of color or the furnishing style.
However, an important thought can be:
The whole shoot has a secret character, as elements from everyday life can often be found in the apartment (sofa, bed, kitchen, etc.). If it is their own apartment, the viewer will always get an intimate glimpse of that person's private life somewhere later.
That's why people often dress the way they usually live at home: Lighter clothes, or in sweatpants, too. Everything is allowed and in the end it depends on who or what the photos are made for and what mood is conveyed.
2. The right location for home story portraits
Find a booth
We'd already have that outfit. Now we come to the location. I myself was once asked by a family to photograph a kind of report from you at home. Then the location is clear.
If you want to do a TfP shoot, you have several options:
You take photos at the model's home
You have a nice apartment
You book a daylight studio with the appropriate equipment
You book a holiday apartment / hotel room / etc.
The last tip in particular offers a lot of possibilities. Not everyone has a photo-suitable apartment like in the catalog or wants to present this private area to the public. A daylight studio with the appropriate equipment is also cool, but photographers regularly shoot here. Individuality could be lost (if thousands of photos from various photographers were floating around in the same place on the Internet).
It is therefore a good option to simply book accommodation for a day through a provider and shoot there. Unless it's a commercial shoot, that shouldn't be a problem. If you want to use the photos of the place commercially afterwards, I would still get a permit.
Find the best spots
Once an apartment has been found, it is important to find a suitable corner. There are many options here. But since I want to photograph available light portraits as usual, I primarily focus on light. We'll get to that later.
With the location itself, you now have to find a setting where the background is in harmony with the rest. So the choice of location is already about the image design, which I will also come to later.
In general, you should start to let the model interact with the scenery and "insert" it harmoniously.
Here some examples:
Put the model on the sofa / bed / chair
Have the model lean against certain walls / refrigerator / windows
Position the model on the floor
Make a conscious decision on a room and let the model flow into it. Of course, the model can also connect to the location using props that can be found there.
Tip: Window panes also offer an opportunity for interesting effects. Simply place your model behind it and take photos through the glass with all the reflections.
3. Equipment for indoor portrait photography
Similar to my article on successful street portrait photography, I want to limit myself to available light. So lightning falls out of here too. This often makes the mood a little more natural, but then you are also tied to times when there is enough light.
In contrast to outdoor portraits, we often have a space problem indoors. That's why I would Lens up to a maximum of 50mm fixed focal length choose. Specifically, I recommend a 24mm, 35mm or 50mm lens as a fixed focal length.
Are you already in the newsletter?
Just like over 5000 photographers, you will regularly receive the best blog posts in your inbox. Simple and without obligation. You can unsubscribe yourself anytime.
Fixed focal lengths have the advantage here of being a little more powerful, which can also be used in many apartments.
All you need then is the appropriate camera body and a reflector.
Here are a few links to my equipment recommendations:
That was it. If you want, you can, for example, get a glass prism to hold it in front of the camera for effects. I will explain in a moment how a foreground makes your picture better.
4. Find and use the best light for the photo shoot at home
First things first, provided it is bright outside and light falls into the apartment:
Turn off the light!
That is a essential tip for indoor portraits. You may think that it is getting darker inside after all. That is also true.
The quantity of light decreases - but the quality of light increases dramatically!
The artificial light from the lamps is usually very warm. In comparison, the daylight on the windows was very cold. So mixed light is created. Since we only have the camera on a light temperature so the second should be eliminated.
Now you can go in search of daylight undisturbed. First analyze: Does it fall directly on the windows or does it fill the room softly with light?
As described in my Available Light Primer (advertising), dealing with hard light is more difficult. In the book, however, I will explain all types of light to you in detail and how to deal with them.
I would only work with hard light if it creates an exciting play of light and shadow. Otherwise I recommend looking for and using soft light.
When the sky is cloudy, this always comes in directed from the window. At the window is often the easiest and most effective way to take photos with directed light.
But where should you take photos from? A simple possibility is if you with the light take pictures. The model looks in the direction of the window and is evenly illuminated.
Of course, you can also try to let the light come in from the side, as above, and thus get more depth.
Brief note on our own behalf: Useful blog posts like this one only live with some advertising. With my Lightroom presets you not only improve your post-processing, but also support the blog at the same time:
Tip: It often makes sense to use the reflector to brighten the model's face from below. But this is not always necessary. If there is no soft light, you can also create shadows and thus soft light for your model with the semi-transparent, white reflector side.
This is just one example of many for dealing with light - of course you can also feel your way around backlighting, for example.
5. Image composition for home stories
After choosing the location and light, you now have the task of finding a harmonious section of reality by aligning the camera and moving around in the room.
It is best to start with deciding whether your model will be centered or placed on the golden ratio in the photo. Then you analyze the elements in the background.
Is something in the background disturbing or cutting the model's head?
All elements in the background appear as shapes on the finished photo and can negatively affect the model. Avoid such situations.
You can find out exactly how to do this in my extensive article on successful image designs.
Tip: For a picture with more depth, it is advisable to build up the photo in layers. To do this, you have to take photos with a large depth of field. In this way, objects can be blurred in the foreground and background. You can find out how to do this in this article about increased depth of field.
6. Proper posing
I already got rid of a little tip above: Let the model interact with the environment. Poses can therefore be built up from pieces of furniture, for example.
Whether sitting, lying, or standing - here too it can be useful not to let the model pose rigidly. Instead, create a framework in which the model should move independently.
There are more tips here for better and more candid poses.
Especially when it comes to photos of couples, it is very important not to rely on rigid poses. Instead, you let the people act independently and capture the moments as an observer.
7. Post processing
I mostly use it for post-processing only Lightroomsaving me a lot of time. Here I can easily put a color look over an entire series. And even small retouching is easy to do by hand.
In the color looks, I attach great importance to the skin tone, which should not look unnatural despite the many color distortions. Instead, always strong and healthy. To do this, you should take a closer look at the HSL settings in Lightroom.
The complete color look would go beyond the scope of this article. For atmospheric picture looks, I want you in Self-promotion recommend my new color master video training for Lightroom, as well as my tried and tested Black It presets.
Conclusion
Homestory portrait shoots are versatile and can offer a little variety to your portfolio. As always, you have to manage to bring all of the "components" mentioned above into harmony.
Overall, however, it is feasible and you can experiment indoors under relatively controllable conditions. But even here you should try to take photos during the day in order to be able to use a homogeneous window light from the outside.
If it gets too dark outside and you have to accept artificial light, it can also be better to completely block off the daylight from the outside. So again there is only one light source and you avoid mixed light.
With this in mind, I wish you a lot of fun and success with your next homestory portrait photo shoot!
Models: Charlotte Fuchs & Michelle Schumann
Do you want to shoot more creative portraits at Available Light right away?
in the free portrait email course Along with many PDF resources, you will learn how to photograph ingenious portraits at Available Light step by step, as well as 5 Lightroom hacks, without which I no longer want to work. Subscribe to the newsletter now and you will receive the course along with other useful tricks and offers for portrait photography.
You can unsubscribe yourself anytime.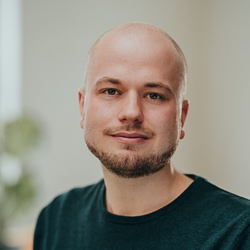 Markus Thoma
My name is Markus and I write about the creative art of photography from my experience as a professional photographer. I prefer to take portraits outdoors - in natural light. Because less is usually more. Every now and then I like to travel. When I'm not taking photos, you can find me at Metalcore concerts, in nature or at the buffet. Take a look at my social media channels: