How can I get people for photo shoots
The "problem" of individual photo shoots and how you can solve it
The way photo shoots are offered is changing. When I was little it was common to just go to the nearest photo studio in town. That's how you knew it. The shoots then took place in front of a canvas (from which you could at least choose the color) and lasted a maximum of half an hour. The light was usually already set on site so that it was possible to start immediately. The price was often not even 50 € (or at that time still marks).
Even if you didn't want passport or application photos, you got itthe final result - a few photos that looked very sober and clean. The main thing is a good smile. And even if someone tried it, somehow "wild" or "sexy" the standard light and the dreary background quickly brings you back to reality.
Not that we get ourselves wrong: I have absolutely nothing against any photo studio. Only the photos often look a bit similar in more classic facilities.
I think it just makes people feel good when a photo is perfectly lit. You get the impression that you have invested the money correctly. Everything super clean, no rough edges. Even if this results in less unusual photo ideas, locations or other special features. In the course of time, the skin also began to be reworked a little. That usually happened within minutes directly after the shoot. It was quickly stamped a bit flat. Who needs skin pores?
But what do you want to do: If the budget is tight (which customers often expect here), it has to be done quickly. And in general: who wants to longer than five minutes wait for photos? Nobody. So it has to be quick and cheap. The price was based on the number of photos that you held in your hand in the end, printed on beautiful paper.
Which shootings were requested from me
In 2010 I came into contact with photography myself. After about 1-2 years, I slowly dared to approach people. As a result, the first requests for portrait photo shoots were received around 2012. The people who wrote to me back then they all wanted the same thing:
Something else.
They didn't want the standard. they wanted "something else". One could say "something special". Something new and individual. Just not to the set light to the photo studio.
They wanted photos that were individually adapted to themselves. Not in front of a white screen and perfectly lit. It is best to do it outside, naturally and in an atmospheric way. That's why it didn't even occur to me for a long time to set up a studio at all. Instead, I bought my gear one by one and always on mobility respected.
Admittedly, a studio has its advantages in the cold season. If you don't want to go through a winter shoot, you can, for example, switch to home shootings. There is nothing to be said against a studio per se in the long term, but you should try to get as much out of it as possible.
Many even came to me with a specific idea of ​​what it should look like in the end. If not, you have more or less come up with something together. Then looked for an interesting place and took photos.
How is the photographer selected today?
Today the whole thing is similar. Most of the time, people write to me saying that they like my style. Well, it won't be anymore simply to the next photo studio went. Instead, they are looking for a photographer who really likes the style. The internet and social media make the whole thing even easier.
You can click through loads of photographers from the region and then pick the one from whom you can find the photos best.
Once you have found a photographer who makes the photos look good and likes the style, you often run into a problem: the price. Unfortunately, this is often referred to as a too expensive classified.
"It used to be not that expensive either."

"Photographer XY makes it a lot cheaper."
The next photographer is being looked for.
The new awareness of the value of such shootings is only just beginning to take shape. Sometimes portfolios don't show the client clearly enough What them at all which one Quality expected. Then why should you pay the price at all? So the decision is often made for the cheaper photographer, who may not have been in business that long (and thus sometimes has correspondingly lower prices).
The price as a selection criterion?
As a customer, shouldn't you even take that as critical? Why is this photographer asking for 27 photos only 45 €whereas the competitor pays € 180 for 6 photos? (Actually, you really want to anyway all fotos have, even the unedited. Even those where you have your eyes closed. And of course the fuzzy ones too.)
Of course everyone starts small. And that also with the prices. If you haven't been in business long and get your first inquiries, you don't ask much. You're just happy that people approach you on their own initiative and want photos.
At the time, I didn't know anything about prices either. I was happy to even be able to hold the camera.
A disadvantage at such comparatively low prices: It is more and more customers who come first and foremost a bargain want to do.
The price may bea first indication be that something is wrong. Why book the photographer for 1200 € for the wedding when the other one snaps it for 350 € too? Or even the acquaintance for lukewarm.
(A popular trick is to invite a casual photographer to the wedding and ask him to bring his camera. Mostly a situation that nobody has anything to do with: the wedding guest can neither really enjoy the celebration, nor can the photos turn out to be the best. Nevertheless, they have to be looked at for a lifetime.)
Even if people already have a new idea of ​​the end result and the type of shoot: When it comes to price, this awareness has often not yet been fully consolidated. The photos should be elaborately and creatively photographed, have that certain something and be professionally retouched. But in the end it shouldn't cost more than a fuff. It costs more with "Normal" or "Other" Neither do photographers.
The new concept of photo shoots
Compared to the classic photo studio from back then, the photo shoots have changed. They have become more exclusive. And that is also noticeable in the price. Nobody sits in a studio here, waiting for walk-in customers with the lights installed. This is a person who takes extra time upon request. From the time of booking, she regularly worries about where and how she takes photos before going to bed. Most of the time, these thoughts are present until shortly before the shoot.
What type is my client? How do I position it? Where is the shoot taking place? How will be the weather? Will it be a clear sunset? Where can you evade if necessary?
The photographer meets on site with the customer. He too has no supernatural abilities, but has to drive the car like everyone else. Often not to mention the travel time.
In a studio, everything is usually on tripods or even hangs from the ceiling on a rail system. I haven't found anything like it in the forest before. And the normal tripods often don't get along with the wind at all. Say: An assistant is needed. Many photographers even have it in the package a make-up artist contain. These people don't do it for free either. Even if the mobile equipment looks a little less than in the studio: Don't worry, it was still expensive enough.
Are you already in the newsletter?
Just like over 5000 photographers, you will regularly receive the best blog posts in your inbox. Simple and without obligation. You can unsubscribe yourself anytime.
After about 1 to 2 hours it is done. Ideally, all of the ideas and thoughts that were previously pondered on have been put into practice. The shoot is over.
The rest of the handling of the shoot
Now it goes home to the computer, where you implement what you think for years taught in tutorials: A professional post-production. And that is not done in two minutes while the customer stands by and waits. No. It takes longer. I can understand it when it sometimes seems like an eternity to people and then customers do it every day. But one tries to do it as quickly as possible to bring the stage and to keep the waiting time as short as possible.
The customer then receives the photos digitally and can freely decide how many and how large to print out the photos. I also make the photos available in web resolution by default, so that it is easier to show them on different platforms.
If you want a lot of prints from the photos, you can often get away with it cheaper than in a conventional photo studio. Because here the digital files are often retained and you pay per print.
As you can see: The concepts of fast shooting in a classic photo studio and individual outdoor shooting differ widely.
But even if the photographer is initially praised and asked for because of his special style: Often a different style is also possible if it is too expensive. He wasn't that great either.
In the end, there are still many people for whom a shoot is worth every penny. You book the photographer for his style, his ideas, his implementation, his commitment and the post-production. Even if it costs a few euros more than the competition: The simple photo shoot becomes an experience.
This is how you attract customers who appreciate your work
As a photographer, you are looking for people who appreciate what you are doing for individual outdoor photo shoots. And are willing to pay a fair price for this quality. But how do you get to this target group? Finally, I would like to give you a few tips here:
The portfolio
The portfolio is the figurehead for every photographer. Mostly it can be found on the website, but works are often also shown on social media. Here you should pay particular attention to three points:
Topicality: Keep the portfolio up to date. I myself upload the new photos immediately after every 2nd - 3rd shoot.
Quality not quantity:Always uploading new things doesn't mean that you should end up with hundreds of photos in your portfolio. Sort out outdated photos. Or at least those that no longer meet your current quality standards. (Incidentally, this is also a good tip for Instagram: The follow-up rate increases if the gallery really only shows the top works.)
Show what the customer can get from you: Only saying when asked that you also offer this and that just doesn't have that much power. It is better if your portfolio shows what your customer can get from you right from the start. E.g. Portraits, wedding photos, business portraits or whatever you do best. However, at some point it becomes incredible when you show photos from 15 different genres. Just as you are sent by your family doctor to the respective specialist, you can show your specialization. Focus on the most important things!
Your prices
Stand behind what you ask! After all, you decided it was for yourself, nobody else. It doesn't help, try to undercut the competition. The customers who value you and your work will pay the price. The others just don't. It works like a kind of filter. Know your worth and you will attract the right people in the long run.
Conclusion
Even if customers gradually develop a new sense of what they want in the end and what a shoot is worth: do it to people with a good portfolio easy to recognizewhat they even get in the end. It's no longer just going to the next best photographer in town. I often notice that even further journeys are accepted.
Customers can often benefit from receiving the finished photos digitally. Often times, it is no longer calculated according to individual deductions. In the packages, the number of finished photos can usually be increased at the end.
Be creativewhen you put together your shooting packages as an offer! You don't always have to offer all the details in the same way as the competition. There is always scope, e.g. when and in what form people receive the photos. That goes from the wooden box to the quick digital download. It also has to fit the industry. So you can set an individual framework piece by piece, like With you the shoots are running and what they cost.
The contribution went in a completely different direction than the previous ones. I think you will know one or the other situation and find yourself here again. If so, then share the post and comment for some feedback!
Do you want to shoot more creative portraits at Available Light right away?
in the free portrait email course Along with many PDF resources, you will learn how to photograph ingenious portraits at Available Light step by step, as well as 5 Lightroom hacks, without which I no longer want to work. Subscribe to the newsletter now and you will receive the course along with other useful tricks and offers for portrait photography.
You can unsubscribe yourself anytime.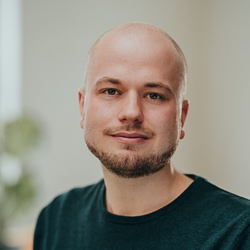 Markus Thoma
My name is Markus and I write about the creative art of photography from my experience as a professional photographer. I prefer to take portraits outdoors - in natural light. Because less is usually more. Every now and then I like to travel. When I'm not taking photos, you can find me at Metalcore concerts, in nature or at the buffet. Take a look at my social media channels: