Weather, climate, climate tables, temperatures & best travel times worldwide
Climate Qatar
Due to its small size of only 80 by 180 km and a few hills, the climate in Qatar is just 100 m high very uniform. Because of its location on the Persian Gulf, Qatar owns Consistently high temperatures all year round and a great sultriness of 85%.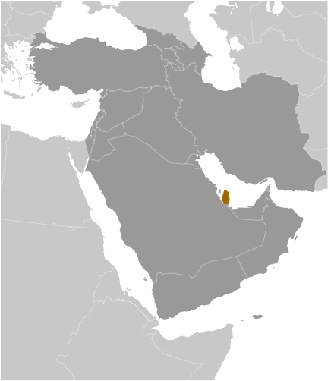 The summer are very hot with peak values ​​up to 50 ° C; the mean (!) July temperature is 36 ° C and hardly goes down even at night. At this time of year you can actually only stay in air-conditioned buildings. Anyone who is only outdoors for a short time will be sweaty within a few minutes. However, one should always be careful not to catch a cold in Qatar. Because if you go from 40 ° C in the open air to air-conditioned shopping malls or hotels that have been cooled down to a little over 20 ° C, you can catch a cold very quickly.
The winter are more moderate and milder with average temperatures of 16-18 ° C. During the day the thermometer rises 25-30 ° C. The evenings are pleasantly cool.
The low rainfall of less than 100 mm fall in winter and at the beginning of spring. In the summer months from June to September there is no precipitation. This makes Qatar one of the driest countries on earth.
Kick frequently Sandstorms on, especially the dry one Shamalblowing from the northwest and severely impairing the distance view. The sun is then invisible for around 25% of the day.
Weather Qatar
Weather in Doha, the capital of Qatar
Weather in Qatar: The temperatures and rainfall for Doha in Qatar are taken from the yr.no website and provided by the Norwegian Meteorological Institute and the Norwegian Broadcasting Corporation. The forecast is updated four times a day.
Best time to travel to Qatar
If you are in Qatar not on business but as a holidaymaker, it is advisable, similar to most other countries on the Arabian Peninsula, to leave the country in winter November to early March to visit. During this time, the daytime temperature is below 30 ° C and evenings are pleasantly cool, so that you can enjoy your holiday better than in the other months.
Due to the great heat and sandstorms in Qatar, however, summer is not recommended as a travel time.
Climate table Qatar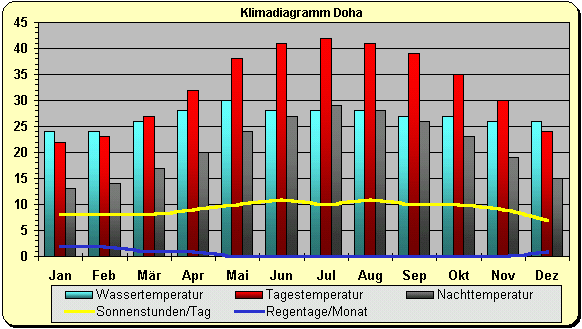 Climate in Qatar: Doha
You can find more climate information about Qatar here.
Climate in Western Asia
For information on the climate, the best travel time and weather in other West Asian countries, simply click on the country names on the map: