Do you want to promote your music?
Music Promo Ideas To Do Right Now!
May 13, 2020
30 free music marketing tips that you can implement right away
Band blog

Independent artists have more opportunities than ever to start their own careers without label support or a large budget. As we see more and more unsigned artists break through on their own, many new artists don't know where to start. Young bands find it difficult to set up a successful advertising campaign for their new album. Often there are many small things that create momentum and dynamism in the music world. You are in control of your own success. You can't assume that the world has just been waiting for your next song and it will automatically turn out to be a blast. Better to get down to work on some of these "smaller" promo levers that can be achieved without spending a lot of time and money. In this article, I've written down 30 music marketing ideas for you to use as inspiration.
How to properly promote your music in 2020
It should go without saying, but first and foremost, your main focus must be on making good music! You can follow the tips and promo ideas below 1: 1, but if your track, EP or album is not well written or produced, it is still likely to be unsuccessful. Now that we've got that out of the way, let's look for the best free ways to independently promote your music in the modern music landscape. Let's go!
1. Take new band photos
Grab a friend with a good camera and do a DIY photo shoot. Have lots of fun with it! What you may lack in photography skills, lenses, or lighting, you may make up for by capturing the perfect moment. Bring some outfits or costumes. Once you've overcome the initial discomfort of posing for the camera, photo shoots can be fun. And every time you do a shoot, you'll be able to better define how you want to present your musical identity to the audience. Make sure you take a lot of pictures in different crops: square, landscape, portrait, close-up, etc. so you don't end up annoyed.
2. Update your bio!
Make sure your bio and tagline is up to date on Facebook, Instagram, SoundCloud, Snapchat, YouTube, etc. Social media trends change fast, so making this stuff out of date is just bad. However, you should also keep the content on your website up to date. A refresher takes less than an hour. Check all of your links too.
3. Create a Facebook ad
When you have something cool to promote, advertise it on Facebook with ads to grow your fan base. For the target audience, choose people who listen to similar music or celebrate similar bands. If your fan base is big enough, you can also choose a "similar audience" as your target group. Once you've done this a couple of times, you'll get a feel for Successful Ads. It's good if the ad includes a promotion so that the ads refinance for you
4. Do a free interview on bandup.blog
A super easy way to participate that I offer musicians and bands on the blog is that they can get a free interview here. It's a great way to network with other bands and receive requests for concerts. All you have to do is download the guide for the interview and send it to my email address [email protected] You can use the interview to promote your new album and you will receive a backlink to your website. It's also a good reference and can be used in your press kit. You can find more free participation opportunities here.
5. Do you already have a blue tick?
Would you like to have one of those "verified" ticks on your accounts? Here you can find out how you can get verified on Spotify. The next important account for you should be Instagram. You can read here how to get a blue tick there. Just give it a try. If it works, you are official! If it doesn't work, you will know when it will work.
6. Record a "How To" video
Pick a topic that you know well and record a simple video. You then upload that to your tape channel. Maybe it will turn into a small series. You can make people aware of your music by teaching them how to do something specific: planning a tour, finding a suitable rehearsal room, or really dealing with fans. Actually exactly what I'm trying to do here on the blog. It is best to make sure that you have a current topic, as these are searched for more often and there are probably not that many videos of them yet.
7. Street music
Street music has the power to turn a flat pedestrian zone into a lively part of a city. Use this free opportunity for yourself. Every band should have done this once, because you learn a lot from it. In this article for street music I have summarized exactly why and how you can do it. There are a few things to keep in mind. Did you know that you can't play everywhere, for example?
8. Check your analysis
Dedicate an hour each week to reviewing your key stats. Find out who is listening to your music and especially where. See the analytics in your various accounts, including Spotify for Artists, Apple Music, Facebook Ads Manager, your YouTube channel and wherever else you can find something. It is also very important to evaluate the data from your website. The best way to do this is through Google Analytics. Does your actual audience look like what you imagine your audience to be? How old are your fans? Where do your listeners live? This information can help you in a number of ways: more targeted advertising, smarter tour planning, and more effective band branding in general.
9. Cover a song with video
Cover songs are a great way to expand your audience and get listeners to your real music. Keep it simple: take a camera, find a famous song and hit record! Film yourself on a famous song cover of a famous song and upload it to YouTube, Facebook and IGTV. You don't need a lot of cuts. Tip: Choose a song that hasn't been around for long, then you'll be one of the first! If people like the cover, they'll pull in more of your stuff.
10. Have your professional band website built for you
When you have a good website for your band, you are no longer dependent on other social platforms. Meanwhile a website belongs to a band. It is the central point of contact for fans, labels and bookers. For this reason, these people have to provide the information they need. You can build your website for free on modular platforms. Unfortunately, these are not ideal for musicians and are usually not found in search engines. Since I work in the industry and do nothing other than building professional websites all day, I have recently started offering this to bands at low prices. So if you don't have a website yet, you can find out more here.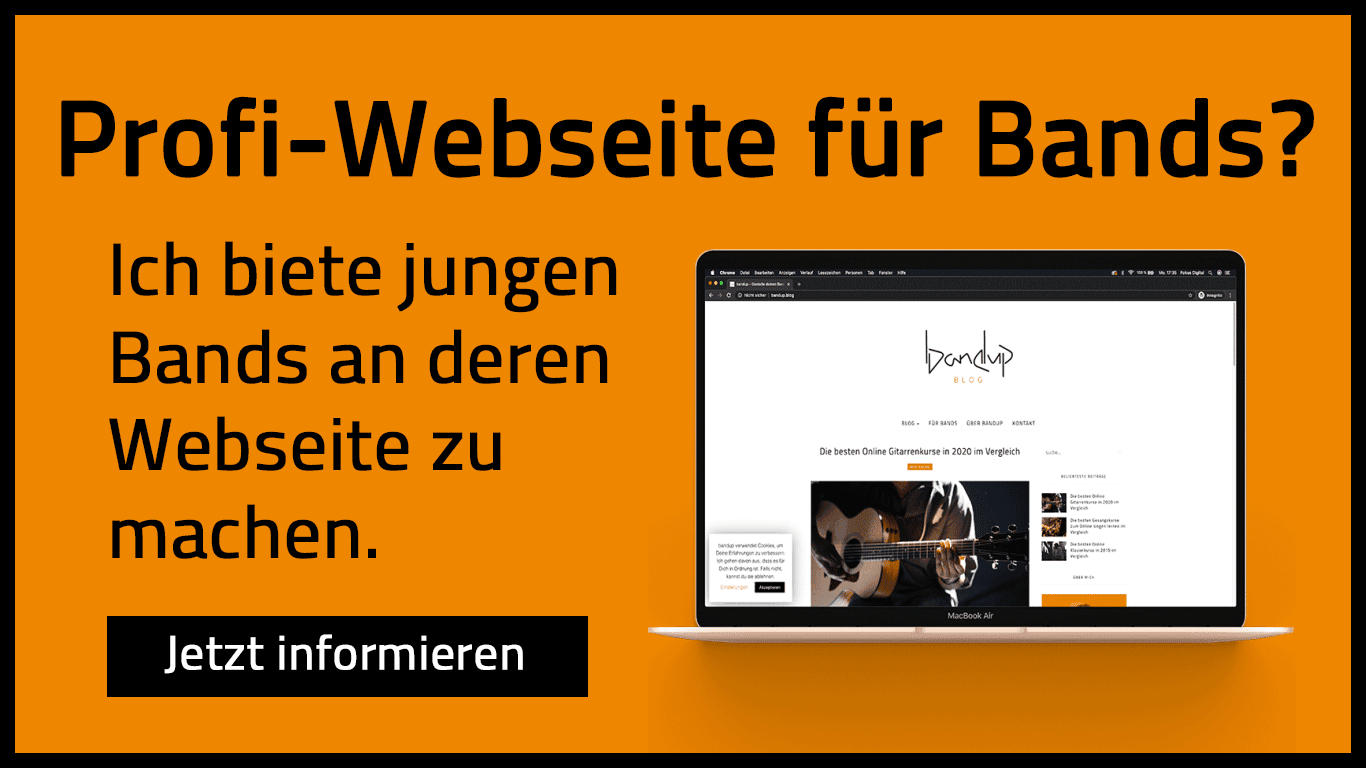 11. Put the song "Merchandise" on your set list
When your adrenaline is pumping on stage, it's easy to forget (or easy to ignore) that you should tell your fans about your sales table. So put it on your set list, just like a song. And make sure to announce that you will be there after the show. If you're uncomfortable with the straightforward merchandise shout-out, you can always talk about the song you're about to play and finish off by saying that the song is on the album available at your counter.
12. Create a Spotify playlist
Create a playlist of songs grouped by subject, genre, or region and share them publicly. Introduce some of your favorite tracks from other artists and sprinkle in some of your songs. If you want to get extra points, change the playlist every week or create a shared playlist that your fans and friends can work on with you.
13. Have your texts translated
Use a platform that translates your music into different languages. You can do this for your band on lyric translates or lyrics for free. There is usually a community there that will help you. This is most useful if you have English texts and have them translated into German. This allows all people to read the lyrics again and possibly build a closer connection to the songs because they understand them better.
14. Stream a concert from your living room
Just give Facebook Live a try. Choose a time to broadcast a short live set. Promote it on social media a week before. Maybe you will also let your fans vote for the setlist? Not a Facebook user? You can try streaming a live set using other tools like Instagram, YouTube, or Twitch. You can even stream on multiple platforms at the same time using a tool like Restream.io. It doesn't have to be chic - on the couch, in the rehearsal room, on the terrace. Play some songs. Do a Q&A with your fans. Whatever sounds the most exciting. Here you can find information on how to host a living room concert.
15. Make yourself a cool email signature
Does your email signature say "Sent from my iPhone"? Yes, that is not enough. Your signature should contain at least your name, email address, and website link. It is also very important to list your social media channels there. For a bonus, for example, a call to action ("Subscribe to our e-mail newsletter") can be used in the form of a signature banner. Half the battle of the do-it-yourself musician is fought online. Use all of your emails for that. Don't waste these opportunities to share your music with others.
16. Put up posters together!
You don't have to spend the whole weekend hanging up the whole city with posters for your next concert. Instead, find another reliable band that is playing a show at the same time as you. Then ask them if you want to divide the work by district. Then you save a lot of work.
17. Refine technique through online guitar course
Besides all this marketing stuff, you can't lose focus on the essentials. Your music! If the music doesn't fit, all marketing is useless. So make sure that you practice regularly and learn NEW things so that you can develop yourself further on your instrument. Online courses are extremely helpful for this. I've compared the best online guitar courses for you here.
18. Build up your email distribution list
Email is still one of the most effective ways to communicate with your fans. Therefore, you need to have a way of collecting contact information when there are fans on your website. Don't have a website? Then read point 10. Include a contact form on your website so that fans can register. But remember that everything is GDPR compliant and there is a double opt-in. A big, bold call to action is best: "Subscribe to my newsletter for tour updates" or "Subscribe to my email list and get a free e-book".
19. Contact a local band in your scene
By supporting your favorite bands in your region, you create an opportunity to exchange gigs with each other. So repost their stuff, tag them, or send them an email saying you like their music. Cleaning the handles is always good and helps you expand your music network. Contacts only harm those who don't have them.
20. Record a video where you report about the background
Make a short video (3-10 minutes) in which you talk to the camera and show which instruments and effects you use, how you get your favorite tones and how it all works in the larger sonic context with your band. Not only will your existing fans love it, but you may also be able to attract new listeners to your music who search YouTube for information about the gear you're talking about.
21. Collect information about locations
Make an Excel spreadsheet of the venues in your city with all the information another act needs to make smart booking decisions: venue name, address, capacity, mood, genre, booking contact via email and phone, etc. Get in touch then to bands in cities that you would like to tour and ask them to exchange similar information with you. That would be the free option. But if you don't have the patience, there is now a startup called YourTourBase that has put together booklets for little money that you can download.
22. Create a YouTube channel trailer
A channel trailer is the first video people see when they visit your YouTube channel. A cover video is the video that automatically plays at the top of your Facebook page. It doesn't have to be produced at great expense. It just has to show something about you and your music. Give your fans an idea of ​​what to expect from you on this platform. Make sure it looks good as the sound is muted by default.
23. Check that your website is up to date
It's the first thing your fans see when they go to your website. So make sure that everything is up to date. Are your best press quotes listed? Do you need new photos? Are any embedded links, audio players, or videos still working properly? When it comes to getting a gig or getting a new fan, your homepage can make all the difference. Don't have your own website? Then jump back to point 10.
24. Build relationships online
Stop reading or liking things passively; start commenting! Spend time following new people in the music industry including other bands, bloggers, and more. Connect with them on Instagram and Twitter. Leave comments in music blogs and always sign them with your name and band name. True to the motto: If you write, you stay. It's best to start here on this blog article and write in the comments what kind of band you have and which tip you liked the most.
25. Establish offline contacts
It's important to build relationships in the right world too. A chat over a beer can be a fantastic way to learn from a local music industry professional. So talk to other bands the next time you chill in the backstage. You can brainstorm together for your next big show, video shoot, or album release. That can only benefit you. And remember, you learn more by listening. So don't just talk about yourself, take the tips.
26. Create a video poster for your next gig
Use an application like gifX or even editing programs like iMovie, Premiere Pro or Final Cut to cut a short 15 second video with relevant information about an upcoming show. Date, time, name of your band, etc., as well as the music in the background. Then post it on Instagram, Facebook, and your website. If your video works well in vertical view, share it as an Instagram story too.
27. Host your music in a more targeted way
There are many ways to host your music online. You should choose the platforms that suit you best. If you are registered everywhere, it will only cost you money unnecessarily and will go under to the extent. It then makes it especially difficult to promote your music in a more targeted manner. Here you can find out how to find suitable providers. If you have found providers that suit you and your image, you can use all your options to push these channels.
28. Set a video premiere on your next release
Promote your music a little differently. Set a video premiere and upload the video as a private link. Send the private link to bloggers and offer them to report on the video first as soon as the video is officially released. In return, you will send all of your fans to this blog to hear the song! How about bandup as a music blog? 😉
29. Write a blog article about the making of your song
There's a lot to talk about. Pick a song you're proud of and give your fans a deeper understanding of the things that make this tune so special. Publish the article on your own website. Don't have a website yet? Then off to point number 10.
30. Brainstorm your own promo ideas
Take a few minutes to think about which free DIY marketing ideas you can think of that I haven't mentioned in this article. There are so many other ways to pay more attention to your music. Many ideas are of course also genre ordepending on your image. If you have a great idea what you can help other musicians with, write it in the comments! Only together are we strong and manage to survive in this music industry.
Victor Otte
Hi, I'm Victor and I write articles for musicians and those who want to become one! With my experience in the music industry, I help bands master their everyday life as a band. I am particularly interested in musical instruments.
© Copyright 2016 - 2021 | Imprint | Privacy Policy | Media data
bandup uses cookies to improve your experience. I am assuming that it is okay with you. If not, you can decline it. SettingsAccept
Privacy & Cookies Policy