How is nitrogen made in a laboratory
Gases are required in a variety of ways in the laboratory. Various processes can be considered for producing gases in schools. Difficult-to-melt test tubes, which are connected to a stopper and a drainage tube, serve their purpose for simple student exercises.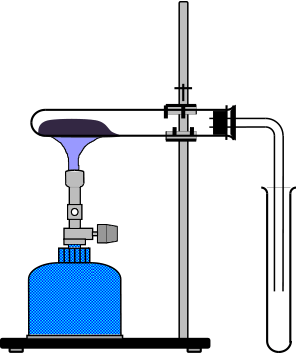 Thermal decomposition of solids
The test tube is clamped horizontally in a stand and carefully heated. Since oxygen is heavier than air, it is introduced into a vertical test tube with the opening facing upwards. In this way, oxygen can be produced by heating potassium permanganate to over 240 ° C (> student exercise):
10 KMnO
4

3 K
2
MnO
4
+ 2 K
2
O • 7 MnO
2
+ 6 O
2
name of Gas

formula

Manufacture by Heating of:

Made of 1 g of fabric arise at most:
oxygen

O2

Potassium permanganate

110 ml

ammonia

NH3

Mixture of ammonium chloride
and calcium hydroxide

150 ml

Hydrogen sulfide

H2S.

Mix 1 part by mass of paraffin and kieselguhr with 2 parts by mass of sulfur

225 ml

Nitrogen dioxide

NO2

Lead (II) nitrate

80 ml

Carbon monoxide

CO

Mix 2 parts by weight of zinc and 1 part by weight of calcium carbonate

not specified
Expelling gases from liquids by heating

If gases are dissolved in liquids, they can be expelled by simply heating them. As a rule, two round-bottom flasks made of Duran glass are used, a stopper with a gas discharge tube being placed on the lower flask. Careful heating fills the upper, inverted round-bottomed flask with the expelled gas. This apparatus is suitable, for example, for the production of hydrogen chloride or ammonia for fountain experiments: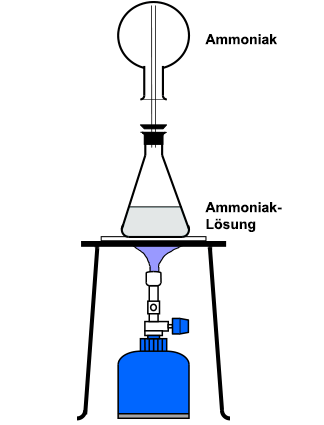 The disadvantage of this method is the high moisture content of the expelled gases. They may therefore have to be dried (> drying gases). Two thick-walled test tubes placed one on top of the other are also suitable for student exercises, the lower one being heated in a water bath. It should be noted, however, that students are not allowed to work with concentrated acids.
| | | | |
| --- | --- | --- | --- |
| name of Gas | formula | The production takes place by heating: | A maximum of 10 ml of liquid results in: |
| Hydrogen chloride | HCl | Smoking hydrochloric acid | 700 ml |
| ammonia | NH3 | Ammonia solution 10% | 900 ml |
| Sulfur dioxide | SO2 | sulphurous acid | 225 ml |
Gas development through chemical reaction with a liquid

A simple, unregulated gas generator consists of a reaction vessel, for example a round-bottom flask or an Erlenmeyer flask with a drain and an attached dropping funnel. The amount of liquid fed into the reaction vessel can be regulated via the tap. An interruption by closing the drain is not possible, since the container would then burst if it does not have pressure equalization.




Gas generator with test tubes
for simple student exercises

Ground joint gas generator with
Dropping funnel and pressure equalization
If poisonous or aggressive gases such as chlorine are produced, a grinding device must always be used. In addition, the gas development should be carried out in a well-pulling fume cupboard. The dripping speed and thus also the speed of gas development can be controlled with the tap on the gas generator.
Surname of the gas

formula

Dripped liquid

Submitted material

From 1 g of solid, a maximum of:

hydrogen

H2

Hydrochloric acid 10%

Zinc granulated

350 ml
oxygen

O2

Hydrogen peroxide
solution 10%

Manganese (IV) oxide

from 10 ml of H2O2
250 ml
nitrogen

N2

Sodium nitrite solution

Ammonium chloride solution

from 10 ml A.
250 ml
chlorine

Cl2

Hydrochloric acid conc.

Potassium permanganate

150 ml
Hydrogen chloride

HCl

Sulfuric acid conc.
(heat)

Sodium chloride

370 ml
Hydrogen bromide

HBr

Phosphoric acid conc.
(heat)

Potassium bromide

80 ml
Hydrogen sulfide

H2S.

Hydrochloric acid 10%

Ferrous sulfide

230 ml
ammonia

NH3

Caustic soda conc.

Ammonium chloride

400 ml
carbon dioxide

CO2

Hydrochloric acid 10%

Calcium carbonate

210 ml
Carbon monoxide

CO

Sulfuric acid conc.

Sodium formate

not specified
Sulfur dioxide

SO2

Sulfuric acid 20%

Sodium sulfite

55 ml
methane

CH4

warm water
(only small amounts)

Aluminum carbide

180 ml
Ethine

C.2H2

water
(only small amounts)

Calcium carbide

310 ml
The rate of gas evolution depends on several factors, including the rate of reaction. Hydrogen can also be easily produced by throwing granular calcium into water. Calcium hydroxide is formed with the formation of hydrogen (> student exercise):
Ca + 2H
2
O

Ca (OH)
2
+ H
2
The best-known device for continuous gas development is the Kipp gas generator invented by the pharmacist Petrus Jacobus Kipp (1808–1864) in 1860. This works according to the following principle:
a) After filling in the solid (e.g. zinc granulated) and the liquid (e.g. hydrochloric acid) with the tap closed, the liquid in the lower container rises until the air above prevents it from rising further.
b) By opening the tap, air escapes first, so that the liquid rises again and reaches the middle container. As a result, the liquid reacts with the solid and a gas (for example hydrogen) is created.
c) When the tap is closed, the liquid is pushed back by the gas that is initially still generated, so that the development of gas stops again.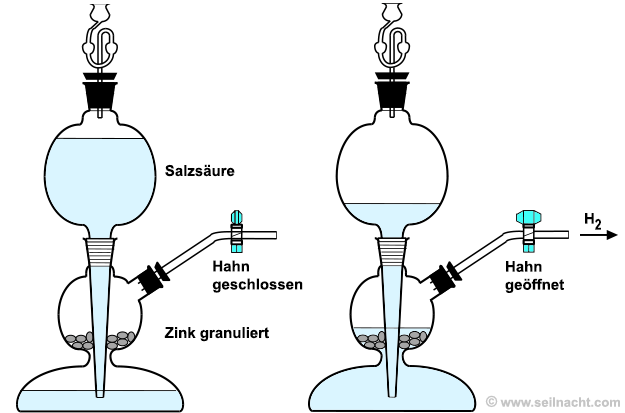 Kipp'scher gas generator for the continuous extraction of hydrogen
When working with a Kipp gas generator, there are a few safety considerations that must be observed. The stoppers should be greased with ground joint grease and secured with wire clamps so that they are not squeezed out by the gas produced. When producing hydrogen, the oxyhydrogen gas test must be carried out before the gas is ignited.