What is the risk of launching a unicorn
When will the unicorns finally graze on the Emscher? Startups in the Ruhr area # EmscherEinhörner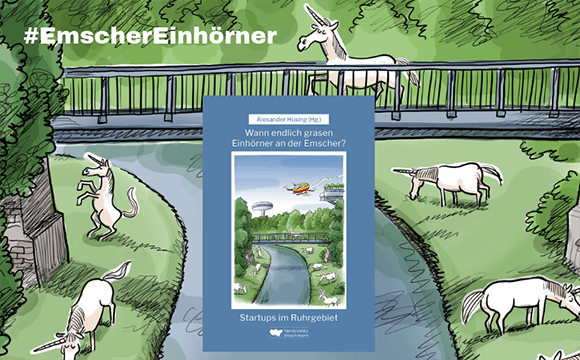 The brand new book "When will the unicorns finally graze on the Emscher - startups in the Ruhr area"(Hashtag: # EmscherEinhörner), a joint project by deutsche-startups.de and Revier-Verlag Henselowsky Boschmann, tells the most exciting startup and grown stories from the Ruhr area. Because the future of the Ruhr area has long since begun. All that's missing is the unicorns! But one thing is already certain: in ten years, the area will be a startup stronghold. Then finally unicorns, the billion-dollar companies on the scene, graze on the Emscher.
Many courageous people from the Ruhr area implemented their ideas in the past few years and founded their own companies. However, these exciting startups are often not known in the region. This book wants to change that! It shows how hard work, coincidence and persistence have turned ideas into companies. The book aims to trigger a thirst for innovation and inspire you to found your own startup. It calls on the Ruhr area to dare entrepreneurial courage, to take risks and to embrace uncertainty.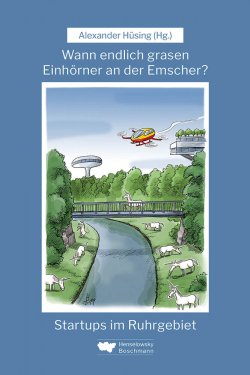 For everyone who is not from the area: Coal and mining shaped the Ruhr area for around 200 years. Although the end of it was foreseeable for decades, the region is still looking for a new identity. Many young people who did not move away like others have long since created a new Ruhr image in the region. People who pursue their own dream, start businesses and thus also create the jobs urgently needed in the area have long since become identity creators.
The many young entrepreneurs in the Ruhr area have succeeded in all of this without access to the old ropes, dependency on existing structures or party books. Perhaps the politically and economically responsible people, the multipliers, the makers of the former coal pot are still ignoring the local startup scene so vehemently because it managed everything without them. Millions are more likely to be invested in nonsensical image campaigns, in preserving the legacies of the coal era or in other loss-making cultural and sports projects, instead of actively helping the founders in the Ruhr area. Nevertheless, many Ruhrpreneurs managed to build fantastic companies in the area in recent years. And that's exactly what this book is about.
Alexander Hüsing, Christina Cassala, Sümeyye Algan, Veronika Hüsing: "When will the unicorns finally graze on the Emscher - startups in the Ruhr area", Verlag Henselowsky Boschmann. 9.90 euros.
If you want, you can order the book directly from the publisher. Simply send an email to [email protected] The delivery is postage free - "with a bag of lumps" as a delicious addition. Otherwise order from Amazon!
25-book campaign in the ds podcast Startup-Insider
The following companies, startups and grown-ups have responded to our call for support in the ds podcast Startup-Insider (listen here) and have received 25 copies of "When will unicorns finally graze on the Emscher?" ordered. Many thanks to:Mabya, a marketplace for buying and selling websites (Essen),lectorem.de, a reading function for websites (Hamburg), House gold, a broker agency (Hamburg),Snocks, an online shop for sneaker socks (Ladenburg),oekostrom.net, a platform around green electricity (Hennigsdorf),Teclead, an IT consulting company (Berlin),dida, an AI software for the automation of processes (Berlin),firma.de, a shop for everything before and after the foundation (Wiesbaden), Prometheus Venture Advisors, a company for questions about corporate finance (Langenfeld), Framing, an AdTech Marketplace (Frankfurt am Main),Rascasse, a startup for AI-based Audience Intelligence (Berlin),Tobias Dziuba, a digital marketing consultant (Düsseldorf), Gravado, a shop for personalized jewelry (Hanover),lyno, a startup that takes care of team communication (Düsseldorf),FinCompare, a financing platform for medium-sized companies (Berlin),Pot lettuce, a salad delivery service (food), Fastbill, a startup around the topic of accounting (Frankfurt am Main),Serinus, one for alarm and crisis management (Hagen), Smartphone only, a provider of smartphone financing (Braunschweig),Digital Innovation Podcast - with Artur Schefer (Berlin),Clearago, a platform for the disposal of materials (Berlin),mimeno, an app for menopausal women (Munich),Fashion ID, an online retailer for fashion items (Düsseldorf),renlo, a platform for renting technology for events (Berlin), HeyHusky, a tour operator for husky trips and expeditions (Hamburg),MeinPartyfotograf.de, a photographer agency (Stuttgart),Prolumbus,a marketing and CRM platform (Stuttgart), WeBuy24, a sales platform for real estate (Berlin),Jumingo, a comparison of shipping services (Bergisch Gladbach),unicorn 2, a multi-channel solution for e-commerce (Bonn),MySugardaddy (Dortmund), a dating service for successful men,HeartbeatDates, a coupling service with a personal touch (Cologne), Valder, a company for molded plastic parts (Kreuzau),Optifin, a comparison service for real estate financing (Graz).
The investor bought 100 copies Tengelmann Ventures(Eat). 50 copies in turn went to the Webgears Group, who operates several smart shopping portals (Götzis),Gospring.com, a platform for men's health (Munich), Project work, a platform for freelancers and freelancers (Nuremberg),Torque, an online shop for vaporizers, grinders and papers (Regensburg),baby market, an online shop for baby and children's things (Dortmund).
The digital pot is boiling - #Ruhr area


With hundreds of startups, numerous start-up centers and initiatives, various investors and dozens of startup events, the Ruhr area offers an exciting ecosystem for founders. ds, the founder alliance Ruhr and the ruhr: HUB report together on the digital activities in the area.
Startup jobs: Looking for a new challenge? In ours Job Market you will find job advertisements from startups and companies.
Illustration (above): Heiko Sakurai