What is a swivel boom microphone
The discovery of the V-Moda BoomPro microphone for us podcasts seems to be a stroke of luck to me - finally you have a good, clean condenser microphone sound in combination with a great robustness against hum and other interference - and that for 32 €.

Musikhaus Thomann
V-Moda BoomPro Microphone Cable
V-Moda BoomPro Microphone Cable - SteelFlex Arm, mute and volume control on the cable, 3.5 mm jack plug, works with V-Moda Crossfade LP, Crossfade LP2, Crossfade M-100, Crossfade Wireless, Crossfade M-80, V-80 , XS and most ...
Initial feedback from you confirms my impression that we have finally found a useful upgrade path from the HMC660X - below the well-known Beyerdynamics DT297 for 270 €.
But there is always something.
The BoomPro is "just" an antenna microphone that you clip under headphones. So you absolutely need headphones (unless you are aiming for constructions with a neckband or something similar).
---
Disclaimer
All product links in this post (Thomann, Amazon) are affiliate links from me. I use the income to finance tests like this one and the https://ultraschall.fm server
---
Headphones are a dime a dozen, but one that goes well with the BoomPro got to Fulfill one requirement: the cable must be exchangeable on the headphones themselves, ideally with a 3.5mm mini jack socket. Here you can see the Beyerdynamics Custom Game, which comes with a similar, changeable microphone:
If the connection is recessed a little - which is generally good, as it promises more stability - it must be big enough that the (but rather narrow) connection of the BoomPro really fits into it.
A 2.5mm connection can also be used, then this adapter can be used without losing too much of its stability:
amazon.de
Almencla 4er 2.5mm Male to 3.5mm Female Audio Adapter: Amazon.co.uk: Electronics
Almencla 4er 2.5mm Male to 3.5mm Female Audio Adapter: Amazon.co.uk: Electronics
4,99 €
And of course a 6.35 mm connection would also work, then you need an adapter like this:

Musikhaus Thomann
🎧 the t.bone Headphone Adapter
the t.bone headphone adapter, pluggable, stereo jack plug adapter 3.5mm to 6.3mm
As long as one of these three connections is available (preferably the 3.5 mm) - the headphones are BoomPro-compatible.
In the headset comparison test I had tested a very cheap NoName headphone (at least I hadn't heard of "OneOdio" before), and it wasn't bad at all, but there must be better alternatives.
So I looked around a bit and put together a first test set. The purpose of this post is to find more headphones that I don't know yet that meet the above criteria and bring advantages.
I have now tested these:
Um - they come with their own microphone, why should you swap them?
amazon.de
beyerdynamic CUSTOM Game Interactive Over-Ear: Amazon.co.uk: Computers & amp; ...
beyerdynamic CUSTOM Game Interactive Over-Ear: Amazon.co.uk: Computers & Accessories
180,79 €
Well - in my test I came to the - perhaps subjective - result that the V-Moda BoomPro sounds a bit better and also has less cable sound (interference from movements). And the Custom Game is an extremely good sounding headphone, and extremely convenient.
In many respects it seems to me to be a spin-off of the legendary Beyerdynamics DT770, only with a mini jack connection.
For my test, the custom game was - unfortunately a discontinued model, there are only remaining stock - hence the reference:
sound
Just wonderful. I am comparing two aspects: on the one hand, the sound of one's own voice as it is reproduced by the respective headphones via the BoomPro. On the other hand, the wonderful song "One" by Aimee Mann, which I've been using for years to compare headphones - the voice should be warm but clear, extremely precise, by no means sharp, all instruments easy to locate and the bass really springy.
The custom game does everything right here, nothing bothers you. With it you can easily listen to music for hours, watch films, or even - podcasting.
Rating:





Comfort
In principle fantastic. The ear cushions are pleasantly large, nothing is pressing on the ears. The bracket has exactly the right tension, so that nothing slips and nothing is pressed shut. This shows the company's decades of experience. The only weak point: the supplied synthetic leather pads are ok, but not great. I changed them for cheap velor pads, so it's a dream.

Musikhaus Thomann
🎧 Superlux HD-681 Ear Pads Velor
Superlux HD-681 Ear Pads Velours - ear pads for Superlux HD-681 headphones (not suitable for EVO), color: black, pair, incl
Rating:




to





depending on the pad

Musikhaus Thomann
beyerdynamic DT-240 Pro
beyerdynamic DT-240 Pro Professional Monitoring headphones, closed, dynamic, circumaural, very good external noise attenuation, for studio or mobile use, one-sided cable routing (1.25 m spiral cable), impedance 34 ohms, ...
I had high hopes for these headphones. Pleasantly cheap for a Beyerdynamics product, and the 2.5 mm connector can be connected very robustly with this adapter (two are supplied), which fits like a glove:
amazon.de
Almencla 4er 2.5mm Male to 3.5mm Female Audio Adapter: Amazon.co.uk: Electronics
Almencla 4er 2.5mm Male to 3.5mm Female Audio Adapter: Amazon.co.uk: Electronics
4,99 €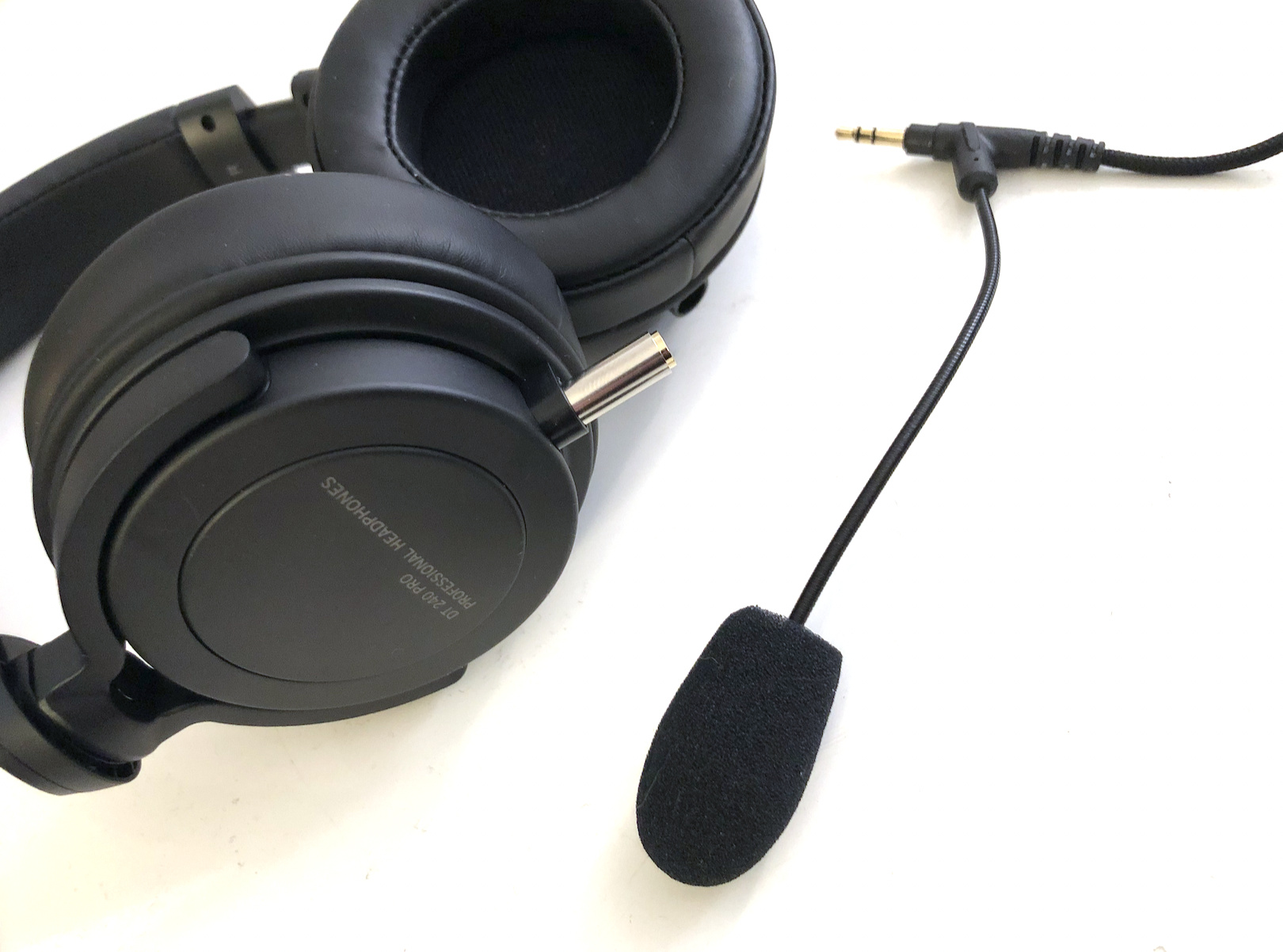 sound
Goes so. The sound is not bad, but two orders of magnitude away from the custom game. The singing voice is not quite as round, the own voice does not have that immediate "wow, I'm sitting in a studio" effect of the big brother. Sure enough for podcasting, but not a revelation.
Rating:



Comfort
Here it carries the DT240 - for me - out of the curve. The mussels are too small for my ears, they just barely fit in. The pressure is clearly too high, you feel trapped. All of this may be enough for a quick bug, but not for a 4-hour podcast session. I want to completely forget that I am wearing headphones - with the DT240 that doesn't work for a second.
But there are many - very many - fans of these headphones out there, and head shapes vary. So your mileage may vary. So it might be worth a try, there are sure to be in many shops to try out.
If it fits, the adapter is sure to be a viable solution. It was nothing for me.
Rating:



amazon.de
OneOdio Over Ear Headphones with Cable, 50mm Driver: Amazon.co.uk: Electronics
OneOdio Over Ear Headphones with Cable, 50mm Driver: Amazon.co.uk: Electronics
28,04 €
I already had these headphones with me in the original test - I noticed them through the many benevolent reviews and did not disappoint. I think it's amazing how many usable headphones you can build for € 25 these days - without a DSP trick like with Bluetooth models.
sound
I like the sound You won't confuse it with that of the Custom Game, but Aimee Mann comes across as very clean and round, as does his own voice. For the money, that's more than considerable, I recorded a few hours with the headphones and the sound didn't get annoying or tiring even after a long time.
Rating:




Comfort
Here, too, it still does very well even after a week of prolonged use. The ohmic mussels are almost as big as in the custom game, the pressure is quite similar. Unfortunately, the included pads (synthetic leather) are not special and my biggest point of criticism. Unfortunately, the ones posted above just don't fit - but maybe someone will find suitable velor pads for them? Otherwise I'm a little suspicious of the 3.5mm socket - let's see if it can survive a few months of continuous use. After all: a very robust 6.35 mm socket is built into the second ear piece.
Rating:




amazon.de
OneOdio Over Ear Headphones with Cable, HiFi: Amazon.co.uk: Electronics
OneOdio Over Ear Headphones with Cable, HiFi: Amazon.co.uk: Electronics
42,99 €
The thought was: hey, they are quite similar to the Pro-10, but have thicker pads and a "Hi-Res" sound. Maybe the 15 € surcharge is worth it.
sound
Uh.
I don't know what exactly this "Hi-Res" sound is supposed to be - it definitely sounds pretty awful. Aimee Mann's voice gets a very strenuous sharpness, and your own voice doesn't sound nearly as smooth as the ones we have tested so far. The bass is okay, but the mids are completely missing here. That is really not pleasant.
Rating:

star:
Comfort
Well - I don't know for sure whether the thicker pad is more comfortable to wear. In any case, the pressure is a bit bigger than with the Pro-10, which I find rather negative. After all, the poster material is a bit more valuable. But overall no relevant progress towards the Pro-10
Rating:




amazon.de
OneOdio Headphones Over Ear with Cable, Closed: Amazon.co.uk: Electronics
OneOdio Headphones Over Ear with Cable, Closed: Amazon.co.uk: Electronics
31,99 €
The idea here was: oval shapes are often more comfortable than round - ears are just not round.
sound
Yeah - nowhere near as problematic as the Pro-50, but also not quite as relaxed as the Pro-10. Not really annoying, but two classes away from the custom game.
Rating:



Comfort
Ouch. If the Pro-50 messes up when it comes to sound, then this one when it comes to wearing comfort. The pressure is absurdly high, and unlike the good old Superlux HMC660x, there is no way here to boldly widen the bracket a little - all plastic. There may be heads that fit, mine is certainly not one of them.
Rating:


What I almost overlooked is the on-ear headphones category. I still had a children's version of it lying around, and what can I say: this is a very reasonable solution, for a slim € 19.99.
If you connect the BoomPro, all the Bluetooth options are deactivated, you don't need them either. You can't see their origins as children's headphones in black either:
https://www.amazon.de/Termichy-Lautstarkebenkelung-kopfhoerer-Drahtloser-Eingebautem-Red/dp/B071HHPD1W?_mk_de_DE =% C3% 85M% C3% 85% C5% BD% C3% 95% C3% 91 & dchild = 1 & keywords = Termichy & qid = 1612307999 & sr = 8-4 & th = 1 & linkCode = ll1 & tag = rstockm-21 & linkId = 479bc016766bc5b098_acc8 & language ref .feff= as_li_ss_tl
sound
It is clearly an "on-ear" product, in contrast to the "over ear" presented above, it does not surround the ears, but just rests on it. This leads to significantly less isolation, but can also be an advantage if you can hear a little more of the surroundings. I chose this model back then because it sounded amazingly good for the price - absolutely suitable for podcasting recordings, and also for listening to music. Overall, round, warm sound, there is nothing that bothers or annoys. The comparison with the large models is still difficult: you can always hear the whole room around you. So you don't dive into "your podcasting world", you are always part of the environment. You have to like it.
Comfort
The seat is astonishingly good even for big heads - not children: the metal band on top is robust, cushions soft and is even sufficiently padded.
The dimensions are a real feature: it can be transported in an extremely space-saving manner, even together with the BoomPro, so it is well suited for shipping or as an "always with you" emergency solution. Folded here: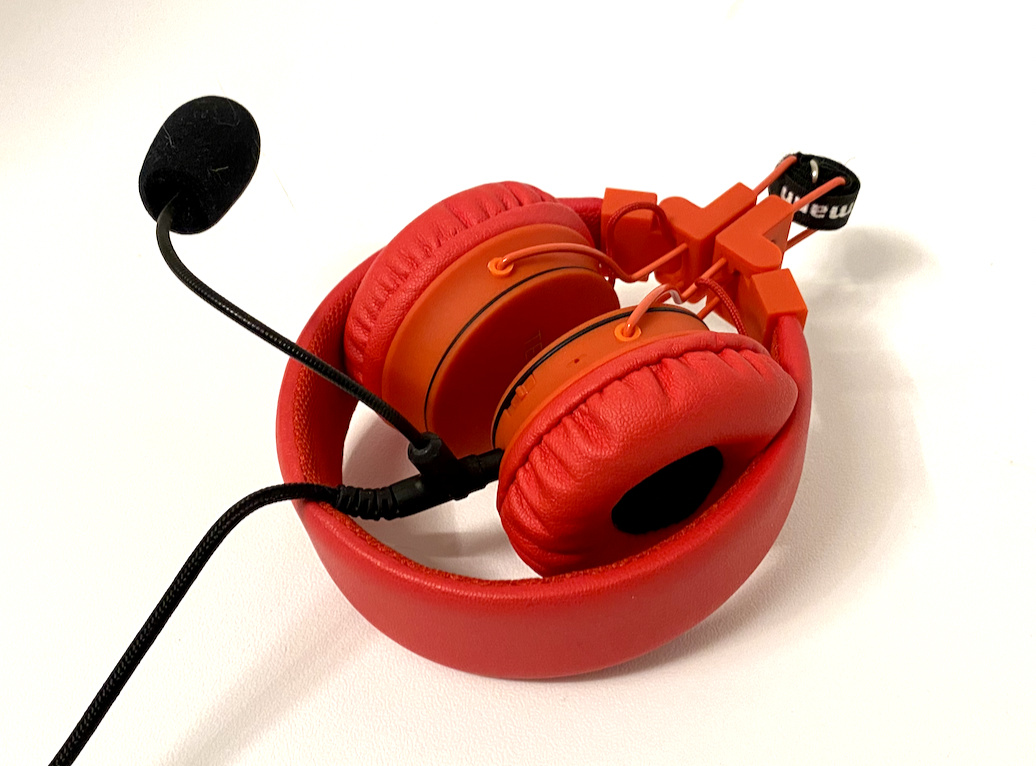 And here in the background: the Beyerdynamic Custom Game for size comparison: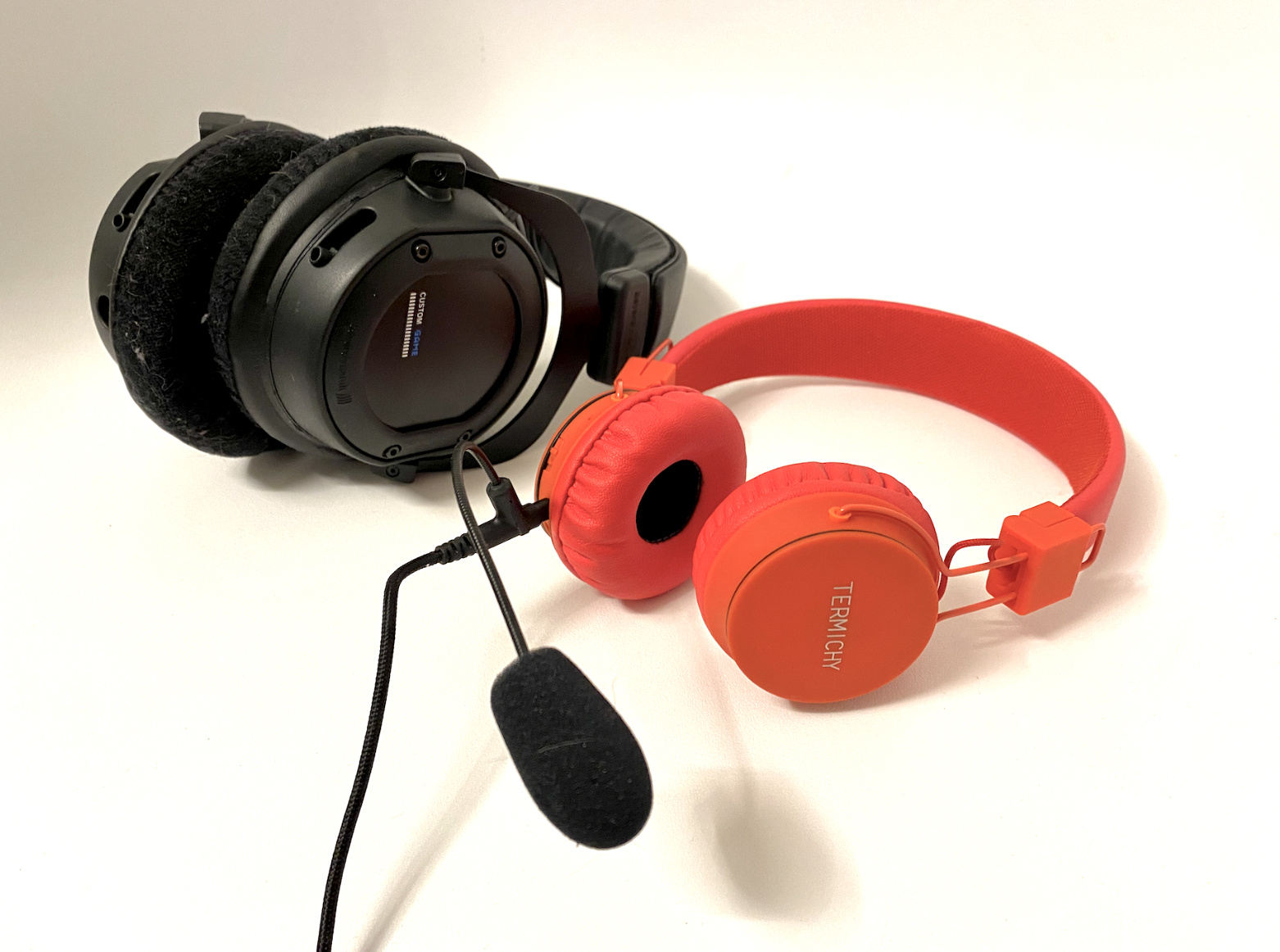 EDIT:
@kai pointed out to me that there is also a Swedish "original":
amazon.de
Urbanears Plattan 2 Bluetooth Headphones - Black: Amazon.co.uk: Electronics
Urbanears Plattan 2 Bluetooth Headphones - Black: Amazon.co.uk: Electronics
41,80 €
I haven't tested it now, but the workmanship and sound are unlikely to be worse.
Rating:



On the one hand, I'm a bit disappointed that no sensible upgrade to the Pro-10 was found in the low-cost segment. After all, you have a completely different approach with the Termichy children's headphones. On the other hand, I am very pleased that my first litter was already quite usable in the original comparison - and that with by far the cheapest model. Velor pads would be great, please find something!
Above I praised the legendary Beyerdynamics DT770. A bank for decades. And at 115 € not even unaffordable:

Musikhaus Thomann
🎧 beyerdynamic DT-770 Pro 80 Ohms
beyerdynamic DT-770 Pro / 80 Ohms, studio stereo headphones, dynamic, closed, impedance 80 Ohm, 5-35,000 Hz, sound pressure level 96dB, circumaural, diffuse field equalized, incl. 3m connection cable (smooth), 6.3mm jack adapter, weight: 346g With...
And the same with velor pads. But unfortunately without a 3.5mm connector.
But we wouldn't be in the transmission gate here if we didn't come up with ideas. And indeed, there are a number of assembly instructions on how to get the permanently installed cable from there and instead install a jack socket, for example here:

Tech-Port.de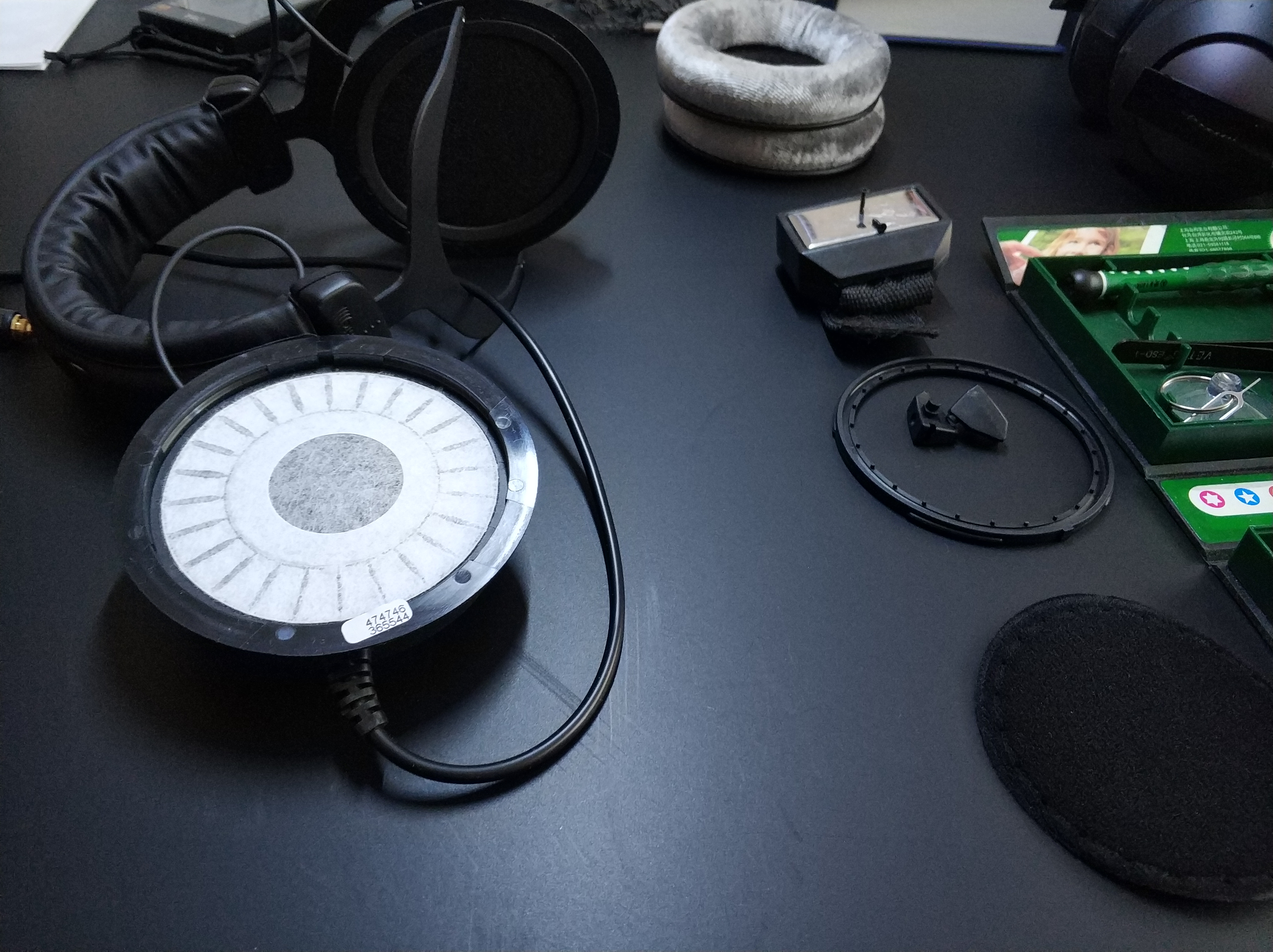 Beyerdynamic - Jack Mod. We convert our Beyerdynamic. - Tech-Port.de
I warmly welcome you to these little instructions. Since I have often received questions about how I did this impossible thing, I have made a little instruction for you here. Perhaps someone would like to tackle this thing ...
The key is to build the jack yourself in a really robust way, there is also a microphone attached to it. I would be interested to know if someone here is going to do such a renovation.
There must be a lot more suitable headphones out there for the BoomPro. So please suggest other models, with descriptions like mine above so that others can get an idea.
The only condition: if the bush is sunk, you should have tried out whether the BoomPro really fits. Sennheiser headphones, for example, are problematic: the three models in my seat have sunk 2.5mm connections basically would be ok, but they are provided with a screw fuse so that you can only connect original Sennheiser cables.
If, on the other hand, the socket is on top, we of course assume that it works.