Should I hire a landscape architect?
Dual study landscape architecture
The dual study landscape architecture takes seven to eight semesters and graduates with a Bachelor of Engineering (B.Eng.).
In the case of this dual study, there is the special feature that it does not start with the theoretical phase at the university, instead, the training part in the company is often started first. So one of your first tasks - if you decide to study landscape architecture as a dual study program - is to look for a training company that is ready for dual training. You conclude an apprenticeship contract with this company, which you then submit with your application to the university of your choice. Depending on the university, you start with part of the training, then continue with your studies at the university after about 15 months, then you finish the training in the company and then continue your studies.
You can find out what the exact processes and practical phases of the individual universities look like on the respective websites or the student advisory service.
Certain requirements must be met for each dual course of study. On the one hand, there are the formal requirements specified by universities and companies, and on the other hand, the personal requirements that, in the best case scenario, you yourself bring with you. Personal requirements include, for example, your interests, talents and other strengths that fit into the dual study program.
Requirements of companies and universities
The formal requirements mentioned here are a summary of all universities. Not every university requires every criterion mentioned here. You should therefore find out more from the university at which you would like to complete the dual study program.
General University Entrance Qualification or
Subject-specific higher education entrance qualification or
University entrance qualification or
an equally recognized professional qualification, then a dual course of study without a high school diploma is also possible
partly twelve weeks pre-study internship
In some cases, you need a valid training contract with a company as well as a minimum of 15 months of training so that you can enroll at a university
Personal requirements
Diverse interest, especially in the subjects of city, nature, the environment, plants, landscaping and sustainability
Technical and scientific understanding
Creative streak, talent for design and drawing
Critical ability
Ability to work in a team
Structured way of working
The landscape architecture dual study program offers a wide range of content. It's not just about designing a park or open space beautifully (even if the aesthetics are an important point in landscape architecture), but what you do must have "hands and feet", so to speak. Which trees and plants are suitable? Which species are heat and weather resistant in times of climate change? What permits do I need? Which materials do I use and do my designs fit the budget? How can the project be made sustainable and how can social interaction take place in this newly designed location?
The contents of the dual study landscape architecture include:
Basics of landscape and open space planning
Basics of representation, creation and drafting
Basics of business administration and law
History of garden art and landscape architecture
Cost accounting
Construction engineering
Botany
Vegetation technology
ecology
CAD and digital design
Biotope and soil science
Surveying technology
Statics
Planting and care planning
Marketing, communication and presentation
Project management
The contents of the dual study landscape architecture can differ from university to university or be weighted differently. In addition, each university offers different focus areas and elective modules with which you can specialize in the course of the dual study program. The focus areas offered for individual deepening are, for example, gardening and landscaping, open space planning, nature conservation and landscape planning, industrial horticulture or trade and services.
The exam at the end of the course is taken in front of the Chamber of Agriculture.
Free dual study places by email?
Every Friday we will send you an overview of the new, free dual study places - free of charge, of course!
Salary (during the dual study)
In the landscape architecture dual study program, you not only acquire a Bachelor of Engineering degree, but also complete an apprenticeship at the same time. Your work in the companies is usually remunerated, so you get a salary in the dual study program. This is a great advantage because, unlike in a "normal" full-time course, in the dual course you do not have time to work on the side. In addition to your salary, the companies often also provide you with additional benefits. For example, some take over the tuition fees in full or in part, a 13th salary, company pension, book allowance or capital-building benefits are also possible. In the end, the company decides Unfortunately, you are not entitled to additional services.
Unfortunately, we have not found any specific salary information or additional benefits, but the employers' association of German architects and engineers has issued a non-binding salary recommendation that is valid for 2020.
The recommendations relate to the training salary, but we assume that companies will also orientate themselves on the training salary when they employ dual students.
Recommended training allowances for landscape architects
| Training allowance | Local group I | Local group II |
| --- | --- | --- |
| in the 1st year of training | 748 € | 787 € |
| in the 2nd year of training | 924 € | 972 € |
| in the 3rd year of training | 1.099 € | 1.156 € |
Local group II = All places with over 100,000 inhabitants and directly adjacent places
Local group I = all other places
Source: https://www.bak.de/w/files/bak/07-daten-und-ffekten/arbeitsmarkt/ salary /merkblatt20- salary-tarif-recommendations2020.pdf
A dual study is not the same as a dual study. There are different study and time models offered by companies and universities. If you are not yet familiar with it, you should definitely read our detailed guideStudy models and our article too Time models read.
Career and professional prospects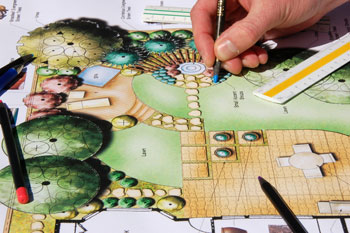 Landscape architects plan and design open and green spaces in cities, villages and communities, be they public or private. It is always important to consider aesthetic, economic, ecological and social aspects and, ideally, to combine them with one another. The tasks and assignments can be correspondingly varied. They include, for example, garden and green space advice, renaturation and the design of public spaces or private gardens.
The workflows are always similar: You receive an order and create a first draft, which you discuss with the customer and, if necessary, incorporate change requests. Once the draft has been approved, further planning can begin. You obtain permits, monitor the progress of the order and create maintenance guidelines. During the planning you have to think about which materials you want to use for building projects or which plants you need for the design.
Otherwise, you will monitor and analyze urban development, for example, and create concepts for the conservation and development of natural spaces. As a landscape architect, you can also take on management tasks in associations, work as an expert or take part in development aid projects as part of nature and landscape protection measures.
The range of services is large and includes the property and open space planning of ...
Parks
Boardwalks
Park facilities in hospitals and rehabilitation centers
Private gardens
Sports and playgrounds and other leisure facilities
Fallow areas that are to be made accessible again and redesigned
Garden shows and monument preservation
Outdoor pools, swimming ponds and natural pools
Courtyards and roof gardens
Squares, street spaces and pedestrian zones
The aim is that "successful landscape and green space planning [...] conservation, maintenance and development of nature and landscape with the demands on their economic, cultural and infrastructural usability [agree]." (Federal Chamber of Architects)
Landscape architects work both freelance and in permanent positions. You work in public administration, in architectural offices for gardening and landscaping or in companies for gardening, landscaping and sports field construction.
Even if you have studied landscape architecture, you are not allowed to use the job title landscape architect without further ado, because the job title is protected. The same applies to architects or interior designers. The job title may only be used by those who are entered in an architects' list of the Chamber of Architects. In order to be registered, a completed degree in landscape architecture is required as well as a proven minimum period of practical experience. The chambers of architects in the individual federal states regulate the details.
How high the salary of landscape architects turns out can be very different, because there is basically no tariff obligation. Nevertheless, we can provide you with reliable information, because the Federal Chamber of Architects regularly conducts surveys among the employees of the Chamber of Architects, most recently for 2017.
The survey found that 26 percent of full-time employees earned between EUR 40,001 and EUR 50,000 gross per year, 22 percent between 50,001 euros and 60,000 euros and 15 percent even more than 70,000 euros per year. Four percent of employees earned between EUR 20,001 and EUR 30,000 gross per year. That is comparatively little, but the location, the size of the company and the professional experience must always be taken into account.