Advertising e-mails flutter into my spam folder every day, in which supposed SEO professionals sell their services and promise to ensure the SEO success of my website for free. Should you ignore these emails or is there something to them?
Since I've been in the SEO scene for years myself, such commercials seem rather ridiculous to me. If anything, there is only one question: How long will these "service providers" hold out? Spend 100 euros once for an "SEO optimization", then sit back and enjoy the success - this idea is grotesque. But how much time and budget should you invest in SEO in order to effectively support your own website?
Anyone who does not constantly deal with the art of search engine optimization may come up with very basic questions because of such emails: Can I just buy SEO success for 100 euros? Then why is my agency asking so much more? And anyway: How expensive can SEO actually be? In this post I will address these questions in more detail. From what budget is SEO worthwhile and when is it a waste of money?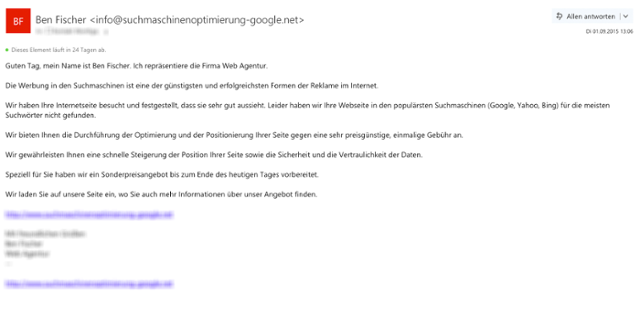 The work of an SEO spammer. Such e-mails flutter into the mailboxes of thousands of webmasters every day and create a distorted image of SEO services.
Cheap SEO offers create a distorted image and destroy the market
The fact that the e-mail spammers and other 100 euro service providers have not earned an order is already shown by their dubious and aimless business conduct. Nevertheless, something sticks to your statement: One time 100 euros, or pay 10 euros a month from me and then enjoy the full SEO success with number 1 rankings, exploding traffic and tons of new customers? That sounds perfect.
Anyone who asks a reputable agency as a customer with this request in mind will be hit by a blow: Suddenly there are completely different prices in the room, 1,000 euros and up, and that too every month.
Apart from the question of whether the e-mail spammers are really the culprit, a misjudgment becomes clear here. Search engine optimization should be particularly cheap. Not only those who don't have the budget see it that way.
Companies that still advertise in printed business directories or advertising papers and have four or five-digit annual budgets for all kinds of analogue advertising win over the 500 euro monthly flat rate from an SEO agency. Conversely, the agencies lose interest in many potential customers. Both are unfortunate.
What can a good SEO agency do?
One myth that is cultivated on both sides of the "shop counter" needs to be cleared up right away: that of the SEO magician who knows the Google algorithm and thus knows which levers have to be used to promote every website to first place.
The fact is that every search engine optimizer, regardless of whether it is a freelancer or agency with a good connection "to the top", deals with a foreign matter. Google adjusts its algorithm regularly and does not allow itself to be looked at in the cards. A search engine optimization expert needs to stay up to date at all times. What is a positive ranking factor today can be a negative one tomorrow and vice versa.
The service of an SEO service provider then consists in transferring the knowledge gained through studies and tests to the websites of customers. This can lead to better rankings and more visitors and possibly more conversions.
Important: In the case of fixed-term contracts, clients and service providers should record such goals in writing as detailed as possible. Both sides then have the best prerequisites for success monitoring and proof of performance. It also makes it easier to answer the question "What did it bring?".
How do SEO agencies get their prices?
In the summer of 2015, iBusiness magazine published a study on the average fees for SEO services. The study was headlined with the polemical title: "This is the maximum your SEO agency can ask for". What followed were lively discussions with some criticism from the SEO scene. In essence, this criticism was understandable, because: How do price specifications fit in a deregulated market in which various providers compete for a limited number of customers?
As I pointed out in the previous paragraph, SEO agencies sell better rankings and more visitors to their clients. In order to remain competitive in the long term, they have to keep checking with which techniques and, above all, with what effort they can guarantee this.
These estimated expenses multiplied by the hourly rates of the respective providers then result in (mostly monthly) flat rates. According to the iBusiness study, the average hourly rate of an SEO agency is 90 euros.
It should now be clear at the latest that a service for a one-off 100 euros is not possible under these conditions. It is questionable, however, whether it really always has to be the 12-month contracts that quickly bring a customer five-digit expenses per year. After all, testing is also important in SEO and it is difficult to map this across the board in a rigid package with consistent performance.
What should search engine optimization cost?
For companies with SEO needs, it is important to realize that SEO agencies are specialized service providers. You do not hire a full-service provider who is responsible for the entire online success of a company. Therefore, the following questions must be clarified before looking for a service provider:
How important are better rankings and more visitors really? Are there any other levers?
What weight should SEO have in competition with other marketing measures of the company?
What can I map in-house (myself), what do I need a service provider for?
Should the search engine optimization be dovetailed with other measures?
A large online store will likely answer these questions as follows:
"SEO is my elixir of life."
"Alongside Google Adwords, SEO is the most promising way to get new customers."
"An in-house SEO team is either too expensive or the position in the company that coordinates with the SEO agency."
"Yes, that's why we hire several special service providers."
Online shops and other e-commerce companies are therefore the core target group for SEO agencies. They constantly need optimization, are dependent on more and more visitors from Google and are in fierce competition with one another. The prices for such SEO services consequently start at four-digit monthly contributions and are open at the top.
When SEO is too expensive
Regardless of the budget available, companies should ask themselves whether SEO makes perfect economic sense in their case. It may be that SEO can increase sales with good work and perseverance. But depending on the level of competition, it can cost more than rankings and Google traffic in the end.
If, for example, a medium-sized textile cleaning company faces annual SEO costs of around 40,000 euros, decision-makers should consider whether the money is better off in other channels or at least in a marketing mix.
The return on investment can often be controlled much better, for example through advertising such as AdWords or Facebook ads, because results are visible much faster than in SEO. If, on the other hand, the order value is right and is likely to justify the investment; Just go ahead!
The most important learning here is: "Being found on Google" is not the magic bullet for every company. SEO has to fit into the overall strategy and companies should take a close look at what is likely to be a major investment. If the investment is right against the sales potential, SEO cannot be too expensive at all.
For small budgets: Build up in-house SEO and refine it with experts
If you are more hesitant about answering the four questions above, you should consider the following: Doesn't it make more sense to define a position in the company that coordinates with an SEO specialist and otherwise takes care of the optimization itself?
This reduces the risk of unnecessary expenses. You can react faster and are not faced with flat-rate costs that may turn out to be a bad investment after three to four months.
If you only save, you pay for it
Many agencies also offer one-off services, workshops or advice on an hourly basis. If you want to have SEO without turning the really big cost screws, you usually do better with this variant. Instead, choosing a service provider based on the cost savings criterion is not an alternative.
Cheap offers that promise quick success may appear appealing. Anyone who falls for it pays the bill afterwards - because the performance is not right or even harms. If you want to buy SEO as cheaply as possible, you will either fail immediately or you will end up with dubious providers. They then often use techniques that are more dangerous to business than sustainable.
Anyone who lives from SEO success and cannot solve everything in-house is in good hands with a special service provider. In most cases, monthly contributions of 1,000 euros are the lower limit. If you have a little less budget or do not place so much emphasis on top rankings and huge leaps in traffic, you are well advised to offer advice on an hourly basis or one-off services. Calculated over a whole year, however, the costs can quickly run into four figures.
Originally published December 21, 2016, updated December 04, 2017
Recommend this article: