How do military war games work
War games in Russian holiday camps
Morning gymnastics and then a canteen breakfast with omelette and oatmeal: in the military camp "Razvedbat" in a forest outside Moscow, the day begins like in thousands of other Russian summer camps. But then the 30 children put on their uniforms. "Razvedbat" means something like reconnaissance battalion in Russian and the symbol of the camp is similar to the military secret service coat of arms of Russia.
The children in the "Razvedbat" are between 10 and 16 years old and are divided into three battalions according to their age. Almost all of them are boys, there is only one girl in the whole camp. While they form up to rousing Russian rock music, some of the children are still tying their camouflage uniforms here and there. Then the supervisors announce what is on the program for that day: "clearing mines" in a field, assembling a Kalashnikov rifle and an exercise in how to move with weapons. As the highlight of the day, there is a big paintball game at the end. The children march off and collect their weapons.
Lifelike scenarios
Despite the rain, battalion one begins the day clearing a building of terrorists. Equipped with climbing harnesses and helmets, the youngsters rappel down with their air rifles and jump through the windows. "Clean!" they scream. The teachers tell them to shout louder.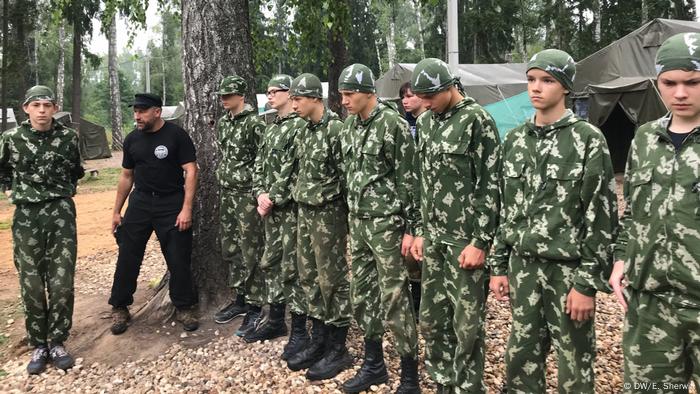 All trainers at the camps have completed military training
The scenarios practiced in the "Razvedbat" camp are said to be based on current operations by the Russian army. All of the instructors here have a military background, and some of them are currently serving as soldiers.
"Everything I have brought with me from the last local conflicts, everything we saw there, we pass on to the children," says camp manager Aleksei. He prefers not to tell DW his last name.
"You feel like a soldier"
One of the guys in the unit is 15 year old Nikita from Moscow. Nikita says he's considering becoming a soldier. In the "Razvedbat" he wanted to find out whether the army was something for him in the long term. He likes the feeling of adventure here, he explains. Even if sleeping in the tents can sometimes be cold and he misses contact with his family and friends. The camp only allows the boys to turn on their phones for half an hour a day.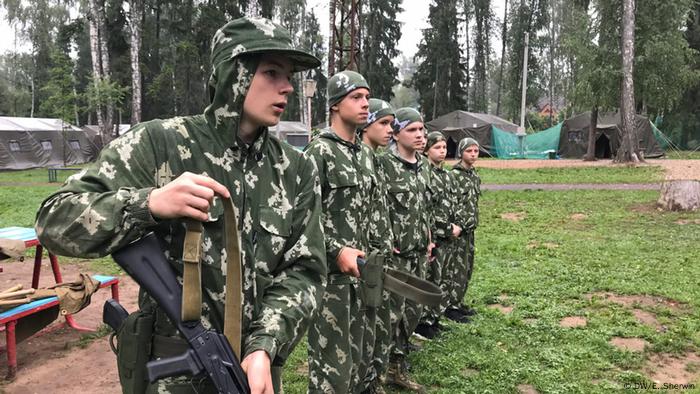 Holiday camp as a "taster course" for a life in the army
"You don't feel like a normal Russian citizen here. You feel like a soldier, maybe even in another country and on a secret mission. It's very different from normal life," says Nikita.
Although most of the young people are sent to the camp primarily to learn discipline, for many the time here is also a first foretaste of military life in the army, say the organizers. A 14-year-old in Nikita's group gossip about his future with shining eyes. Maybe he'll become a mercenary, he thinks out loud, before his "battalion comrades" prevent him from continuing.
Weapons as "toys"
The two-week "Razvedbat" program includes first aid courses and map reading exercises, but weapons seem to play a key role. Participants practice loading and reloading machine guns, assembling and dismantling them, and how to move around properly with them. Of course there are rules: the guns are not loaded with real bullets and they must not be pointed at people - except for paintball.
The boys are thrilled. Nikita admits, "I've always been drawn to guns." "If it were up to me, I would let the boys sleep with their guns," Aleksei explains between exercises. "A man should always have a gun. After all, it's his job to protect the weak. If he doesn't have a gun, he's basically no longer a man."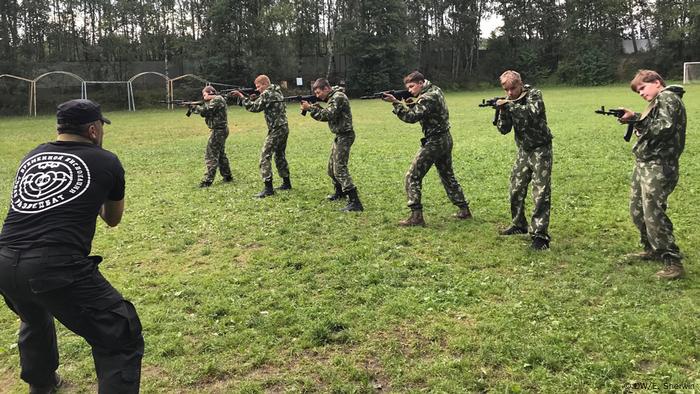 Girls are welcome in the camp, but the trainers actually see guns as a "man's thing"
His colleague Aleksei Skotnikov is more critical. It is too early for the youngest children in the camp to take part in the weapons training. They would first have to learn to use weapons responsibly instead of viewing them as part of a game. Nevertheless, Skotnikov also says: "I think you have to start introducing children to weapons from around the age of 14. If a boy is strong enough to hold a weapon in his hands, he should know how to use it", the coach says, adding that Russia needs "a strong generation" of "decent children", especially since an entire generation after the collapse of the Soviet Union was not brought up properly.
Holiday camps in times of patriotism
"Razvedbat" is a private camp and does not receive any government funding. The director of the camp, Olga Lagutina, emphasizes that the program is not geared towards patriotism. Instead, the focus is on physical fitness and on giving young people a sense of teamwork and responsibility. "Of course at the end of the day they would protect their country and not side with the enemy. But we are not preparing them for war here. We are not talking about war here," says Lagutina.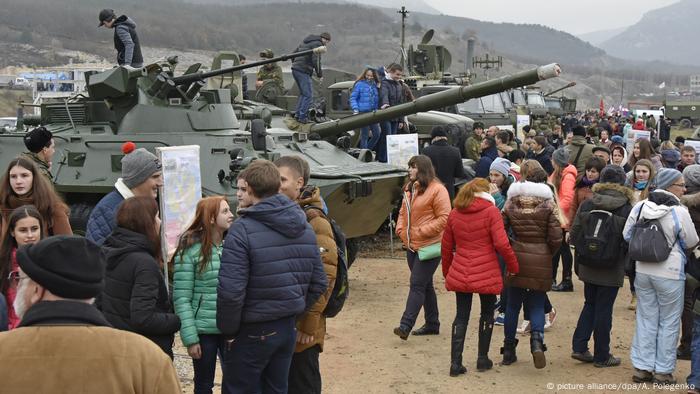 Young Russians cavort at a military exhibition (archive image)
Nevertheless, the military camp fits in well with the general mood in Russia. A government-funded poll in June shows that 92 percent of Russians consider themselves patriots - a high since 2002, the time since Vladimir Putin was in power. And a government guideline on the "patriotic upbringing" of Russian citizens passed last year praised military camps in particular as an effective method of instilling patriotism in young people.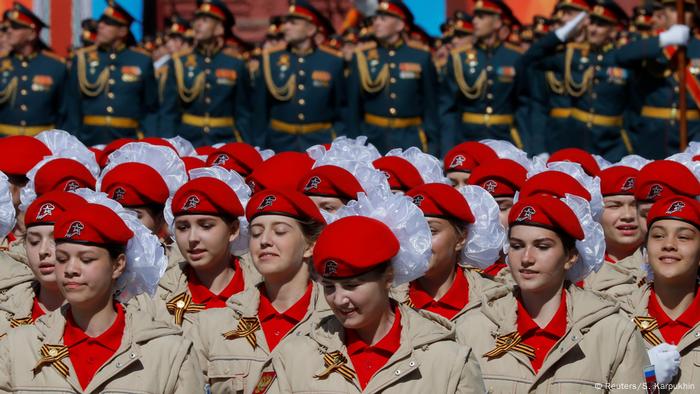 Members of the Yunarmiya at the Victory Day military parade in Moscow
Since 2015, the government has even had its own official military-patriotic youth movement, a kind of youth army known as "Yunarmia". According to the Russian Defense Ministry, the movement now has around 200,000 members.
Fertile soil for young patriots
In "Razvedbat" the young people gather in unit one at the end of a long day around the campfire to talk to a trainer about their impressions. Patriotism may not be officially on the agenda, but it can be clearly felt in the camp.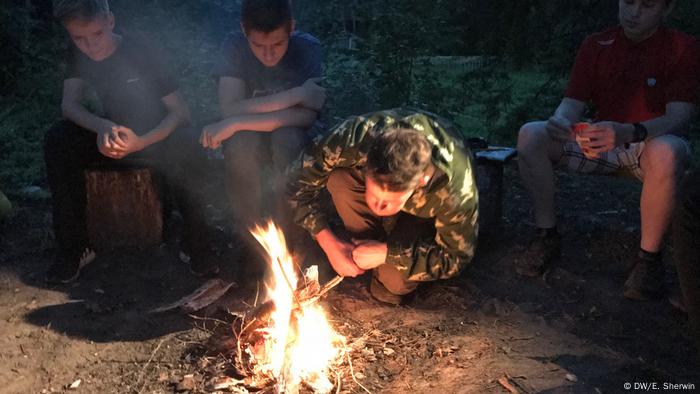 There is hardly any time for campfire romance in real soldier life
"Patriotism is important to me," says Nikita seriously. "And that also plays a role here in the camp - if you already have that feeling, it develops here. It is impossible to be here without being patriotic."