Why is Pogba so expensive
French soccer player Paul Pogba: More expensive than Bale and Ronaldo
Pogba returns to Manchester United. The club paid Juventus Turin € 105 million for this - so much transfer fee has never been over the table for a player.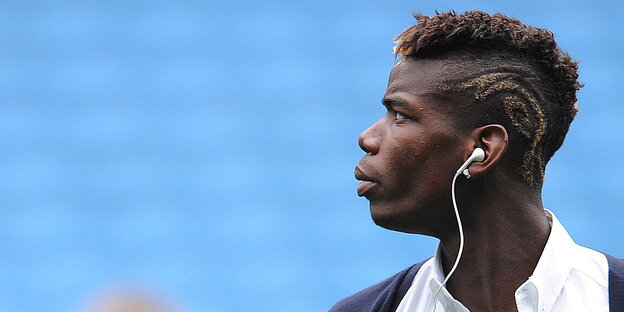 Was not available for free: Paul Pogba Photo: dpa
MANCHESTERdpa | The record deal is perfect: Paul Pogba is returning to Manchester United for an official price of 105 million euros. The 23-year-old French national soccer player signed a five-year contract with the option of one more season with the English record champions. "I'm excited to be returning to United. It has always been a club with a special place in my heart, "said Pogba in a notice posted on the club's homepage on Monday night. "I feel the time is right to come back to Old Trafford."
According to Juve information also published on the night, the transfer fee can increase to 110 million euros depending on the success. "Merci Paul," wrote the club.
After weeks of speculation about the 23-year-old vice European champion, one thing is certain: never before has a player changed clubs for more money. In 2013, the Welshman Gareth Bale set the previous record. Real Madrid paid a rumored 100 million euros to Tottenham Hotspur. After all, Los Blancos paid 94 million euros for Cristiano Ronaldo in 2009.
"Paul is one of the best players in the world and one of the key figures in the future United team," said Manchester coach José Mourinho. The star coach previously admitted that the football market was now crazy, but also defended the transfer fee for Pogba. "I don't think Real Madrid were upset when they set the record with Gareth Bale, I don't think it's a reason to be sad," he said. "It is a reason to be proud that a club can do something like that and that it is attractive for a player of this size".
"I like doing crazy things"
Pogba joined Juventus from Manchester United four years ago. He had not been able to prevail in three seasons with the English record champions. With Juventus, Pogba then won the league title four times and established himself as one of the best midfielders in the world.
With the French national team, the midfielder made it to the finals at the European Championships, but failed there because of Portugal. At the home tournament, Pogba could only partially meet the high expectations. He also made headlines with a vulgar gesture.
In general, Pogba, who was born in Lagny-sur-Marne, is considered eccentric. "Some might say that I'm crazy, but I like doing crazy things," he says of himself. Pogba is also known for his hairstyles with various inscriptions ("Pogboom") or signs and figures (Gallic rooster) . Pogba's sporting goal: to become the best footballer in the world. He said he believed he could achieve all of his goals in football with Manchester. He's already the most expensive professional soccer player.