Which artist originally sang Jeepster?
On August 13, 2000, Paul Baskerville was a guest on the program "On The Tracks" on Radio Bremen 2. In this weekly program, well-known guests are allowed to play their own music for two hours and express interesting things from their lives or about the music being played. This always results in a very personal, often autobiographical insight into the lives of the respective guests. So also in Paul Baskerville's show, in which he reported on his youth in Manchester. A simple playlist at this point wouldn't do this particular show justice, so I've decided to play the entire show here in full.
——————————————————————————–
On the tracks
Paul Baskerville on his youth
in Manchester in the seventies.
Shipment begins with "Sunrise" from New Order
"Manchester has had an interesting music scene for about 25 years. New Order is one of the most famous bands from the city.
I was born in 1961 and can't remember being impressed by the Manchester bands of the time. There was Herman's Hermits, Freddie & The Dreamers and The Hollies. The Bee Gees Gibbs brothers were born in Manchester, but immigrated to Australia with their parents when they were children. Supposedly they are still proud of their Manchester origins, but The Bee Gees are not considered a Manchester group.
It is perfectly clear that the Liverpool scene was much more prominent in the 1960s. I was still too young to know what was important and what was insignificant. I remember Freddie & The Dreamers' Freddie pulling his pants down at the end of an appearance on TV and the nation was shocked by the sight of his underpants. It was one of the first steps in the history of rock'n'roll shock tactics and in retrospect seems to be very harmless.
My interest in pop music started with glam rock, Sweet, Mud, Suzi Quatro, Gary Glitter was perfect music for kids because it was so infantile. The artistic quality was still impressive. First, they often had very good songs, many of which were composed by the composers Chinn & Chapman, and second, all of these artists had their own sound and strong identity. "

Paul plays Suzi Quatro - "Can The Can" - 1973
"I had a Suzi Quatro poster on the wall. I had a crush on Suzi Quatro, too, but only because she looked so boyish in her leather clothes. At the time, I didn't like it when women were too feminine - being feminine was not cool.
Two of the glam rock artists had their own songs and more depth than the others: David Bowie and Marc Bolan. I had a T-Rex poster on my bedroom wall, but not a Bowie poster. So T-Rex was more important to me. "
Paul plays T-Rex - "Jeepster", 1971
"Just as people who were 10 years older than me had a song like" Satisfaction "as their childhood anthem," Jeepster "was my first anthem, although it was a love song and the content was completely unsuitable for my age. Marc Bolan was on the one hand the half-strong rock'n roller with the big heroic gestures, but he was a feminine guy. At that age I unconsciously felt overwhelmed by the sheer aggression of guys like Jimi Hendrix and Led Zeppelin. Marc Bolan was like a censored sensitive children's edition of real rock.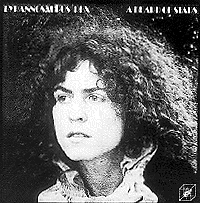 I accidentally got to know his hippie past. At Woolworth's I found a double album in the cheap box from the first incarnation of his band, which was then called Tyrannosaurus Rex. I was hoping for the modern sound, but instead I had to deal with Bolan's hippie ramblings. He had read too much Tolkien. And later I really got to know and love the album. It was involuntarily my first progressive rock album and was called "A Beard of Stars & Unicorn" ".
Paul plays Tyrannosaurus Rex - "Prelude" / "Adaye Laye", 1970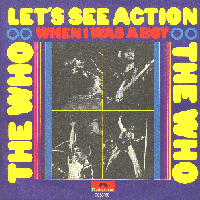 "The band that meant most to me was The Who. I don't know how old I was when I first heard The Who, but I know where it was and which song too. I was at a fairground by the roller coaster with my parents. It was in the northern English resort of Southport. When I heard the song, I was thrilled, but it was as if it wasn't my place to meet The Who at that point. I didn't know what the song was called or which band it was. I didn't find out until later, but the anonymous song stuck in my mind. When I got the record years later, it was like a regression to the past life when I heard the song again. It was one of the lesser known Who songs, a smaller hit single that didn't appear on any album and was therefore sold out quickly. "
Paul spits The Who, "Let's See Action," 1971
"The first time I saw The Who on TV was in 1973 when they played Quadrophenia's single," Five-Fifteen ". Pete Townshend was the hero of my teenage years, I was happy that he was so unhappy and that he wrote so many apt articles about what it is like to be young and unhappy. The Quadrophenia album was an ideal accompaniment for the difficult teenage years. One of the highlights of that time for me was a live concert by The Who in Manchester in 1975. My parents didn't want me to go because the Belvue district was considered too dangerous. After all, they allowed me to do so because my friends could all too. The only strange thing is that they never tried to prevent me from going to Manchester United games when I was a teenager. There was a much greater risk that it would have happened to me, the seventies were the fat years for the hooligans. But my parents thought that football was decent and rock music was indecent. And when I wanted to tell them how rock music can be a reflection of life, they just didn't listen. It was a classic puberty situation: I felt understood by Pete Townshend, but not by my parents. Pete Townshend and The Who were the epitome of rock'n'roll for me. They embodied everything that was good and bad about rock music. Good and bad like life itself. "
Paul plays The Who - "Doctor Jimmy", Quadrophenia 1973
"Manchester is now the most popular student city in Great Britain. The city had hit rock bottom in the 1970s. The city became famous for its cotton 100 years ago and was one of the most important cities in the world. When I was a kid, the prosperity of Manchester capitalism was gone. Many old warehouses were empty and were slowly crumbling.
In 1968 Manchester United won the European Cup, but after that the club went downhill. Star player George Best ruined his career with wine, women and singing. As a child I was so disappointed in him that you can't even imagine. It felt like he was trying to ruin my childhood. Veterans Dennis Law and Bobby Chaunton were in decline - it was a bad time for United fans. And if you say you're a United fan today, you can be blamed for being just an opportunist. It is said that you want to be on the winning side. I can be annoyed about this accusation. If people only knew how depressing the 1970s were for United fans. Nick Hornby described 1970s United fans in his book "Fever Pitch" as people with "frustated grandeur" - frustrated grandiose.
My friends and I couldn't be proud of the city's music either. There was Barclay James Harvest and 10CC. Barclay James Harvest was bigger in countries like Germany than in England. 10CC was very famous in England too. My sister was in a class with Lol Creme's sister, he was the 10CC singer. 10CC didn't touch me at all, but at least the band built the Strawberry Studios, which would be important for the next generation - important for the punks and post-punks. The early 1970s were culturally dead in Manchester. I inevitably heard music written by wealthy kids from the London suburbs because it didn't seem like there was anything else. I only really loved The Who, but our high school almost made you listen to Emerson Lake & Palmer, Yes and Genesis. It was almost like math - a compulsory subject. I resisted Emerson, Lake & Palmer but enjoyed the early Genesis. "
Paul plays Genesis - "The Musical Box", 1971, Nursery Cryme.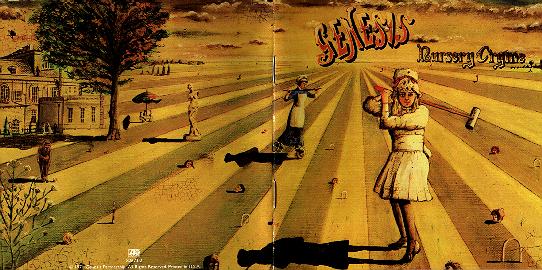 "When punk and new wave started it was suddenly very unhappy to like bands like Yes and Genesis. At the age of 15,16,17 you absolutely want to be hip. Fortunately, it wasn't difficult for me to distance myself from progressive rock, because I only liked the pompous bands with a great claim to art to a limited extent or not at all. I've always been more of a friend of the earthly, down-to-earth attitude, e.g. of a band like Free, which I really liked. Although I couldn't get rid of the feeling that singer Paul Rodgers sounded like Neil Diamond. My mom liked Neil Diamond, so I found the comparison very uncool. I was a real fan of Free. I bought the records and I liked "All Right Now" the least of their songs. The real Free fans didn't particularly like "All Right Now". The guitarist Paul Kossoff died of drugs in 1976, he was the first rock 'n Opfer roll victim that I had noticed. I had seen him in a television interview shortly before his death and was embarrassed by how exhausted he really was. "
Paul plays Free - "Fire And Water"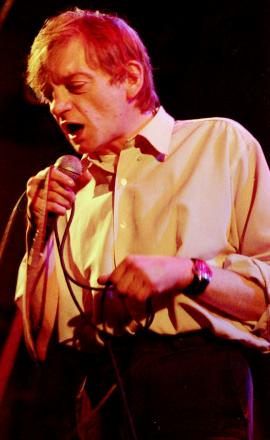 "The post-punk label in Manchester, Factory Records, discovered Manchester bands like Joy Division and Happy Mondays as well as Liverpool's Orchestral Maneuvers In The Dark. On an old factory compilation album there is a quote from William Stukeley who wrote in 1724: "The people of Manchester are a good kind. They have more or less the old English temperament, are warm and sincere in their affection and expression, are hospitable, very kind and courteous towards their friends, but very tough and resolute towards their enemies. They are friendly to religion and very eager to work, no matter what their concern. "This attitude that is described here applies very well to the bands that came into being from 1976 onwards. 1976 was the time of the punk revolution. There have been 4 major Manchester punk bands: The Buzzcocks, Magazine, Slaughter And The Dogs and The Fall. The Fall, the band around Mark E. Smith is surprisingly still around, and in an old freshness. And when you listen to The Fall's music, in an unspecific way, it sounds like a stroll through the poor parts of the city. "
Paul plays The Fall - "Jung Nev's Antidote", 1999
"Which band can you say that they are as good or even better than they were 22 years ago. I would say that about The Fall. The '99 album is called "The Marshall Suite" "
Here is the sound of the English proletariat again.
Paul plays Leatherface, "Not Superstitious", 1991 from "Mush"
Paul plays Billy Bragg, "An Accident Waiting To Happen," from "Don't Try This At Home," 1991
The Newcastle based band Leatherface are living proof that creative punk is alive. They were a few years apart but are happily reunited. It's the band around Frankie Stubbs, he's an old punk, but ultimately a songwriter. Billy Bragg was the "one-man 'clash" for me, the first real punk songwriter, just like Bob Dylan is a songwriter.
The first punk band I saw live wasn't The Buzzcocks, Magazine or The Fall, but The Ramones, but I didn't even know it was a punk concert: The Ramones had long hair! I already knew that they played very fast and that the songs were very short, but I didn't really come up with the term punk. To me they were like a heavy rock version of the Beach Boys.
Paul plays The Ramones, "Sheena Is A Punk Rocker"
The Ramones were from New York, the Sex Pistols and Clash were from London - Manchester was by no means the birthplace of punk, but the Manchester version of punk was a reflection of the real working class. The London bands also all claimed to be working class, in part that was made up. Joe Strummer from The Clash, for example, went to boarding school. There were also many art students on the London scene. Manchester's Slaughter And The Dogs were real hooligans from the Withenshore social housing area. The Fall's Mark E. Smith was from Sulford, real working class credentials. Sulford and Withenshore have always been heroin strongholds.
I lived a safe distance from Withenshore. I just had to be careful not to go in the wrong direction with my bike. I grew up in Timperley in South Manchester, Timperley is and was lower middle class or middle class working class, depending on how you want to define it.
At that time I was also in a punk band called "The Limit". Back then it was almost as normal to play in a punk band as it is common today to have a cell phone or an Internet connection. So today people ask you: "Are you online?", Back then in England people were asked: "Do you have a punk band?". I was the singer. I dug out an old live recording from our first gig. It's the only recording I have. I was trying to sound like John Lydon of the Sex Pistols back then.
Paul plays The Limit - "Pretty Vacant"
That was Garangenpunk in the narrow sense of the word.
Now The Smiths from Manchester, the most popular indie band in Great Britain in the 1980s. The album "Strangeways Here We Come" was the last album, 1987, we'll hear a piece of it right away. Strangeways is the prison in Manchester, right across from Boddington's beer brewery. Allegedly, the inmates can smell the beer. A jail sentence in Strangeways is certainly worse than anywhere else. There were also riots there a few years ago because of unreasonable conditions.
Paul plays The Smiths - "Last Night I Dreamed That Somebody Loved Me"
Pop and rock music had a long left-wing politically correct tradition. That is why it is all the more surprising when someone is politically incorrect. Morissey, the Smiths singer, has been suspected of being a racist. He sang lines like "We are the last truly British people you will ever know" in the song "We'll Let You Know" and explained "England for the English" in the song "National Front Disco". Then there was the song "Asian Rut". Morrissey sang "Life is hard enough when you belong here". What you heard from it was a matter of interpretation. It had never been clear in his songs how far he was expressing his personal opinions or how far he was quoting the lives of others. In the case of Morrissey, I always tended to think: In doubt, for the defendant. I didn't feel like enduring a fallen hero again, George Best was enough for me. Morrissey stopped giving interviews after these songs because he had become paranoid about the press. But at least he commented, albeit indirectly, on the allegations in the song "Speedway" on the "Vauxhall And I" album.
Paul plays Morrissey, "Speedway", 1994 from "Vauxhall And I"
It was originally my plan to structure the program in strict chronological order, but that was difficult to do. For example, I started with New Order. I also had to play Morrissey in connection with punk, for example. But in between there was also a lot of music that was very important to me.
The establishment of the Factory Label at the end of the seventies was also very important for me professionally. The Manchester scene at the time revolved around Factory and above all the band Joy Division, whose singer Ian Curtis committed suicide at the age of 22. Factory and Joy Division was the card I bet on at the time to work for German radio. The first broadcasts that I did, I was invited as a studio guest, as a supposed expert on the music scene in Manchester. Joy Division was a great band, no question about it, but Joy Division was important to me for work-related reasons and in retrospect I can't judge whether I would not have rated the band differently if I hadn't needed them professionally. In retrospect, it seems to me that my enthusiasm may have been a little exaggerated. But isn't that a virtue of youth?
Paul plays Joy Division - Transmission, 1980
Joy Divsion sounded semi-strong and connectable at the same time, but isn't that the quintessence of rock'n'roll? It was strange, as soon as I moved from Manchester in 1980, the city's music scene got more interesting.When I was a teenager there were hardly any decent clubs to go to before punk. With the emergence of punk things improved a little. There was The Russell Club and The Electric Circus, but the public transport system was so bad that I rarely dared go there because there was a risk of not getting home.
Unfortunately, violence was always an issue there. It was a bit of a risk standing in line at the fish 'n' chip shop in certain neighborhoods after curfew, and it still is. I was recently in Manchester for a "Twisted Nerve" evening. "Twisted Nerve" is a new cult label from Manchester. After the concert there was an after-show party in Artwick. The bands warned me not to walk to the pub where the party was taking place. The danger of an attack is too great. And if my mother had given me this warning, I would certainly not have taken it seriously. But when those hard-nosed rock'n'rollers say that, you take it more seriously. There are also less beautiful addresses in Hamburg where I live, but I never had the feeling that I was in danger there. Maybe Manchester is harder after all - maybe I'm naive about Hamburg.
In any case, Mark Burgess ex- The Chameleons now lives in Bremen. The Chameleons from Manchester were one of my favorite bands of the eighties. Noel Gallagher from Oasis, Manchester, admires The Chameleons very much. You can also hear the influence in the music of Oasis. The Chameleons was like a "smart" version of Oasis, without the hooliganism.
Paul plays The Chameleons - "Second Skin", from "Script Of The Bridge", 1983.
There was also music from Liverpool in the eighties that I really liked. There were a couple of bands that could have changed the world. Their mainstream appeal was ultimately not big enough. The problem with the Liverpoolers is that they still haven't recovered from the Beatles. There are still a bunch of bands out there that sound like the Beatles. The house where Paul McCartney lived as a child is a listed building. You can pay admission and see in which corner he wrote "Yesterday"!
Anyway, there was The Teardrop Explodes, The Mighty Wah! and Echo & The Bunnymen in the eighties. Julian Cope, Pete Wylie, and Ian McCullough were all very strong, dominant personalities. They didn't sound like The Beatles. In the beginning they played together under the name The Crucial Three. It didn't go well for long. Cope formed his own band, The Teardrop Explodes, Wylie formed Wah !, and McCullough formed Echo & The Bunnymen.
Paul plays The Mighty Wah! - "Weekends" from "A Word From The Wise Guy".
Paul plays Echo & The Bunnymen - "Show Of Strength" from "Heaven Up Here" in 1981
I recently had a conversation with an old school friend about music. He said that the music used to be better, that there were no more classics, he said. He listens to the old Genesis recordings in the car on his way to the office. I tried to explain to him that there is still the same longing in music, but he is not open to this longing, for whatever reason. If he listened to Square Music Square regularly, maybe he could be persuaded ...
Paul plays The Teardrop Explodes - "Tiny Children" in 1981
That was the show "On The Tracks" on Bremen 2 with Paul Baskerville.
Buffalo Tom - "Taillights Fade" from "Let Me Come Over," 1992
I wish you a good night!