Is immigration a competitive advantage for America?
Navigation and service content
Type: speech, date: 04/14/2015 10:00 a.m.
Federal Minister of the Interior de Maizière on the subject of "Immigration to Germany - Perspectives and Opportunities"
Speaker

Dr. Thomas de Maizière, Federal Minister of the Interior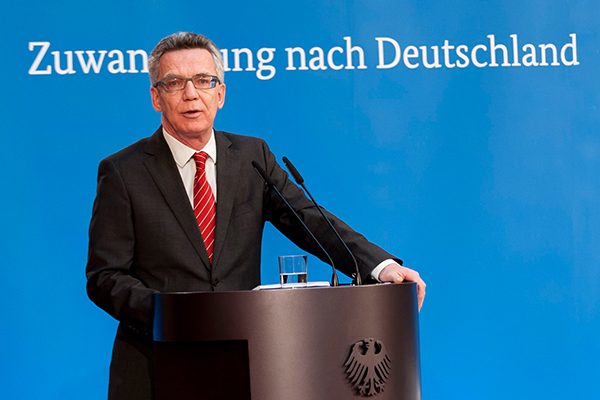 Source: BMI
The spoken word is valid!
Dear Sirs and Madames,
"We are the people."
This call reminds us all of the peaceful revolution, the fall of the wall and reunification: These were great moments for our country: We are all happy and grateful that we were able to witness them.
We Germans enjoy looking back. We call this a culture of remembrance. That is also important. However, 25 years after German unification, I would like to see more debates on the same level about our future.
I am therefore taking today's conference as an opportunity to ask:
What for a people are we today?
And: what kind of people do we want future be?
Our title "Germany as a country of immigration?" Has a question mark.
That takes up the debate.
Ultimately, however, it is empirically clear: Germany is now a country of immigration.
The "whether" has long been decided. Much more interesting, however, are the "how?" and then "do we want that?" and "how do we deal with it?"
How do we shape immigration? What kind of immigration country do we want to be?
What consequences does immigration have (also in the long term) for Germany, for our coexistence, for our economic development, for cohesion, but also for our national, our cultural and religious identity?
What consequences does migration have for individual migrants, for their personal development, for their families, for their economic and professional development, but also for their (also religious) identity?
But we must not ignore the question: What does migration actually mean for the countries of origin, for their development opportunities, for the people who stay there ("brain drain" or "brain gain")?
One aspect that we tend to forget in the public discussion is the fact that Germany is both the host country and the country of origin, because the number of German emigrants is increasing (number of emigrants may be added) and the emigrants are mostly young and mostly well qualified.
And: We are often dealing with immigration and emigration that are limited in time.
Today's conference serves on the one hand to take stock. At the same time, however, it is the beginning of a critical, results-oriented dialogue. This dialogue is necessary. Because the topic of migration is highly complex and at the same time emotionally and ideologically chargeable like hardly any other topic.
As an example I will cite the discussion about the question: do we need an immigration law?
According to a survey, a clear majority of 74 percent of German citizens were of the opinion that immigration to Germany should be regulated by a new law.
However, there was no consensus among the respondents What because a new immigration law should regulate precisely. On the contrary:
26 percent said the law should lead to Germany more Immigrants than before, while 27 percent of those surveyed said the law should for Less Care for immigrants than before.
So we have to take a closer look at the subject of "immigration".
In order to shed light on migration in all its facets from different perspectives, we invited experts from business, science, representatives of the churches and international guests today.
And if you look at the line-up of our panels, you will already suspect that there will be very controversial discussions today.
Let's start with the question: where are we?
Today Germany is one of the most popular immigration countries in the world - only the USA is more popular.
Never before have so many foreign nationals lived in our country (8.2 million).
Even if we will talk a lot about numbers at a conference like today's, I would like to begin by making it very clear that when we talk about migration, we always talk about people.
So I'll start with four short stories:
I want to tell you about a young man from a Turkish immigrant family: His father came to Germany at the end of the 1980s as a qualified electrical engineer, but had to work as a construction worker because he did not speak German. The son, who at first spoke almost only Turkish, learned German, made it from secondary school to secondary school and, through the mediation of a committed teacher, received a scholarship to complete secondary school with an excellent grade and to switch to a technical high school. He graduated from high school in June last year as one of the best in his school year and is now studying engineering.
There is a Polish nurse who keeps coming to Germany for 3 or 6 months to look after an old lady in Berlin.
There is the refugee family from Homs, Syria, who fled to Cairo before the civil war in their country, but were unable to find a safe place there either. This family was brought to safety in Germany with the third contingent of Syrian refugees at the end of last year. A Syrian who has been living in Germany for a long time helped significantly.
There is Sister Julie, a nurse from the Philippines: Through mediation as part of the federal model project (GIZ and ZAV) "triple win", she will soon take up a job at the University Hospital in Freiburg.
There is the Romanian doctor who is leaving his country, the Greek student who also works in his uncle's restaurant, the Dutch building contractor from Maastricht who is moving his business across the border to Germany, the Czech master painter who is self-employed in Bavaria.
These examples show: The There is no immigration. Rather, we have to distinguish:
First of all, there is the immigration of EU citizens who enjoy freedom of movement under European law. Last year, as in the previous year, they made up around 60 percent of all immigrants.
This should be separated from the immigration of people from countries outside the European Union who come to Germany to take up work, to study or to train.
Refugees and people who come to us and claim the basic right to asylum or apply for asylum because they expect more from living in Germany than at home are subject to fundamentally different conditions.
Finally, reunification for family reunification is to be cited.
Our laws are probably also relatively complex because we try to do justice to all of these groups.
We want - and can - regulate immigration, neither only from an economic nor only from a humanitarian point of view.
The asylum lawyer Roland Kugler said in an interview in the taz on March 21, 2015:
"When I started working as a lawyer in 1979, there was still the first Aliens Act of 1965. The law consisted of 23 paragraphs and at that time there was still the Geneva Refugee Convention. Why is it so complicated today?
Because the simple was not felt to be fair. The price of justice is a complex law. "
If we are discussing a needs-based control of migration today, we must first take note of the fact that a control by law at all only in one allsmall Area of ​​these immigrant groups is possible.
Immigration within the EU in the context of freedom of movement is another one legal Control largely withdrawn. The rules for the immigration of these people are laid down in European law. Important European legal questions are more in the social area. Keyword: child benefit for EU citizens who live in Germany but whose children are in Bulgaria.
Still, it is too short-sighted when we consider the inability to further legal Take the design as an opportunity to stop thinking about the design of immigration within the EU.
First, immigration to Germany from the EU, as a natural constant, could not stay that way over the long term. The largest immigration from EU countries comes from Poland. But also the greatest emigration. Nobody knows how the balance will develop here. Many southern Europeans also come to us today because the situation in their own countries does not offer them attractive prospects for the future. That will change too. Hopefully.
Second, we should worry about how we can shape immigration from Europe more actively. Because in view of the shortage of skilled workers, we will need a lot more immigration from Europe in the future. It is incomprehensible to me that we talk the least about the largest group of immigrants. Who do we want to address in particular? How can we become more attractive to these people?
But that cannot primarily be a matter for the state. Future employers are particularly in demand here.
As an example, I would like to cite a large clinic in Kreischa in Saxony, in which 2500 nurses and geriatric nurses work. The operator of this private clinic is specifically looking for nursing staff in Spain and Italy. He advertises there, promotes his clinic, pays for language courses and accommodation. So in the year 20-30 new foreign nurses from the EU come to his house.
Other employers could certainly become much more active here. However, we do not need additional legal regulations here, but we do need active action.
Dear Sirs and Madames,
for people who Not come from EU countries, we have already modernized our right of residence and made it more flexible in recent years:
With the "EU Blue Card" we have created a central opportunity for the immigration of academic specialists.
One could even argue that Germany has thereby created an extremely lean "points system".
Applicants only have to meet two points: a university degree and an employment contract with a certain minimum salary.
More than 24,000 highly qualified people have already received the Blue Card. That may be little. But around 90 percent of all European "blue cards" are issued in Germany.
We have also opened up new avenues for traditional training occupations where there is a shortage on the labor market.
Here immigration can take place without a priority check. The list of shortage occupations contains over 70 employee groups, especially in health and care professions as well as in the areas of mechatronics and electronics. This list is dynamic: it can be adjusted at any time.
We also have our job market for highly qualified and skilled workers from tomorrow Open: In the 2013/2014 winter semester, more than 300,000 foreign students were enrolled at German universities.
Our residence regulations enable you to stay in Germany for up to 18 months after completing your studies to look for a job.
The OECD confirms that Germany is now one of the countries with the most favorable immigration regulations for skilled workers.
The Advisory Council of German Foundations for Integration and Migration only came to a similar judgment last year.
But even if the OECD praises our liberal residence law regulations, it has also found that the German immigration law is often still perceived as complicated and restrictive abroad.
Why is that?
Are our regulations too confusing? Is it too complicated?
I am ready to critically examine where there is a problem and where there is room for improvement. We'll be discussing that in a moment.
But - and I think I can already say that - with legal changes (simplifications) it will be us Not success, essential bring more skilled and highly qualified workers to our country.
It is not as if the specialists from abroad are queuing at the German borders and only being deterred by our supposedly complicated laws.
Many professionals prefer to move to Canada, Australia, New Zealand or the USA. So far, Germany has not been that attractive to them. We have to start here.
We must fundamentally recognize that the Anglo-American countries in the international Competition for the best skilled workers central Have a competitive advantage: that's the English language.
Even if there will never be equal conditions for this reason, we still have to make an effort if we want smart immigration in our interests, especially with a view to demographic change.
My central thesis is:
We Germans talk a lot about that Allow. About what we really need to do better, about that Invite and Arrive let's talk little.
Every immigration law, whether it is called a residence or immigration law, can only regulate who comes and who stays may. But a law is unable to affect who actually comes. But that is exactly where our challenge lies.
So we are mainly discussing the right topic of immigration on the wrong object: the law. Perhaps that is typically German, but not expedient in the matter.
Again: a lot of things can be done better in the law. But immigration itself must be done better: the advertising, the attitude, the acceptance, the integration, the willingness to integrate.
Here are a few suggestions:
We have to specifically advertise our country where we want people to come to us. We need immigration marketing. And this immigration marketing has to start at very different levels.
In order to improve Germany's attractiveness, for example, we have to work on increasing interest in the German language abroad.
Here we also have to get creative together with business and science in order to develop new incentives (e.g. scholarships or internships).
We need to provide better information. The federal government has already switched Internet portals such as "make it in Germany" to advertise Germany as a business location. Some large cities already have welcome centers for immigrants.
Above all, the companies, the German chambers of foreign trade abroad and the German diplomatic missions could play a much stronger and more active role here. You are very creative in exporting German products all over the world. Why is the German economy so little creative in offering the right, suitable people a job in Germany? Should the state carry out recruitment procedures abroad?
From today's conference, I promise myself that we will consider with business, trade unions, science and international experts:
How can we together make our country even more attractive for skilled workers? And: What can each of us contribute to it? Do companies (like the clinic operator from Kreischa) not have to go more specifically to the countries from which they want to recruit employees? How can we win people who have successfully immigrated to our country as experts as "ambassadors" for Germany as a business location?
What we need now is one common Efforts by business and politics to fill the existing legal possibilities with life - wisely and pragmatically.
Dear Sirs and Madames,
When discussing the control of immigration, for example through a point system, it is often overlooked that there are large areas of immigration that are subject to change a control as required revoke:
To be mentioned here is the reunification to reunite families. People who live permanently in Germany or who legitimately seek protection with us should be able to have their closest relatives with them. In 2013, a little more than 56,000 people received a residence permit for spouse or family reunification. This corresponds to our common understanding of values ​​and the fundamental and human rights protection of marriage and family and we do not want to change anything in principle, even if we have to prevent some abuse here. Germany is by no means a special place: In the classic immigration country, the USA, family reunification has been by far the most important basis for legal immigration with a share of almost 66 percent in recent years. In contrast, only one in six immigrants was granted residency to take up employment in the United States.
Another area of ​​migration that is deprived of any usefulness from the outset is the area of ​​asylum and refugee protection.
Germany takes its humanitarian responsibility very seriously: no country in Europe does as much as Germany when it comes to accepting civil war refugees from Iraq and Syria.
Germany takes in around three quarters of all Syrian refugees who find protection worldwide through humanitarian programs outside the crisis region.
The number of asylum seekers in the Federal Republic has been increasing at high rates for years: in no country in the world are more asylum applications filed than in Germany.
In 2014 we registered more than 200,000 asylum applications, an increase of 60 percent compared to the previous year.
A large part of this increase cannot be controlled in the short term - this results from the significantly increased protection rate due to the current crises and wars in Syria, Libya and Iraq. We all want a different situation in Libya, a different behavior for many partners in the EU. We are working on that. But it takes time.
On the other hand, around half of all applicants currently come from the six countries of the Western Balkans - and these are people who have little chance of recognition. That is unacceptable for us and embarrassing for Europe.
We definitely have control opportunities here if we (and indeed all those involved in the federal and state governments and in the Balkan states concerned) have the political will to do so.
A clear distinction between people who are in need of protection and those for whom this does not apply is and remains of central importance.
If there is a need for protection, we must do everything in our power to grant protection quickly and to support rapid and successful integration in Germany. Recognized refugee protection will result in permanent immigration, but I repeat, the starting point is uncontrolled.
In return, however, this means that people who cannot claim a right of residence with us under any legal point of view also have to return to their homeland as quickly as possible.
Deportation is not a nice experience, not for those affected, not even for the police officers.
Especially when families with children are to be deported, it is hard and sometimes difficult to bear. I cannot and will not gloss over that.
But if we as a society cannot stand it and enforce it, it will devalue our entire asylum system. It has to make a difference whether a quickly processed asylum application is rejected or not. Otherwise the whole system will tip over.
Our goal must be to maintain the receptiveness and receptivity that our society has for those who are really persecuted.
At this point, let me say a word about the so-called change of status, i.e. about the consideration that asylum seekers should be able to switch to a residence permit for taking up work from the ongoing procedure if they can do something:
As convenient as this idea may seem at first glance - what incentives would we create with it? If we were to make the change of status the rule, this would be the signal for everyone who wants to leave their home country for economic reasons that an asylum application in Germany leads to admission even without political persecution. That wouldn't be a good signal. This is the opposite of control. What about the rest? There can be no division of labor, where the economy chooses the best from all those who come for whatever reason and the rest is put in front of the door of the state. We can talk about exceptions, especially for minors. But I reject change of status as a principle.
Dear Sirs and Madames,
With all that we can do in the area of ​​immigration at the national level, we must beware of the "feasibility mania" that is widespread today:
We have to acknowledge that migration processes are highly complex phenomena that can only be controlled to a limited extent, especially for a country in the middle of Europe with open borders. This has always been the case historically.
The idea that one can totally control this phenomenon - in whichever direction - is a mistaken idea. It is just as wrong, however, to capitulate in the face of this certainly enormous challenge and to give up any design claim, or even to propose the thesis that we should simply welcome everyone. No, there is no right to freely choose your place of residence in any state in the world.
In view of the security situation in Syria, Iraq, Sudan, the Horn of Africa, Libya, but also the forecast population growth in Afrikam, it is already clear that the pressure to migrate to Europe will increase.
Over 50 million people around the world are already on the run. These dimensions make it immediately clear that the problems of poverty and violent conflicts in the world cannot be resolved through migration policy from the outset.
What is needed is a broader, more coherent policy approach based on national and EU level includes aspects of foreign, economic and development policy in order to bring about a sustainable improvement in local living conditions.
The federal government has therefore set up a committee on "International Migration" chaired by the AA and BMI. The topics are on the agenda:
Relationship with third countries and international forums,
Combating illegal / irregular migration,
Migration and development,
Refugee protection,
Controlling Legal Migration.
We expect results in the course of the year. This networked approach is new and correct. However, we cannot expect short-term success here.
We are also currently working intensively on a jointEuropean Answer to the increasing number of refugees.
The Commission is working on a comprehensive European Agenda on Migration, which is expected to be presented in May.
Germany is also actively involved in this process.
The European Agenda on Migration is likely to have four key areas:
Strengthening the common asylum system,
A new European policy for legal migration to strengthen global competitiveness (review of the EU "Blue Card" directive),
Consistent fight against irregular migration and human trafficking,
Securing Europe's external borders.
In July there will be a joint council of interior and foreign ministers on the subject of migration.
As you can see, we are currently working on the issue of migration on many different levels at the same time.
But if we come back to the initial question "What kind of people do we want to be?", This is a variant of the question: "How do we want to live together?"
Today Germany is a modern immigration country, as a growing economy with our population development it is still dependent on immigration.
But we should be careful
Immigration alone to be perceived from an economic point of view.
We should not lose sight of the social and cultural, even the religious aspects and consequences, otherwise immigration and integration will fail.
Migration also has its downsides - I will only mention illegal migration, the unspeakable business of people smugglers and human traffickers.
Migration also means the confrontation with the foreign and the new. This is also linked to fears and worries in the host population, which we must not ignore.
We also need to take a closer look at the concept of the "receiving society". Because the receiving society of today is also very different from that of 25 years ago.
Even if there are big differences within Germany, e.g. between town and country or perhaps still in this question between "East" and "West".
Basically, the host society today is not a "homogeneous society"; it is religiously and culturally more diverse than it was 25 years ago.
This opens up opportunities (diversity enriches: new impulses unfold. That makes Germany "fit" for globalization. This leads to cultural fertilization and further development, in addition: the existence of an "own" community in the destination country is an important incentive for many immigrants).
But that also has potential for new Conflicts that we should not hide or belittle.
I give examples:
Communities that take out unlawful spaces,
Salafist attacks on Yazidi refugees,
Riots between protesters close to the PKK and Salafists in Hamburg,
Anti-Israel demonstrations with shouts like "Death to Israel" by Palestinian organizations at the Brandenburg Gate.
But also worrying developments in our neighboring country France, where more and more Jewish citizens are emigrating to Israel for fear of anti-Jewish attacks by Muslims.
If we think about the question "How do we want to live together?" discuss, then we should also allow the counter-question "How do we want Not living together?"
In my opinion, we should have the courage to be specific on this issue.
The demand for a "welcoming culture" is made quickly and certainly well-intentioned.
Ultimately, however, it is of no consequence if it remains too vague. (Who should create it? Can a "welcoming culture" be measured? Can a government create a welcoming culture? who should feel welcome? Are there limits to welcome?)
Sometimes we hide behind symbolic discussions (like the one about the headscarf) in order not to have to talk about the real, deeper points of conflict. (Examples: How far is the acceptance of other religions, especially Islam? Christian and Jewish kindergartens and schools are generally recognized. But how great would the acceptance of Muslim kindergartens and schools be? How would a large Islamic welfare organization be accepted?)
My conviction is: Integration only works if it becomes concrete, if it is lived, if there is friction. There is no real integration without conflict.
Misunderstood tolerance (tolerare: Latin: to endure, to endure), on the other hand, can lead to a "coexistence".
And: With the prevailing understanding of tolerance, there is always someone who is already there, who "tolerates" and someone who comes along and "who is tolerated". That has something from above and below. This can only apply for a transitional period. After that, mutual acceptance must apply.
Incidentally, the word "integration" also comes from Latin. "Integratio" means: the renewal.
Integration as a motor for a renewal of society: This is probably how most people in our country see it - especially with a view to demographic change.
According to a recent survey
According to the Bertelsmann study, 59 percent of Germans say that immigrants are welcomed by the population. But there is a relevant minority who see it very differently. Silence does not help here, but arguing.
It is interesting that 68 percent of the people surveyed with a migration background also share the impression that immigrants in Germany are welcomed by government agencies.
Three years earlier, only 57 percent of those surveyed said that.
One conclusion of this study: Germany as a country of immigration is gaining maturity. However, this also goes hand in hand with higher demands by the population on the willingness of immigrants to integrate.
98 percent of those surveyed say they expect immigrants to learn the German language.
On the one hand, this result shows how pragmatic the majority of Germans think, because integration is simply impossible without language.
On the other hand, it also shows that the people in our country want to meet immigrants on an equal footing. They do not see them exclusively as workers who are needed for economic reasons, but as members of our society with whom they want to enter into a dialogue.
Our state does a lot for the success of integration. The central instrument of the federal government is still the integration courses. Hardly any other state goes to such a great extent to contribute to the success of integration.
The steadily growing interest in the courses shows the success of this instrument. We increased the budget for the integration courses to 244 million in 2014 and continued this amount for 2015. This means that we can continue the courses in full and offer those interested in courses.
In the area of ​​equal opportunities for young migrants, however, we have to do even better. Equal opportunity is of course a big word.
Last year, at an award ceremony for integration projects, I spoke to a large number of children with a migration background.
I started with the positive example of our "colorful" national team. But then I linked the question, which is more aimed at adults:
Can we honestly say to young people today outside of top-class sport:
"All that matters is your performance. Your origin does not matter."?
Probably not yet.
But we should be able to.
Germany's immigrant children are getting better and better school qualifications. In the labor market, however, this has so far not paid off enough.
That needs to change. The question is how"?
We need - and I say this very self-critically - a lot more diversity in public administration: The Federal Government is therefore specifically recruiting young people with a migration background. Together with my colleague, Minister Dr. Wanka, last autumn I personally wrote to around 3,000 schools across Germany to attract young people with a migration background to the public service.
But not only the state, also companies need more openness to applicants whose last name is not Müller or Meyer. A current study shows: 60 percent of the companies in Germany have never accepted a young person with a migration background for an apprenticeship - although this group makes up a quarter of all young people!
When we ask: which people do we want to be, then I say: a people in which not only a few football professionals, but also a comparable number of teachers, judges, police officers, public prosecutors, managers, craftsmen or members of parliament have a migration background.
With today's conference I would like to initiate a discussion process on all of these questions.
For me, it is not about abstract discussions, but about an open, pragmatic and solution-oriented engagement with the question of how we can make immigration and integration even more successful together.
My goal is a broad national alliance for migration and integration: away from the headlines, towards the content, not only about the question "how do we regulate who is allowed to come?", but about the question "how do we find the right people and how do we live together?".
In the second half of this year I will invite you to a first round of talks. More will follow. I would like to set a new focus:
Away from the old ideological discussions about permitting and being allowed to, towards a constructive dialogue about inviting, arriving and living together. To contribute: I invite you to do this: today and in the future!