How can I reach CSTM from Bandra
Mumbai and Beyond ...
Traveling by train in Mumbai (I don't know exactly how it is in the rest of India) can be a real adventure when done for the first time. It is good to know that the main stations from which you can reach most of the other stations are "Dadar" and "Victoria Terminus (CST)". You are always in good hands there if you want to go anywhere by train. First of all you have to know that the lanes are always overcrowded and there are no doors. Perhaps that is because the Indians like to hang in the wind, which for us looks more like suicide than refreshment. The main station in Colaba is "Churchgate" and if you want to get off there, you have to let everyone else get on because they want to secure the seats. This is not particularly logical, as Churchgate is usually the terminus and everyone gets off there anyway. So, be patient, don't panic, hold on because of the crowds and bags. A bus ride from Victoria Terminus to Colaba (Regal Cinema, on the corner of the Causeway) costs 4.50 rupees. Just to be on the safe side, because you are even cheated out of your change by the bus conductors. Reservations for further trips must be made at least a week in advance, otherwise you won't get a seat and you have to make do with the space in front of the toilet on the floor (which is not particularly pleasant). There are day and night travel options. The night trips are more popular and there are usually only about 10 seats for "foreigners" per train. so ... reserve in advance. The train ride to Goa is by the way very pleasant and you can buy all kinds of food and drinks on board. Reservations can be made in Mumbai at the counter in the Victoria Terminus hall. So much for me, about train rides ...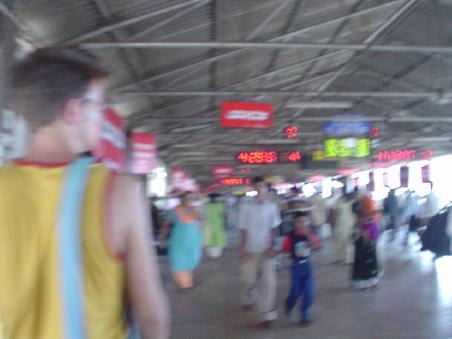 Bandra station in its "empty" times!