How does Salesforce structure the sales force
How Salesforce can help you grow your sales
Do you know what challenges your customers are facing?
More and more data is being collected - because keeping track of the vast amounts of customer data (probably still collected in Excel) is almost impossible. However, if you do not have an overview of this important data, you will not be able to find out what problems your customer is currently dealing with and how you (and your products) can help them. A CRM system like Salesforce can help sales staff to have a complete 360-degree view of the customer and all relevant data. In this way you can understand the customer and their problems and offer your products / services better.
You will know that after the webinar:
What challenges do your customers have?
What is a CRM Tool?
What can a CRM tool like Salesforce do?
Where can Salesforce support me?
Content of the webinar
In our free, approximately 1-hour webinar, we'll show you how Salesforce can help you:
Document your customer data digitally and in a structured manner in one place
Map the customer lifecycle (e.g. the lead-to-order process)
Record and track orders and inquiries quickly and easily
Use established and proven processes
Your speaker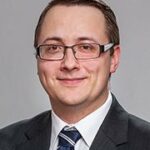 Robert Zentgraf
Salesforce Senior Consultant
If you have any questions, please feel free to contact our mindforce department. You can reach us by email at [email protected] or by phone at 0211 946 285 72-65

Register for the webinar