On the trail of the past in Georgia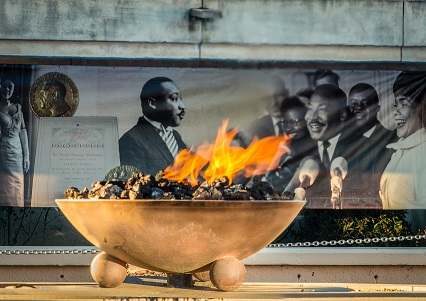 Info / recommendations | Georgia | 01/29/2020 | Photo: Jim Duckworth | Atlanta CVB
Whoever visits Georgia does not only get to know the peach state in the here and now, but is also in many places on a flying visit in the past. Numerous locations of world-famous and moving moments in history as well as traces of legends such as Martin Luther King await you!

The historical roots of Georgia go deep. It even begins thousands of years before the Cherokee and Creek, because people lived in this part of the southern states around 12,000 years ago, as evidenced by mounds and finds. The colonial era can be felt even more clearly - for example in Savannah, which was founded by James Oglethorpe in the 18th century as a paradise for the poor in England. The city flourished with cotton when plantation owners and wealthy traders built pompous city mansions and mansions.

Even if slavery was forbidden at the time the settlement was founded, it was unfortunately lifted again in 1750. As everywhere in the southern states, slavery was the basis of the economy in Georgia. Some slaves have successfully escaped via the so-called "Underground Railroad" since around 1780, an informal network of helpers who support the escape to the free north or Canada. Traces of this network, but also of the War of Independence, the Civil War and the civil rights movement can still be seen and are carefully preserved.

The second half of the 20th century was marked by a phenomenal boom, during which Georgia's capital became the economic and cultural heart of the southern states. During this period, which also included the aforementioned civil rights movement, Georgia - mainly because of you - gradually became a new Georgia.



In Georgia, you can follow in the footsteps of heroes and legends like Dr. Martin Luther King walk and understand the long and arduous journey of the African American people to equality. There is a special themed street for this, the U.S. Civil Rights Trail, which links the most important squares, museums, churches, courts, schools and monuments in the southern states, which played a prominent role in the struggle for civil rights. For example, you can see where Martin Luther King was born (Atlanta), in which churches the grassroots movement originated (Albany) or where the leaders of the civil rights movement met (Midway).

If you don't follow the trail, but just want to get a taste of this part of history, you should visit the Martin Luther King Jr. National Historical Park and the Center for Civil and Human Rights in Atlanta. The Atlanta History Center is also highly recommended!