What are the uses of cards 3
Card table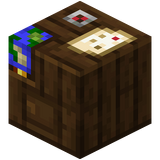 The Card table is a block that can be used to manipulate cards.
Properties [edit]
If a village has both a map table and an unemployed villager, the villager can become a cartographer.
Extraction [edit]
Occurrence [edit]
Card tables are found in cartographers' homes in villages.
Manufacture [edit]
Use [edit]
Change cards [edit]
Map tables are used to clone maps, resize the map and lock it. For this you need an additional item, which you combine with the card. You place the card already written on in the upper slot and the object to be combined in the lower slot.
Bedrock-exclusive: A card can also be renamed in the card table without using up a level.
The following items can be combined with a card:
| object | Result |
| --- | --- |
| paper | The map will be enlarged so that it is now on a smaller scale. The content will be deleted. |
| Blank card | The map is duplicated. You get two copies of the same card. |
| Pane of glass | The card is blocked. This means that no more changes can be made to the map. |
The inventory of a card table, with just one card
Profession for villagers
If there is an unemployed villager and a map table in a village, the villager takes on the profession of cartographer and the respective map table will be the villager's occupational block in the future. The list with the offers can be found under cartographer.
Fuel
A card table can be used as fuel in the Bedrock Edition. 1.5 items are heated per card table.
Gallery [edit]
A card table in a village.
History [edit]
Version history of the Java Edition
Full version 1.14

18w44a

Card table added

18w46a

The texture is changed

18w48a

Card tables are generated in villages

19w02a

Added recipe for the card table
Card tables are given a user interface
They can be used to copy, expand or block cards

19w06a

Making cards creates noise

19w11a

Card tables must be made with four instead of two wooden boards
Versions of the Bedrock Edition
Full version 1.9.0 (1.9.0.2)

Card table added
Card tables can be used to melt 1.5 items in an oven.