Why do prescription drugs have strange names
Get prescription drugs
Pharmacies sell drugs. It is no different in Crete than in Germany. However, there is a lot more available over the counter here.
The drugs are usually cheaper too. For the only preparation I need, the additional payment alone is more expensive in Germany. My Berlin gyn immediately understood that I no longer had a prescription.
Well, not everyone is lucky enough not to need medicine when they are over 60. But those who are dependent on medication have to plan well when commuting between worlds. Norbert therefore has a good overview of his inventory. That always worked - up to Corona. Because we hadn't thought that we would stay in Crete for so long uninterruptedly when we returned in mid-March after a short stay in Germany. Then, as is well known, events rolled over ...
Immediately after the prescribed self-isolation, we asked our local pharmacist. By now it was lockdown and it was clear that it could take a long time. Because there was no longer a way by car from Crete to Germany. Yes, the heart medication is freely available, was his answer after checking the codes using the original packaging. But even if the medicine is cheaper than in Germany: Somehow we struggled with having to pay for it ourselves despite expensive German health insurance.
German online pharmacy found
I found a German online pharmacy based in Halle an der Saale that delivers abroad. The procedure was simple:
Obtain a prescription from your doctor
Order the medicine as prescribed through the website
(In the meantime, the pharmacy can already pack, determine the additional payment and write the invoice.)
Print out the order form
Sending the original prescriptions plus a signed order form to the online pharmacy
Transfer of the due invoice amount to the pharmacy
shipping
How do we get the recipe?
Norbert called his doctor's office. Where you previously didn't even want to work with emails, there was now even a virtual consultation thanks to Corona! And so the doctor's visit took place via the Internet for the first time. The application was really well done and technically mature.
The practice sent the recipe to our Berlin address. There the children put it in the envelope for the pharmacy along with the order form we had emailed. Finished!
Communication between the pharmacy and us was straightforward by email. Our Cretan address seems rather strange. There are always inquiries.
Express delivery by DHL in three days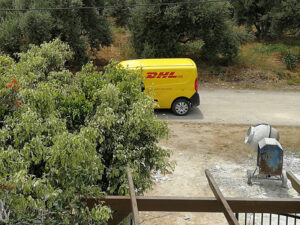 We chose express as the shipping option to make sure that we are not on the way to Germany in the meantime. Since Monday I have been able to follow the tracking link as the package made its way from Leipzig via Athens to Heraklion and was loaded onto the courier vehicle there. This afternoon, three days later, the medicine was here. The messenger had no problem finding us. He was here at the beginning of May.