Why is Hampi being ignored
INDIA
Travel time: October - December 2013 | from the bossis.
How to get to Karnataka: Hampi
The last day in Gokarna
I thought there was nothing left to discover here.
But far from it! There was still a small hill.
At the south end.
Up the hill, otherwise we always turned left. Now turn right and past a wall through a forest.
We were already up.
Past monkeys and a huge tree, with the roots hanging down, about 50 meters in diameter. Really great, but from up there was no noteworthy view.
All around there were trees that were much too big in the way.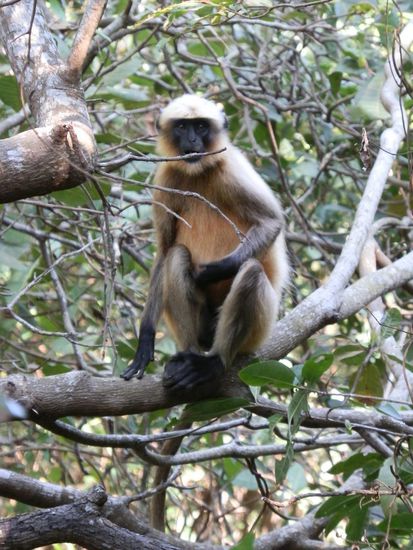 In the trees on our way up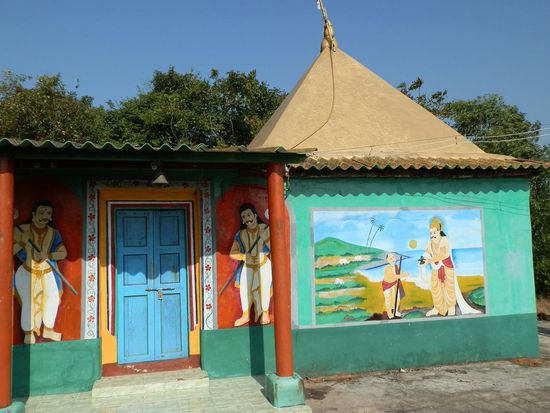 A small temple on the hill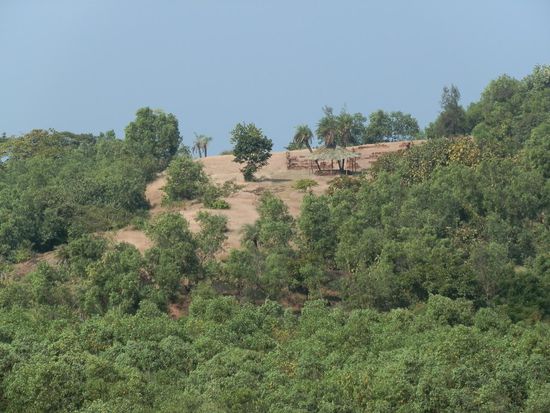 The way up
My bossi said that if I wanted we could go to Om Beach again. Nope, I don't want to!
Going back down the path, I got the idea to walk up to the next hill again.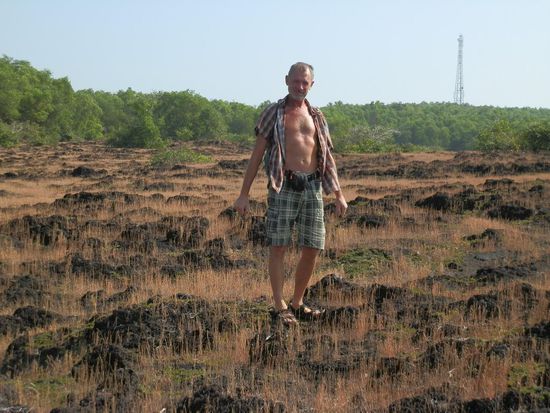 A bizarre landscape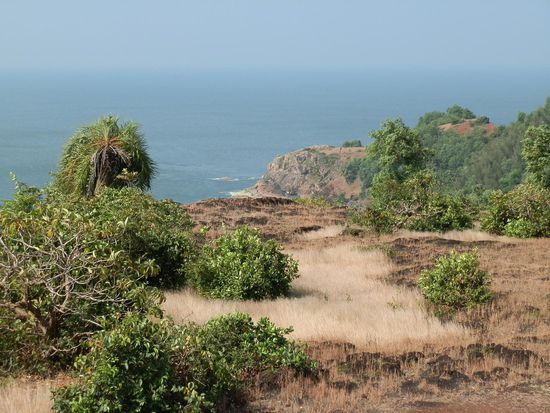 Over the second hill
What happened next was amazing. A well-trodden path.
We walked a little further and what we both suspected happened.
The Om Beach was at our feet!
A mega shortcut that requires you to walk through a restaurant area at the end.
Nice to see Om Beach again, but it's not funny!

So go back to the restaurant. Forget and enjoy.
It wasn't very difficult because dolphins made us happy to swim past the coast.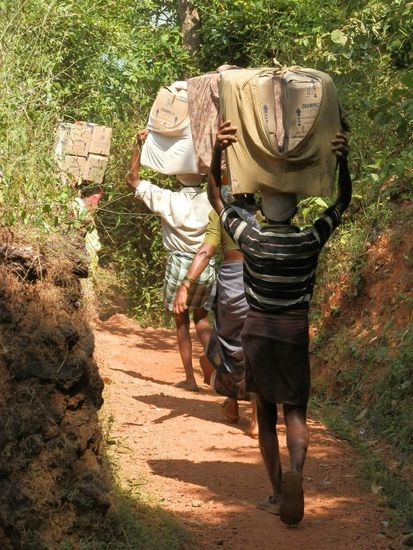 It's unbelievable what these people are doing!
We spent the rest of the day swimming and lazing around before we slowly had to get ready to leave.
Fill your stomach at 5.30 p.m. and up to the rickshaws at 6.40 p.m.
The path is bad, steep uphill lined with lots of rocks and stones.
But in the dark with a flashlight and luggage an unreasonable challenge.
Oh man - moan!
First had a nice shower and then sweat again.
At the bus station, things started at 7.15 p.m. instead of 7.30 p.m. It's good that we were there so early.
8 p.m. already in Ankola.
The bus driver told us that a rickshaw to Hotel Varadaraj would cost us 100 Rs.
If we take a bus from here, only Rs 8.
We had teamed up with 3 other backpacks and waited well for about an hour.
Then I went to the office - when would a bus come.
Strange, but nobody knew anything about a bus.
At least not in primeval times.
The hotel is a few kilometers outside. There has to be one!
Can not be that hard?
To be on the safe side, my boss asked the rickshaw drivers, it actually cost 100 Rs. We wait a little longer. We have a lot of time.
After a few minutes a rickshaw driver came and asked for only Rs 160 for two cars. We needed two as there were five of us now.
Back and forth again and we had one for Rs 140.
Then it can go on.
At the hotel we didn't have to wait until 11 p.m. as stated, but until midnight.
The bus looked good and the beds were ok. About 1.20 meters of space for both of us.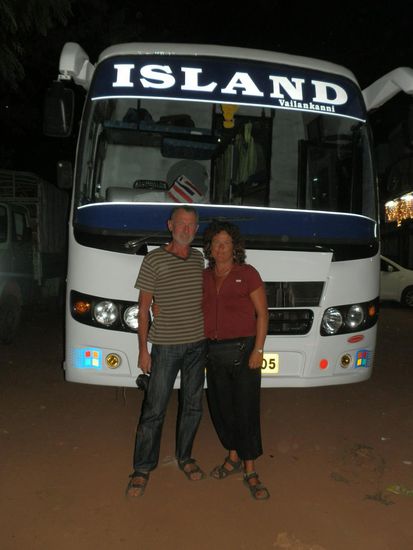 Sleepingbus
Good night - or maybe not
When the bus drove off I still thought there wasn't a minute of sleep. We were so shaken, so bad are the streets here in Karnataka.
But contrary to what I thought I fell asleep almost immediately.
It wasn't until 4 a.m. that I woke up for the first time. How cool!
My bossi had more problems falling asleep shaking back and forth, let alone sleeping through a few hours.
At 8 o'clock it was then - Last stop! What does that mean now?
Another break, so close to the finish line?
No, we were there! How there? There was nothing here!
The bus driver explained to us that we are not in Hampi Bazar but Hampi Island and that it would only be a 5 minute walk to get there. Great. Shit always happens ......... wouldn't be the first time.
There were loads of rickshaws there and dozens of men talking to us.
Hide everything and just start walking. I'm pretty good at that now.
So we started walking. After only a few meters, one rickshaw after the other drove past us.
Some stopped and said it was two kilometers to Hampi Bazar.
Well, they can tell a lot. The bus driver said 5 minutes so we're walking.
The air was still very cool and it was overcast.
And this path was fantastic.
The whole area here is a pure natural beauty.
But with sunshine and 35 degrees, I would advise taking a rickshaw. On the way it would only have cost 50Rs.
The path ended at the river. We knew that.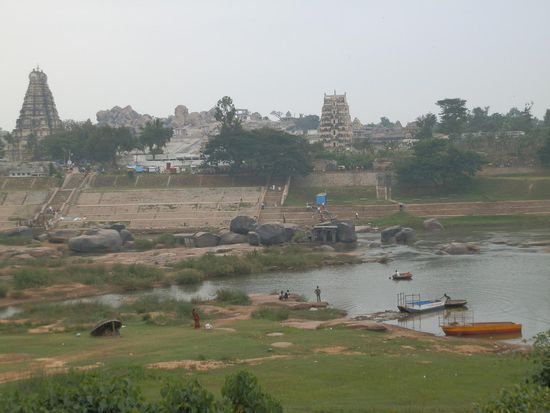 On the other side is Hampi Bazar
The blue and white is our ferry?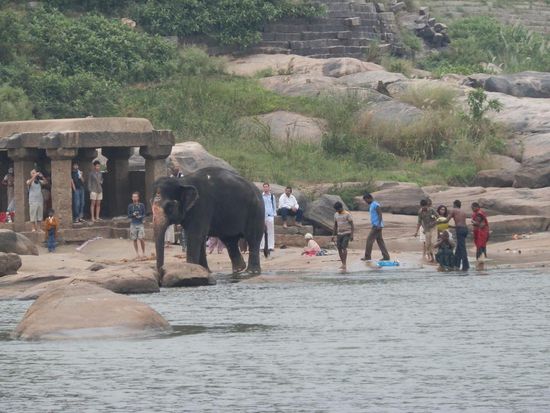 Washing day for the big giant
But it took another half an hour until the ferryman got up to speed and we were over there.
Now it started again! Dozens of people chatted off at one time.
Buying cloths, eating something, renting a room and riding a rickshaw. TO IGNORE!!!
It wasn't easy here and all of that over the next 150 meters.
Not really that bad, but we just couldn't get rid of one of them.
First he ran in front of us, then sometimes after us.
At every guest house that we stopped in front of, the guy spoke to the owner straight away.
Of course he wanted to secure his commission. We already know!
We had already told him several times that he would like to go please. We want to run alone.
This went on for a long time until my boss got very angry and told him loudly and clearly that he should leave.
The surrounding guest house operators, as well as everyone else on the street, noticed that too.
Then the guy sat down at a food stand and let us go in peace.
Getting loud and angry, you don't really do that here.
But sometimes there is no other way.
Now we could look for a room in peace and quiet and the second, the Sudha Guest House, was ours.
Somewhat good, friendly operators and a roof terrace with catering. Rs 400 is also a reasonable price.
We did not take the one suggested by our cook because the rooms that were still available had no windows.
On the other side of the river, everyone says that Hampi Bazar is way too crowded and way too loud.
But exactly the opposite is the case.
In addition, you don't have to take the ferry all the time. In addition, it ends at 6 p.m. or you pay a good surcharge. I just heard about Rs 200 instead of Rs 10.
What is immediately noticeable here in Hampi - clean, no rubbish.
Even the river is clean!
After we had gathered a little, we were already curious about what you can see here.
It is already a few kilometers that you can waddle here. About 24 square km.
We just made one today, maybe 1.5 of them. It's overwhelming.
Of course we also had to climb the highest mountain, Matanga Hill. Upstairs, my boss was just as finished as I was.
You should always sleep so badly beforehand.
Today we were like-minded people!
I don't know if you can ever tell these whole temples apart.
The different names, meanings and years of construction.
A booklet about these should perhaps help us a little.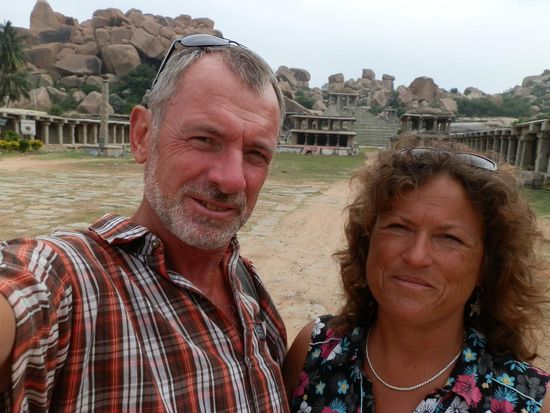 All around only temples !!!
And two tourists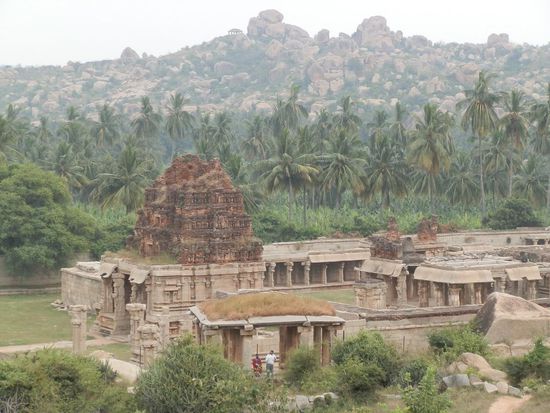 One bigger than the other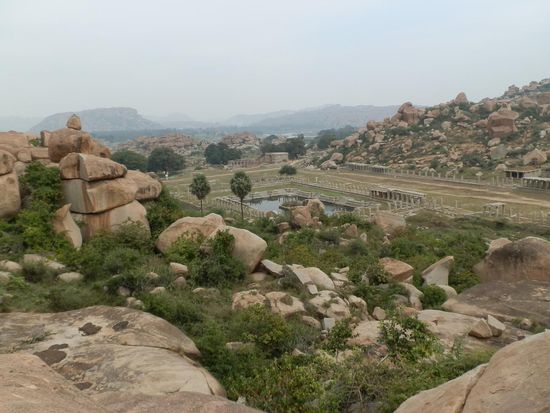 Stones, stones, stones
All over
Great view of the Veerabhadra temple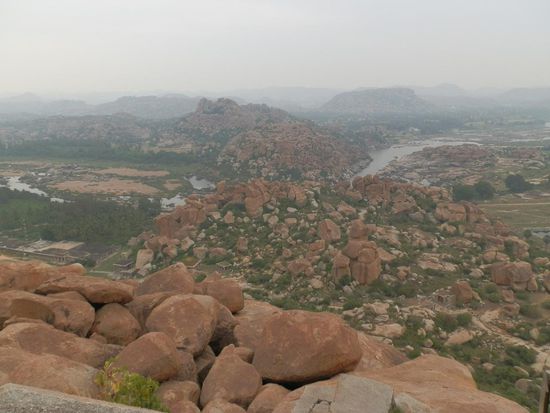 More stones
And a river
Even higher!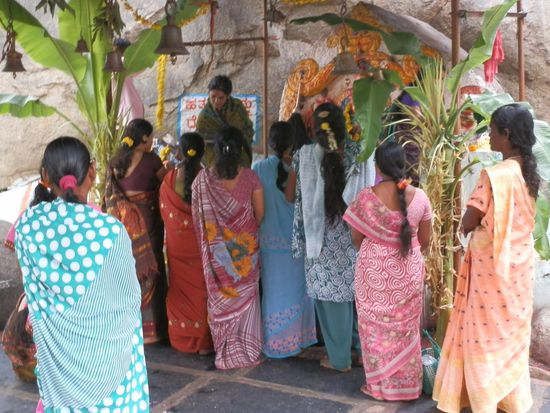 Wedding preparation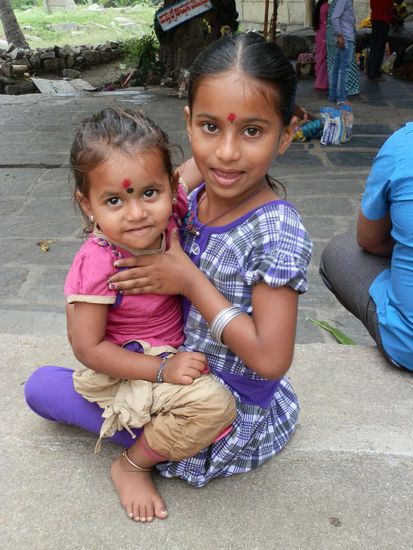 The intruders marvel at us!
In the afternoon we first needed a cultural break and that on our roof terrace in the middle of nature.
In front of us in a huge tree the birds and chipmunks. Including goats, cows, buffalo, chickens and other animals. And a lot of monkeys behind us. How nice!
We were lucky enough to experience the full moon festival here as well.
In the temple directly in Hampi Bazar. Scary beautiful.
We spent the evening in the Netra restaurant.
Shortly after our arrival, the one who was responsible for the rooms came.
He wanted to apologize! Why, we had a guilty conscience and thought that then at least we would go to dinner with him.
He also apologized for our annoying companion.
We explained to him that it was only because of the room without a window and not because of him or the price. He had made a good price despite our companion. Probably because we were sent by his friend.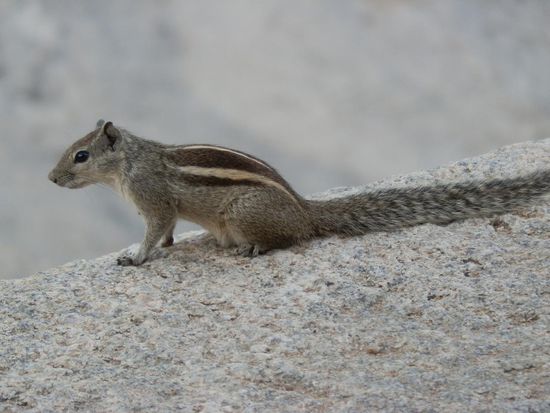 Our neighbor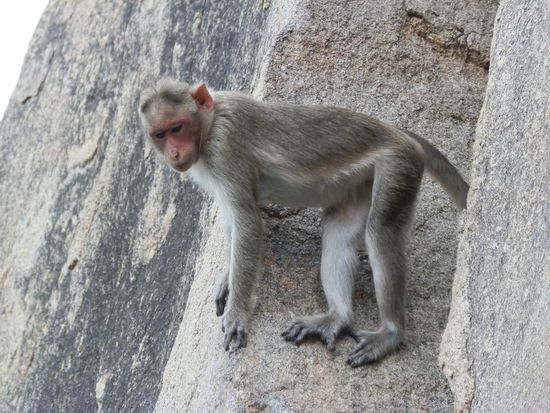 neighbor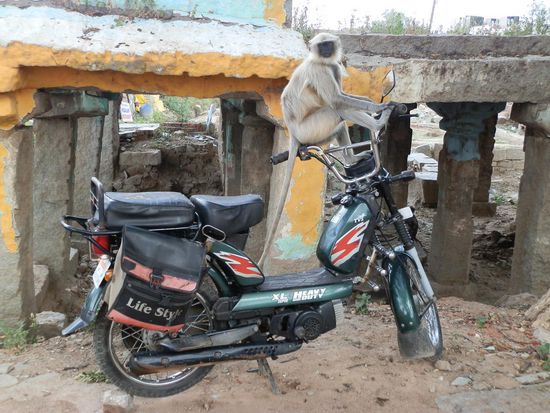 Who knows what is fun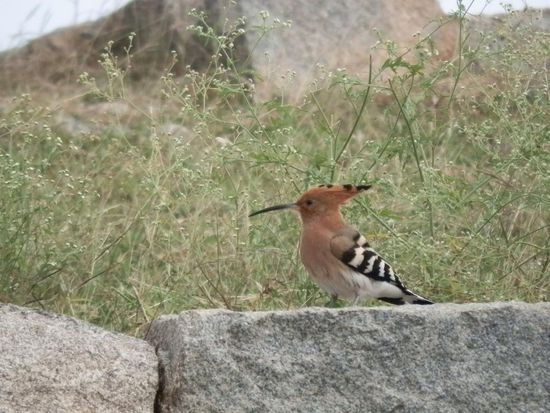 Tralalalala!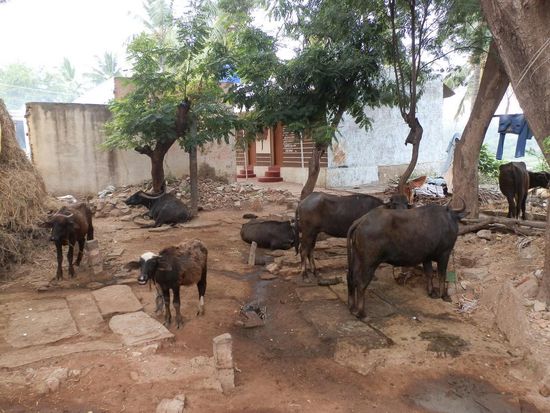 Neighbors down in the yard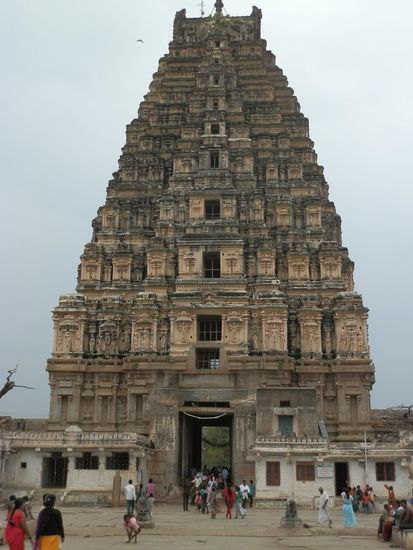 To be seen from everywhere
Virupaksha temple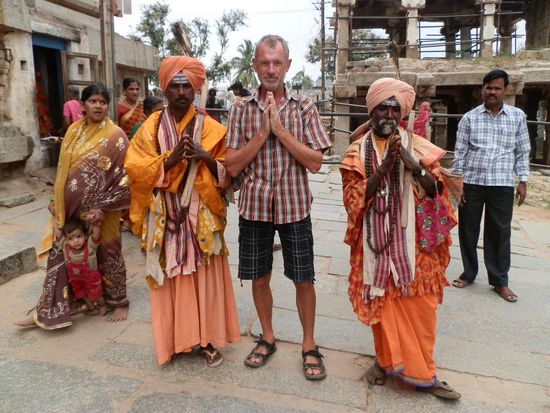 Ommmmmmmmmmmmmmm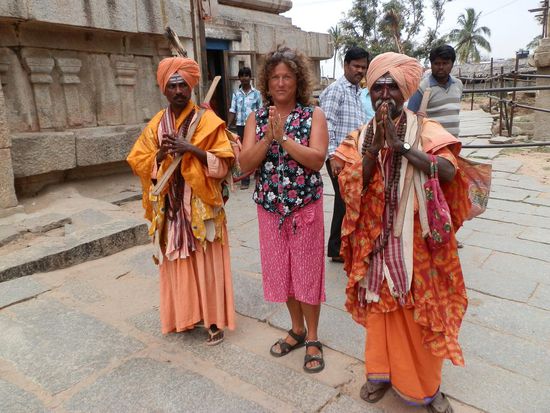 Ommmmmmmmmmmmmmmmmmmmmm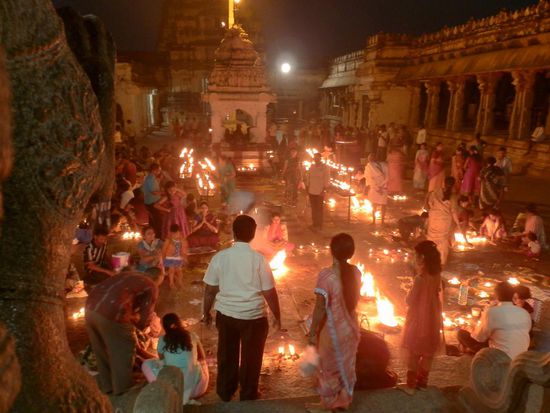 Full moon festival
Overwhelming!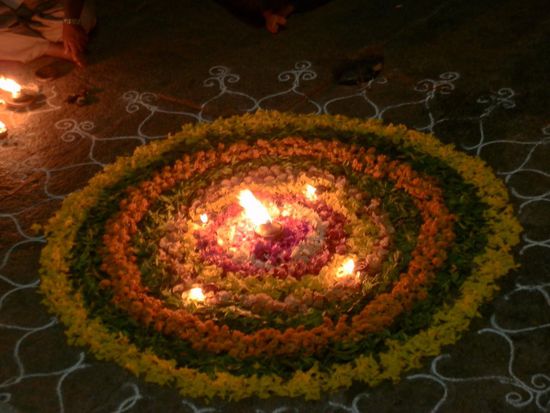 Made from flower petals
Really crazy!
Temples, many temples
Today we looked at all the temples along the river to the Vitthala temple.
The distance from our guest house should be about 3 km. Another section done.
In the afternoon, after a break, the hill here near us again, the Hemakuta Hill.
Very nice view. Should the clouds subside tomorrow, there will be the best sunset here.
Now it was time to take care of the onward journey. We got information from two different agencies and everything was booked.
Hampi (local bus) to Hospet approx. 6 p.m. ONLY WALK 2 MINUTES!
Hospet (Sleeperbus) to Mangalore approx. 8 p.m. ONLY WALK 5 MINUTES!
Mangalore (train station) by train to Kannur 6.50 a.m.
Nobody really knows anything about Kannur. SURPRISE!
Maybe we should also book the onward journey to Kochi at the same time? Who knows where we end up in Kannur and then go back to the train station and get a ticket and there is also one. Not that we land in the Wallapampa and have to wait three days for a ticket ????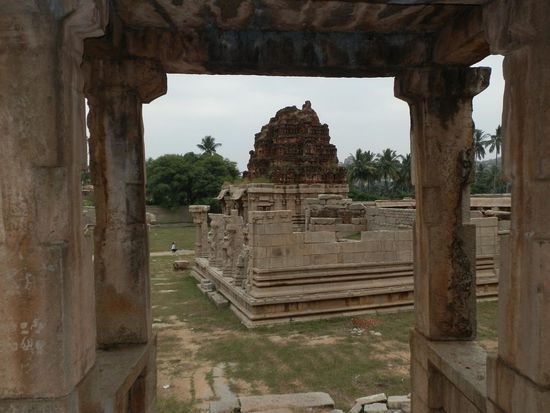 And another temple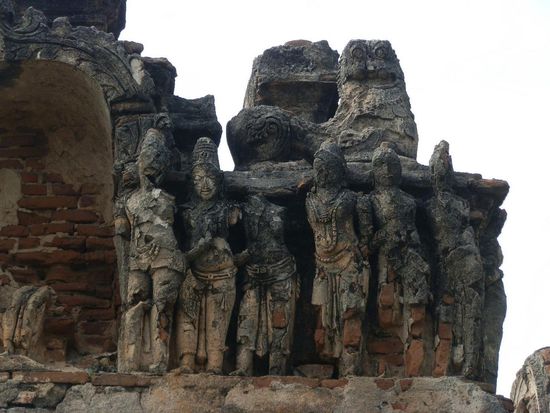 You can still see a bit
But it's already pretty old!
Most of them were built around 1500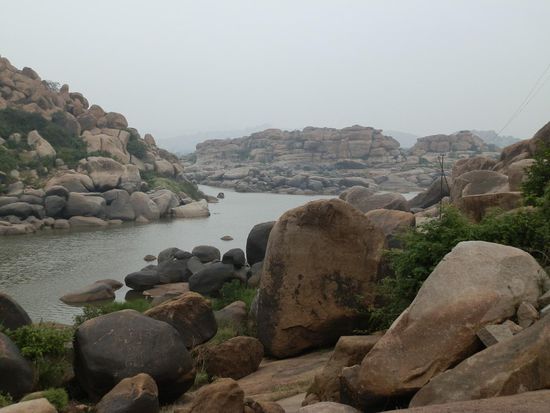 Back to Hampi by the river
Some temples still look good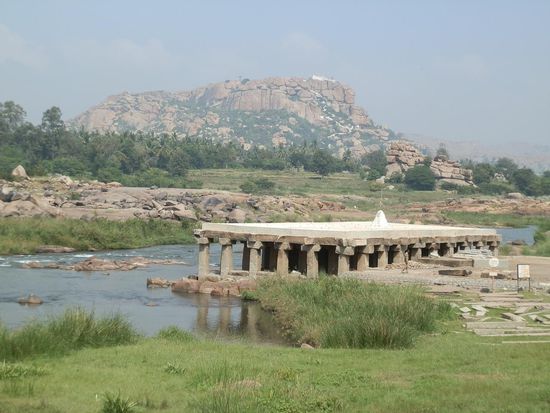 Right on the river, the Agni Temple
a real benefit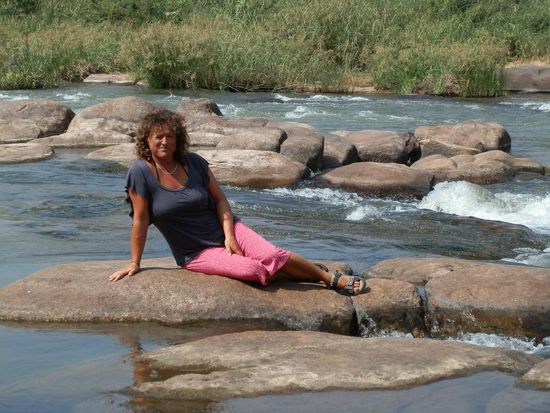 That was forbidden, however
We got another one on the lid
Do not walk on stones !!!
You don't have to understand everything ..........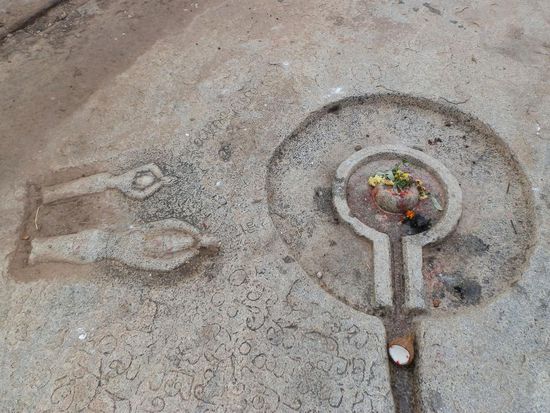 Can be found everywhere in the rocks
Meaning - I'll find out later
19.11.
Due to the booking, I found the date again!
Yesterday, on our tour, we saw a bigger mountain on the other side of the river. An ascent painted in white, lots of stairs not with me.
I have enough other things to do and unfortunately I don't have time to go.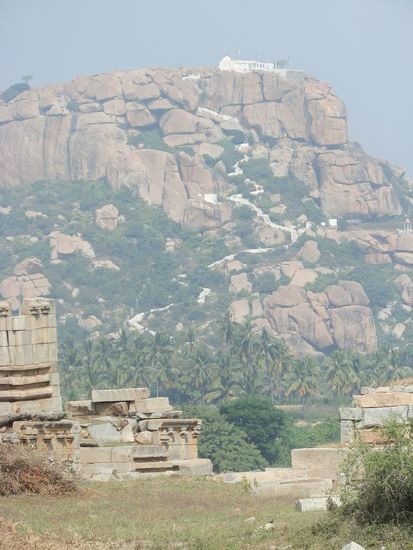 Of course my bossi wants to go up there!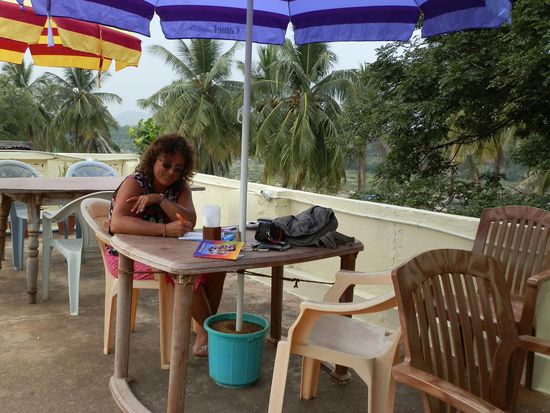 Writing reports, preparing for onward travel and much more.
I'm glad I didn't go to the mountain with you. My bossi came back here with one laughing and one crying eye.
According to his story, of course, he first rented a motorcycle. First, with zero gasoline in the box, it should then buy twice as expensive from the landlord. The petrol station is only 4 kilometers away.
They suck everything off to sell their fuel. He finally wanted to go.
But the machine doesn't want to. Second time! But machine doesn't want to! When she finally decided to walk, it finally started.
Real shit boxes. Hit the gas and nothing happens.
It was not easy to find the way and inquiries as well, because no one speaks English outside of Hampi.
But he still has a photo of the mountain on the camera. That worked!
Again and again he was sent in other directions. But then he understood the misery.
Bridge! There was no bridge. Broken. Out of order.
Then he landed on a ferry, well something a little bigger than a paddle boat. Three men, three corners and that thing was on the boat. Everything goes here! He had to sit on it during the crossing and hold on to the brake.
At some point he was actually on this mountain. About 520 steps. It's just a stone's throw away for him.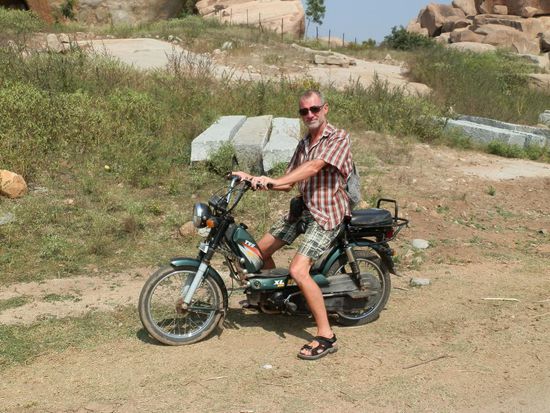 It never gets worse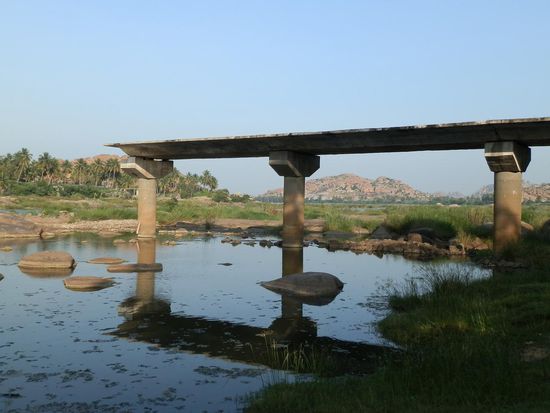 The bridge he was looking for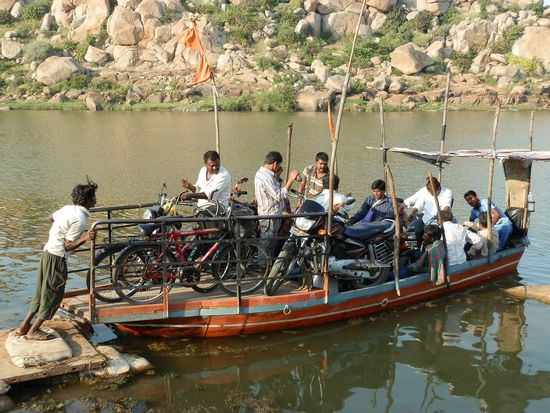 First on the other side of the river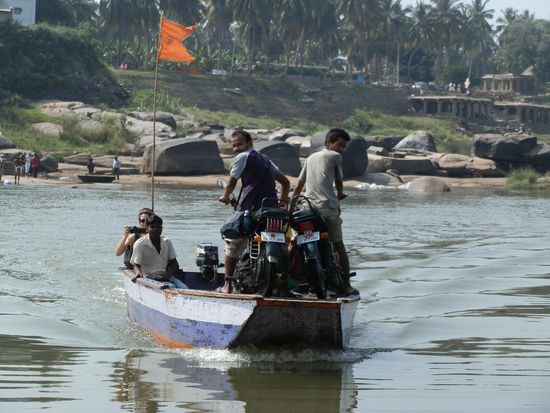 So was his bike on it
A little unsettling !!!!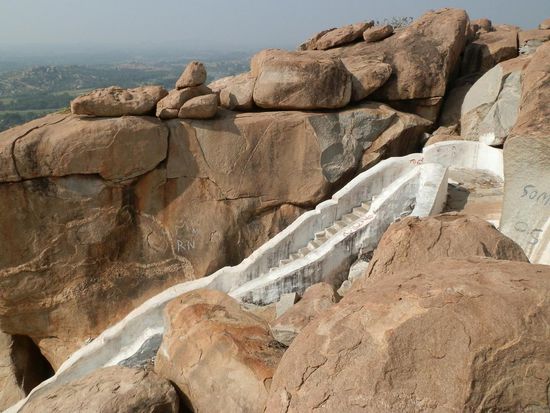 The way up!
With the motorcycle, if you can call it that, we then grazed the remaining square kilometers.
Now the temple is really enough.
Actually, we don't want to look at any more.
Usually two of the temples are only accessible with an entry fee of Rs 250, pay one of them and see two. But they are very far apart. But doable with a motorcycle. The day before yesterday we had already looked at one from the outside, but it was clear to us that we would not also manage the other.
So we didn't go in. But today by bike and with free entry, because today is World Culture Day or something. Lucky!
We were only back very late and so we only had a short break of maybe 15 minutes and then we started on the hill in front of Hampi for the first sunset.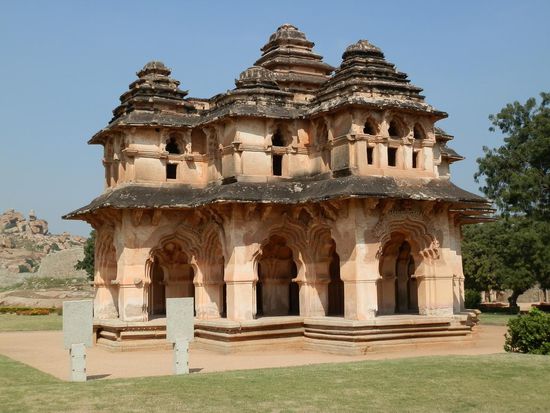 The Lotus Mahal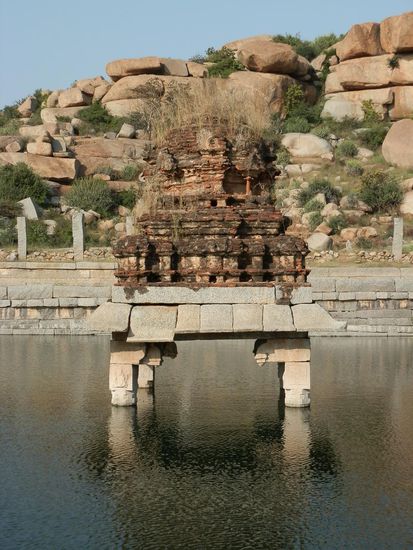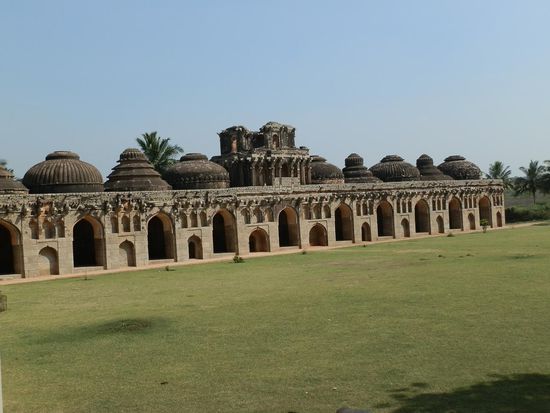 The Elephant Temple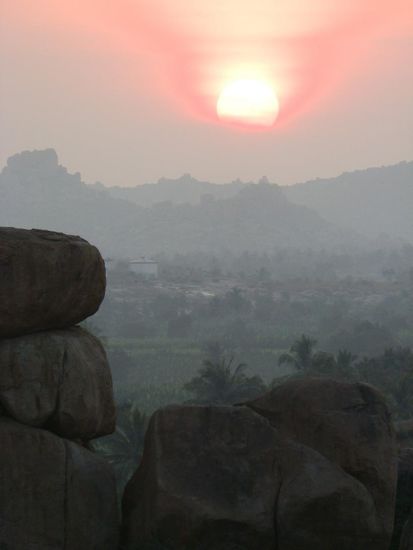 Sunset over this beautiful landscape
Today is the day of departure
Still, we still have a whole day ahead of us.
Excursion by bike! This may indeed be something!
Always follow your nose, because there is no card. I don't think any tourists are off the temple route either.
Drive straight out and in the direction of the compass. First to the south then west and at the end you have to somehow get out again in Hampi. That's the plan !!!
You won't believe it but it almost always works.
Shortly before Hospet we stopped to take a few photos.
Already on the way, many were enthusiastic to see us Alliens and many waved and honked driving cars like crazy and looked out of their vehicles with a smile. Ha how funny!
Every time we got a huge shock ...
Back to our stop. One of them came up to us and pointed to a small hill - we should probably go up.
We did that and only a few meters further on there was a small temple and some children.
When they discovered us, a deafening roar of laughter, screaming and clapping began.
Of course we should take photos. No problem. An adult came along and we should look at other viewpoints on the hill and still small caves with bats and and and. There was no end to anything.
After what felt like an hour we were finally able to tear ourselves away, that was about time because more and more children and mothers came with their daughters and everyone wanted us to take photos.
After a few kilometers, we made it back to Hampi in the best possible way.
The Netra restaurant has been on the Internet since yesterday, so I'll try to get everything ready and broadcast today.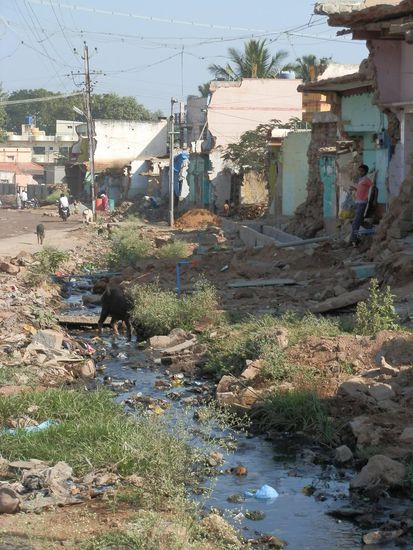 Nothing really shocks me that quickly anymore
But it looks like after a war
All the house fronts were destroyed
Apparently for sewers and road construction?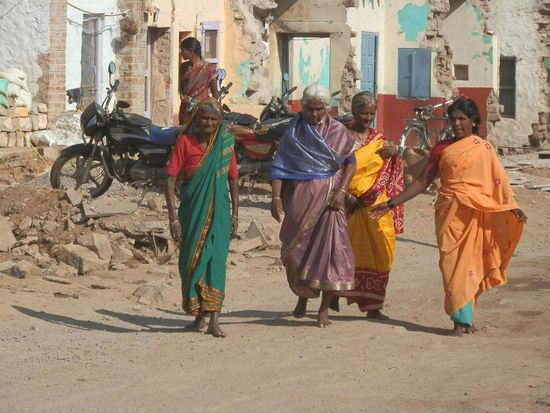 Terrible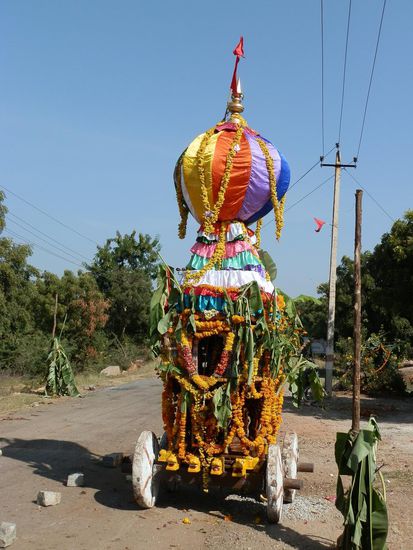 Something nice again on the way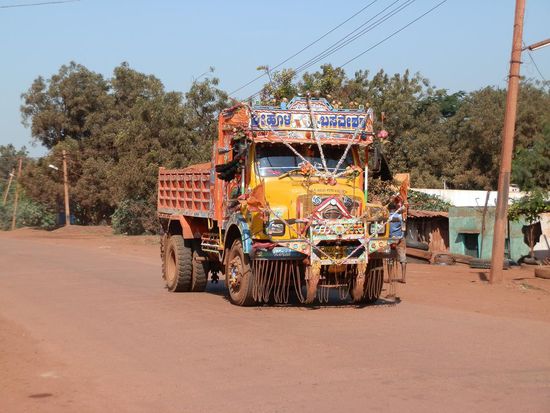 Ancient trucks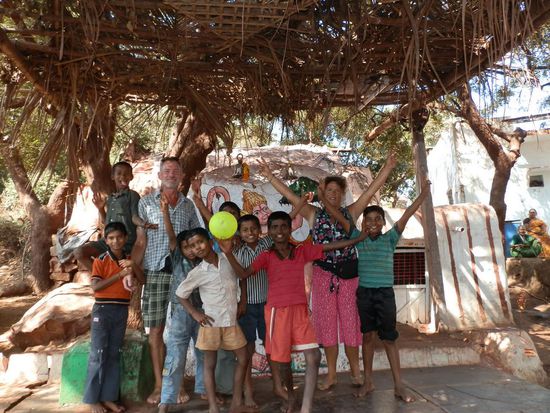 If that's no reception ...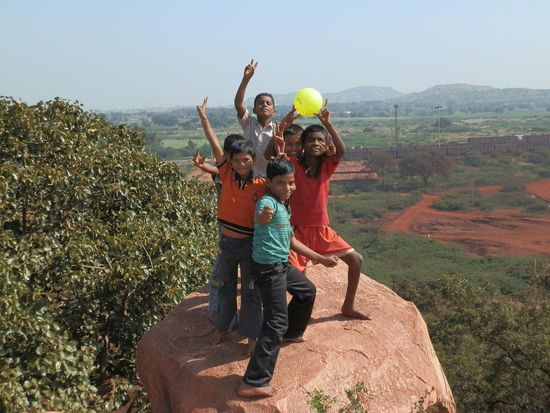 The kids showed us every stone on the hill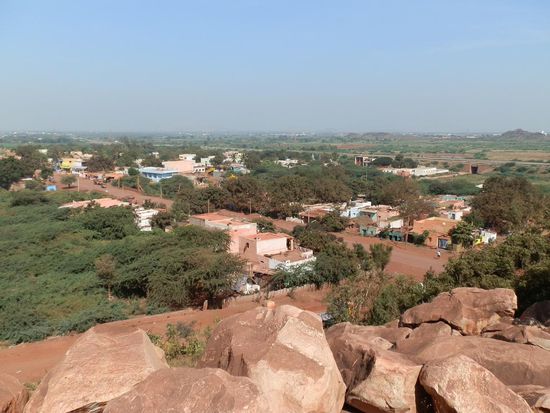 The view from the very top
Now we still have three hours until the journey continues.
Let's see when we have internet again ...
What's the matter?:
This time the decision was really difficult. Is this country the right one for us? !! When our weaker self took a break, it was clear: "If you don't dare, you won't win"
Details:
| | |
| --- | --- |
| Departure: | October 2013 |
| Duration: | about 9 weeks |
| Homecoming: | December 2013 |
Destinations:
India