What is the breathing pattern in Sudarshan Kriya
With breathing meditation, we have a promising, effective and inexpensive therapy at our disposal that works without medication and therefore without side effects. "
The meditation technique is practiced both in a group and at home and includes a sequence of certain rhythmic breathing exercises that put people in a deep and relaxed meditative state: slow and calm breaths alternate with fast breaths.
Sudarshan Kriya Yoga gives people an active method to achieve a relaxed meditative state. The method is easy to learn and can be used in different situations, "says Sharma.
Breathing meditation lowers stress hormone levels
In the past, practice has long shown the positive effects of breathing meditation in patients with mild forms of depression as well as depression due to alcohol addiction and also in patients with severe depression.
However, clinical studies that could prove the success of breathing meditation if the patients used the method at home have so far been lacking - and that where millions of people attend yoga classes year after year. There have only been studies showing that yoga and other controlled breathing techniques can regulate the nervous system to lower stress hormone levels.
Holistic measures for depression
You can find more helpful holistic and side effect-free measures for depression here: Depression - your way out and here: Medicinal plants for depression
Here we explain how to naturally increase your serotonin levels.
Diet also influences mental well-being, as we have summarized here: The right fats for depression and here: The right diet for depression
In addition, do not forget about your intestinal health when you have depression. Because the connection between the condition of the digestive system and mental health has long been known: intestinal flora build-up in depression
donation
Your donation helps us
If you enjoyed this article, we would appreciate a small contribution to our work! Donate now with Paypal.
display
Distance training to become a holistic nutritionist
Are you interested in what's in our food and want to know how nutrients and vital substances affect the body? Do you want a healthy life for yourself, your family and fellow human beings? Nutritionists are popular - but the holistic aspect that is needed for sustainable health is often forgotten when giving advice. At the Academy of Naturopathy, you will get to know the connections between lifestyle and diet as well as physical and psychological well-being.
That educates interested people like you in around 16 months to become a holistic nutritionist out.
Is this article worth reading?
Share this article
swell
Anup Sharma, Marna S. Barrett, Andrew J. Cucchiara, Nalaka S. Gooneratne, Michael E. Thase. A Breathing-Based Meditation Intervention for Patients With Major Depressive Disorder Following Inadequate Response to Antidepressants.The Journal of Clinical Psychiatry, 2016, (Therapy with breathing meditation in patients with depression after insufficient effects of antidepressants)
Perelman School of Medicine at the University of Pennsylvania. "Yogic breathing helps fight major depression, study shows." ScienceDaily, November 22, 2016, (Yogic breathing helps fight depression, according to a study)
Notice on health issues
This information is passed to the best of my knowledge and belief. They are intended exclusively for those interested and for further training and are in no way to be understood as diagnostic or therapeutic instructions. We do not assume any liability for damages of any kind, which arise directly or indirectly from the use of the information. If you suspect illness, please consult your doctor or alternative practitioner
Related articles
YogaCan yoga get the sex life going?
Yoga: These are the effects yoga has on health
Breathing Healthy breathing for vigorous health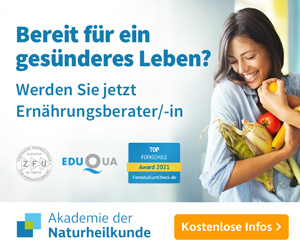 Subscribe to Newsletter
Exciting information about health and nutrition
1x per month
Login Successful. You will shortly receive a confirmation at the specified email address.
With your registration you allow the regular sending of the newsletter and accept the data protection regulations.
HEALTH CENTER © 2021 Neosmart Consulting AG. All rights reserved.