How useful is the Airbnb concierge service
Hotels vs. Airbnb: The advantages and disadvantages at a glance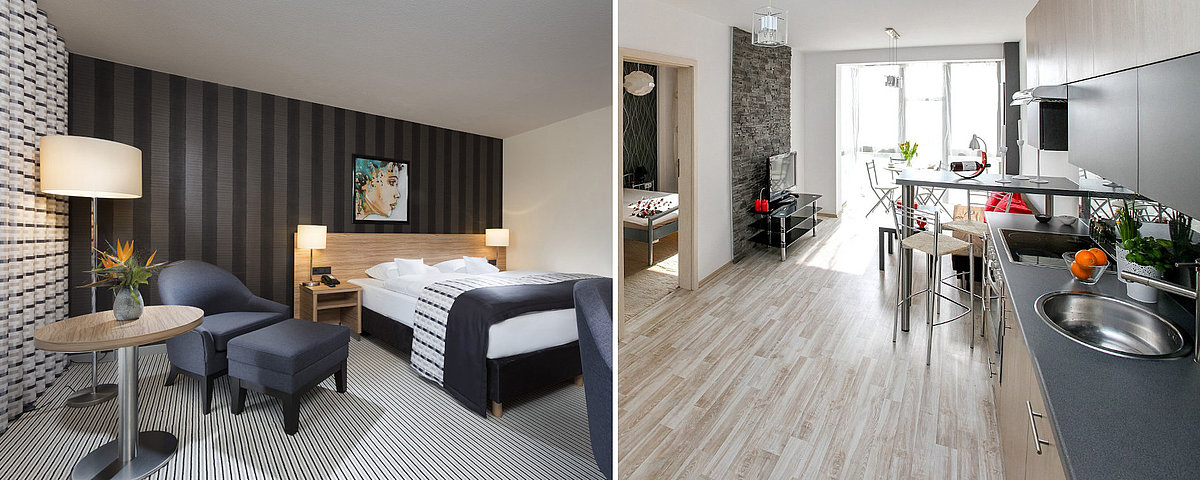 Hotel vs. Airbnb: The pros and cons of Airbnb and hotel
On a weekend trip or a vacation in another city, the question of accommodation always arises. In addition to hotels, Airbnb has been offering additional overnight accommodation for holidaymakers for a number of years: on the platform, providers of rooms and apartments meet with travelers who are looking for accommodation. Depending on what type of vacation you are planning and how early you want to book, one of the two options is particularly suitable. Here you can see at a glance what makes them different and what the respective advantages and disadvantages are.
Hotel and Airbnb in comparison: these are the advantages and disadvantages of hotels
There are clear differences between a hotel and Airbnb providers. The biggest is that one is a professional provider of overnight stays and the other is private rooms. In both cases, this entails further peculiarities.
Advantages of hotels: All-round service and trained staff
The greatest advantage of hotels is obvious: they provide professional all-round service with many years of experience and trained staff. You don't have to worry about anything in the hotel: for example, the rooms are cleaned thoroughly by specialists, you can take advantage of room service and enjoy a rich breakfast. Hotels offer much more than just an overnight stay - many have a pool, sauna, fitness room or spa where guests can enjoy massages and facials. In addition, guests can use a concierge service and rent a bike easily and conveniently. Hotels provide tips and information on sights and restaurants. They are often available for guests 24 hours a day and help out with most concerns immediately. Especially for city trips, it is an advantage that many hotels have good locations and connections. So everything can be reached quickly and no time is lost if you want to see as much of the city as possible.
Disadvantages of hotels: more expensive and anonymous compared to Airbnb
Of course, all of this is also reflected in the price. Booking hotel accommodation is usually quick and easy, but a hotel room is often a bit more expensive than an Airbnb. Hotels can provide information and tips for a variety of typical tourist attractions, trips, experiences, and locations, but Airbnb hosts have the insider tips and secrets to help them.
Professional hotel or Airbnb? This is what Airbnb is all about
Compared to conventional hotels, Airbnb offers a more alternative travel experience and has become increasingly popular in recent years. Airbnb's concept is simple: someone who doesn't always use his entire apartment offers the free room for guests. Many rooms are only offered sporadically - for example, if one of the roommates is not there for a few days in a shared apartment. Users of the platform can select the districts in their target cities in which they are looking for such an Airbnb room. If you come to an agreement with the owner, you will arrive on the agreed day.
This arrangement has various advantages: the owners of the apartment can supplement their budget, and in most cases the guests have inexpensive and personal accommodation in the part of the city that is of interest to them. In addition, the hosts, who live in the city, give their guests lots of exciting insider tips or even take them to their favorite places themselves, depending on how well they get on.
Disadvantages of Airbnb: Private households have surprises in store
This way of immersing yourself in a city is less touristy than staying in a hotel; it can be very intense and ensure unforgettable moments. However, there are always certain restrictions associated with Airbnb rooms: If you are a guest in a private household, you always have to be considerate. Coming and going at any time of the day or night is not welcomed by every provider. There are also reviews on the Airbnb website, but you won't see how clean and tidy the room and bathroom really are when you step inside. Since guests can also be rated by the hosts, there is a risk that you, as a newly registered user, will be rejected for a booking request due to missing ratings.
Finding a suitable Airbnb
When looking for the right room, you should be patient: Airbnb rooms in popular districts are often booked well in advance. In many cases it is worthwhile to expand your search to the neighboring districts as well. Often the distances are not much longer, but the prices differ noticeably. In addition, you sometimes have to wait up to 24 hours for feedback. This is especially annoying when you actually have other rooms in mind and would like to know immediately.
Airbnb etiquette: check-in, communication and rules of conduct
The handover of the keys can go smoothly - but it doesn't have to be. Guest and landlord agree in advance with Airbnb, but if the landlord does not show up at the agreed time or your train is delayed and you arrive later than expected, there can be complications. A hotel reception that is always manned offers clear advantages here.
Finally, it is also important that you show a little sensitivity with Airbnb: If your landlord values ​​small talk and exchange, it is nice if you participate. If, on the other hand, he withdraws quietly, you should respect that too.
It should also not be dismissed out of hand that renting Airbnb rooms and apartments is a problem in times of housing shortage. Some cities are trying to fix this problem with stricter regulations and laws. The number of Airbnb offers is both a blessing and a curse.
Conclusion: the best accommodation is a matter of taste
Whether you prefer an overnight stay in a hotel or in a room with an Airbnb provider is ultimately a matter of personal taste. With a hotel you have a solid starting point, from which you can leave at any time and to which you can withdraw as and when you want. Service and information are always available. An Airbnb room, on the other hand, can bring more surprises of very different natures. You can make good friends or find someone you're happy to move on tomorrow. You have the chance to get to know customs and traditions up close - but possibly also hygiene preferences that do not correspond to your own. Ultimately, it depends on what is really important to you personally on a trip.