Converse shoes are of high quality
Converse, the cult label with the star - legendary chucks and authentic fashion
Designer fashion label overview with C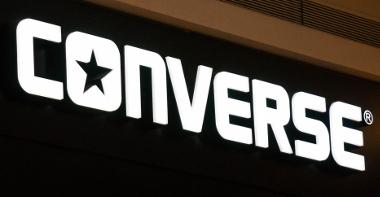 Converse offers products from the areas of Chucks, CTAS pro Skate, Design for Her and Him and Kids Collection.
The American company Converse was founded in 1908 in the state of Massachusetts. In 1917 the classic Converse, the legendary Chuck Taylor All Stars shoe, was developed, named after the basketball star Chuck Taylor. Since then, more than a billion pairs of the sporty lace-up shoe have been sold worldwide. Converse shoes are still popular today. They are the manufacturer's best-selling items. But the bags from Converse have also become bestsellers. The label's range also includes jackets, pants, T-shirts, sweatshirts, tops, hats, scarves, and backpacks. The range of shoes includes sandals, skaters, slippers, ballerinas, boots, sneakers and boots. The clothing is available in common sizes for women, men and children.
Chuck Taylor All Stars - a sneaker for all occasions
The best known is still the classic from Converse, the Chuck Taylor All Stars shoe. The robust sneaker is available in many different colors and models. A distinction is made between two basic shapes: the ankle-high All Star High sneaker and the low All Star Ox. In addition to the classic models, there are many trendy All Star shoes with funny and casual details, such as the All Star Comic covers. Most Converse shoes are made of fabric, often sturdy canvas is used, the summer shoes are sometimes made of linen. Boots and boots in particular are now made of leather. The shoes are equipped with an inner lining made of Tetil for comfort. The casual, chic, authentic style is typical of Converse fashion. The brand's star logo, either printed or sewn on, sets visual accents.
Good durability thanks to high quality workmanship
Converse fashion is characterized by pleasant materials and good workmanship. The fabric shoes are machine washable. With the exception of the trend models, most shoes and clothing are classic and quite timeless, so that they can be worn for several years. The durability of the fabric shoes is similar to that of leather shoes, depending on how they are looked after and used, they can last for several years and buying used shoes can be worthwhile. The very robust fabric bags are stable and durable. The seams and straps of the bags made of imitation leather are also very stable, but the surface suffers from slight signs of wear over time.
Converse fashion is also available here at markt.de cheaply used and sometimes brand new.
Tweet
Current Converse classifieds
Converse white size 40
Converse in white size 40
Hardly worn
The tongue is turquoise pink
Shipping possible if the costs are covered
private sale
Converse Double Upper Gr 40
High Converse double upper
Size 40
Worn twice like new
Shipping possible if the costs are covered
Boys' clothing 146-164, shirts, pants, jackets, branded goods
I have to hand in boxes of boys' clothing in sizes 146 - 164. All branded goods such as Petrol, Review, Hilfiger, Tom Tailer, H&M, adidas, etc. T-shirts, long sleeves, hoodies, short / long ...
More Converse classifieds
Related counselors
Brands overview
Clothing, jewelry guide overview
Image sources:
Image 1: © Faiz Zaki / Shutterstock, Inc.