What are the criteria for MBA access
MBA studies: requirement (s)
What requirements do you have to meet in order to be able to take up an MBA course? There are different requirements for enrollment depending on the university and country. And you should also have certain personal requirements in order to successfully complete an MBA. We have an overview.
If you want to start an MBA course and then successfully complete it, you should bring:
Min. one to two years of professional experience
Good English knowledge
Usually a first degree (but there are exceptions, see below)
Ambition and determination
An environment that accepts your additional work / study load
These are the requirements for an MBA degree
For the most part, the universities have very similar formal requirements for their MBA programs:
First university degree
For about 98% of the German MBA, a first university degree is required Bachelor, diploma, magister or similar expected. It is not uncommon for this first degree to be required should include 210 ECTS. Graduates of a bachelor's degree with 180 ECTS can, however, often have work experience credited in order to show the 30 missing ECTS. However, there are also MBA courses that can be started without a first degree. You can read more about this in our articles on MBA distance learning without first degree and MBA part-time without first degree.
There is hardly an MBA that does not require at least one year of professional experience as a prerequisite. Partly are up to five years of professional experience the condition.
MBA requirements: work experience
Language skills (TOEFL / IELTS)
Many MBAs from German universities also deal with a larger part of the course content in English. Good foreign language skills are therefore essential. As proof of this, a Often a TOEFL or IELTS is required be proven with a certain number of points.
MBA requirements: language skills
In contrast to the TOEFL, the GMAT is not a pure language test, but rather measures analytical and logical skills. So it is quite possible that a college requires both the TOEFL and the GMAT.
MBA requirements: GMAT
A large number of universities, especially those with a higher-quality MBA, run a kind of assessment center. The MBA applicants must take part e.g. an interview with the admissions committee dispute or solve and present a project with other applicants.
MBA requirements: entrance test
Letters of recommendation are also more required than the top-class MBA programs "Letter of Recommendation". Sometimes very detailed recommendations are required. The Euro-FH asks e.g. "To what extent is the applicant - in your opinion - able to take on managerial tasks?" The recommendations should best be issued by superiors and professors of the former university.
MBA letters of recommendation
Why do you actually want to study an MBA? And why at the chosen university? These are the two key questions that you need to answer in a cover letter. In addition to the tabular information on the person (e.g. curriculum vitae), the universities want to get a better picture of the applicant with this MBA requirement.
MBA letter of motivation
personal requirements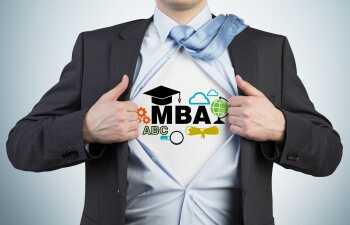 Your studies will not be a walk in the park, you are certainly aware of that. An MBA should only be taken up by those who, over the course of months, have the motivation to invest time and energy in learning in addition to their usual working day (in the majority of cases students study part-time).
You should therefore try to assess yourself objectively:
Am i single-minded enough?
Do I have a high energy level or after a strenuous week at work? still have power reserves?
Do I have the necessary conflict resolution potential if, for example, the partner from Learning stress is annoyed or the boss demands overtime?
What about mine Ability to work in a team? In the MBA you study in groups, so a certain ability to work in a team is a basic requirement.
In any case, ask if anything is unclear!
Admission to the MBA is usually decided on the basis of an overall view of the application material. There are some basic conditions (depending on the study program, e.g. the first degree), which must be completed in order to be enrolled. But there are also "softer" requirements (maybe you will be enrolled with one instead of two years of professional experience).
If there are any ambiguities and need to negotiate, you should definitely Study advice from the respective provider call.
Was this text helpful to you?
3,76/ 5 (Votes: 29)