What instruments are used in the power plant
Water chemistry in power plants is crucial for the condition of the power plant
Water is the lifeblood of a steam power plant and its quality depends on close monitoring
Wherever the water in your system comes from, it has to be treated so that it has the right quality for every purpose. Verifying that the water chemistry and flow in the power plant is correct requires the best tools to be used. And you need to be able to prove this by providing the correct readings and stored data for regulatory compliance as well as manufacturer warranties for built-in components. Above all, accurate, reliable data means that you can safely recycle water to run your plant as efficiently as possible.
How we support you
Digital measured values, data storage, reporting - digital tools make it easier to prove compliance with legal regulations and for instrument guarantees. Our sensors and measuring tools cover all requirements in the power plant and generate data that make work easier for you and your laboratory partners. The metering systems check and clean themselves automatically, require minimal maintenance and warn you when they need to be replaced. From the smallest sensor to the SWAS panel: We offer you a complete digital water monitoring solution.
Reliable flow measurement technology and liquid analysis for optimized water chemistry

Improved system availability thanks to predictive maintenance

Contactless digital data transmission avoids measurement errors due to moisture, corrosion and salt bridges
Reliable flow measurement of demineralized water
Pure, deionized, demineralized water in the water / steam circuit must be measured accurately and reliably. Differential pressure flowmeters with primary elements such as orifice plates are most commonly used for this application. With such pressure-based measurement systems, however, drift occurs over time and the devices must be recalibrated. However, there are volumetric alternatives that offer better performance, more signal outputs, and shorter inlet runs. They work with vortex technology, ultrasound technology or thermal mass flow.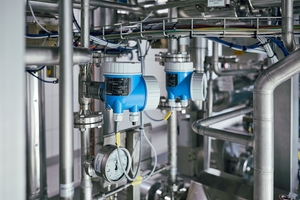 Our competence in the field
Proline Prowirl is a vortex flowmeter that measures volume directly and linearly with an accuracy of up to 0.65%, regardless of density. Proline Prosonic Flow is an ultrasonic flow meter. The sensors are located off-line so that flow is not affected. s Inline device offers exceptional accuracy of up to 0.3% of the measured value and requires minimal space for installation as well as short inlet and outlet routes. Proline t-mass T is the cost-effective option. The device offers a high turndown, a low pressure drop and an accuracy of up to 5%.
Reliable silica analysis - condensate cleaning in the outlet of the system
The steam that enters the turbines of a power plant must be as free of silica as possible. Silicic acid is highly soluble in water. It forms deposits inside the turbine, impairs heat transfer and reduces overall efficiency. In order to produce water with the lowest possible silica content and thus avoid unplanned downtime, you must be able to accurately determine and measure the silica.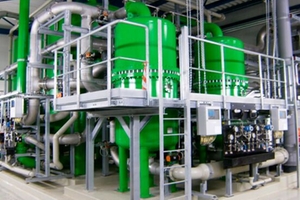 Our competence in the field
The Liquiline System CA80SI silica analyzer is a colorimetric system for monitoring boiler feed water, steam, condensate and ion exchangers. With up to six channels, samples can be taken at all necessary measuring points in the process. Alternatively, up to four digital Memosens sensors can be connected to the analyzer so that it can be upgraded to a complete measuring station. It can also be integrated into all common process control systems.
Optimized conductivity analysis in desalination plants
Water of varying quality is used to generate energy and is sourced locally. The conductivity is an important measure for the salinity and quality of the water. If the conductivity is known early on, it can be decided how and where the water is used and how much of it is to be desalinated. Whether you are using a thermal evaporation process, a reverse osmosis membrane (RO) process, or sourcing sea or brackish water, accurate conductivity measurement is key to reducing energy consumption and operating costs.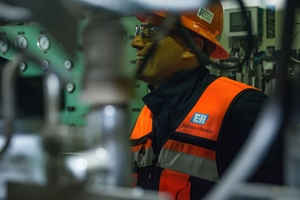 Our competence in the field
Condumax CLS15D, Indumax CLS50D and Memosens CLS82D are digital sensors for conductivity measurement that work reliably and accurately even in hazardous areas. The sensors, which are designed for low maintenance and a long service life, are corrosion and moisture resistant. They use Memosens digital sensor technology, which means that the sensors not only store measurement data, but also record information about their condition, making predictive maintenance easier. Memosens also allows calibration in the laboratory.
Reliable pH measurement in cooling towers
To protect your cooling towers, the pH of the cooling water must be controlled, otherwise you risk rust and corrosion. This problem can be solved by keeping the pH value at the system's corrosion minimum with an acid or alkali control. However, the cooling tower water is atomized and penetrates all joints with conventional wiring, even the connections of critical sensors, causing gradual changes in the readings.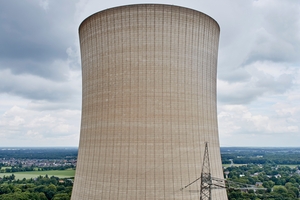 Our competence in the field
All of this is no longer a problem with the Memosens sensor, as it does not contain any metal parts and is completely waterproof. It works 100% reliably and its digital data transmission takes place via an inductive, corrosion-free bayonet lock. The installation of the sensor is simple and ranges from an immersion fitting in the cooling tower sump to flow fittings in glass fiber reinforced plastic pipes.
Accurate, maintenance-free measurement of the water supply
When additional water is required in the power plant's cooling system or as feed water in the steam circuit, you need a reliable flow meter suitable for all types of water sources - water from rivers, wells, the sea, or anywhere else in the power plant. The flow meter must be easy to clean so that it can take long-term accurate measurements and measure large amounts of water with a wide variety of contaminants.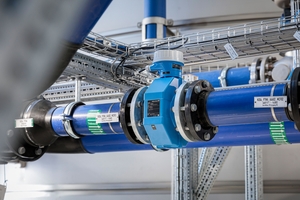 Our competence in the field
The compact electromagnetic flowmeter Proline Promag is specially designed for raw water use and is available in sizes from 0.08 inches to 90 inches (2 mm to 2400 mm). The user-friendly device is easy to set up and operate, has pulse, analog and relay outputs, is maintenance-free and works reliably in main flow lines.
Reuse of process water to reduce consumption and costs
Water can be scarce or needs to be transported to the power plant, and sanitation is another costly task. The best way to reduce the costs of your plant and improve its environmental impact is to treat wastewater and reuse it as cooling, process or boiler feed water. It must be ensured that only high-quality treated water is fed back into your energy generation processes. Hence, you must have absolute confidence in the accuracy of your monitoring and measuring equipment.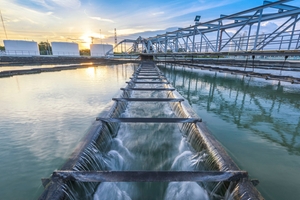 Our competence in the field
You can have full confidence in our range of Liquiline transmitters, analyzers and samplers, as these devices can be operated fully automatically, monitor themselves using Heartbeat Technology and are easy to maintain. Our product portfolio with digital Memosens technology is suitable for monitoring and analyzing all water treatment stages, so that you can reduce the environmental impact and CO2 emissions of your power plant and contribute to low-carbon ecological growth.
The water cycle in power plants
advantages
Thanks to our extensive experience, among other things. in energy and water management, we are experts in water treatment for power generation. From process water to wastewater: Endress + Hauser offers a broad portfolio of measuring devices and tailor-made solutions for monitoring water chemistry in your power plant. With innovative sensor technologies like Memosens you can monitor your processes even more reliably and save time and money.
>65

Years of experience in industrial process engineering

>8.000

Patents and patent applications

40 %

longer service life of the digital Memosens sensors
Scroll through our portfolio!
Liquid analysis

Water, beverages, dairy products, chemicals or pharmaceuticals need to be analyzed every day. Discover our extensive portfolio and you will find exactly the product that perfectly suits your process requirements.

Flow measurement technology for liquids, gases and steam

Flow measurement technology for liquids, gases and steam

Water, natural gas, steam, oil, chemicals and wastewater are just a few examples of substances that are measured every day. Choose the right flow meter for your needs.

The right level sensor for every challenge

The right level sensor for every challenge

Continuous level measurement and point level detection in liquids and bulk solids

Pressure measurement technology

Powerful measuring devices for process pressure, differential pressure, level and flow.

Software solutions for all branches of industry

Software solutions for all branches of industry

In addition to our measurement and system technology, we also offer you corresponding software solutions for all branches of industry.

System products

Product overview System products and data managers - solutions to complete the measuring point