How many trains are there in the USA?
Bullet trains in the US and Canada
In the early 20th century, the railroad was the number 1 mode of transport in the United States and Canada. The rail network expanded rapidly. But with the boom in air traffic and the drastically shorter travel times, the railway lost many customers. In order to counteract this, people back then relied on pure luxury, but that was not enough to operate the passenger trains profitably. Nowadays, mainly goods are transported by rail. In metropolitan areas, the Metroliner and local trains transport commuters.
Amtrak tried very late to win back customers with the help of high-speed trains. Candidates were the German Transrapid, the ICE, the Swedish X2000 and the French TGV. An ICE-1 train and an X2000 were specially shipped to America for advertising purposes! First the X2000 showed what it was capable of and reached a top speed of 250 km / h. From July 17 to October 3, 1993 the 'ice-train' was on tour in America, after which it was on the Metroliner service between Washington and New York until December of the same year. The ICE also drove at 260 km / h, record-breaking speeds for the USA. But ultimately a variant of the TGV won. After that it was quiet about further rapid transit projects. It was not until the Obama administration that the plans for high-speed trains were pulled out of the drawer. It remains to be seen in the next few years whether the USA will do the job again.
Jettrain
The manufacturer Bombardier and the Federal Railroad Administration presented a locomotive for high-speed traffic in Washington in October 2002, which is not supplied with electricity from the overhead line, but is powered by a diesel-electric jet turbine.
---
Turbo Train
The Turbo Trains were a revolutionary new development of high-speed trains. The streamlined gas turbine trains had Jacob's bogies, passive tilting technology and air-conditioned cars. Both Amtrak and the Canadian National Railway operated a few of these trains. Designed for 193 km / h, they were only allowed to travel at 160 km / h in everyday life. In 1982 the last turbo trains were scrapped and scrapped.
---
Acela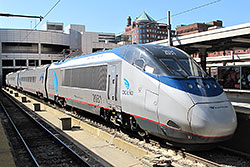 The Acela Express is a distant relative of the French TGV. 20 high-speed trains operate on the Northeast Corridor between Washington (DC), New York and Boston. Due to the lack of high-speed routes, the trains only reach 240 kilometers per hour. In December 2012, Amtrak announced that it would replace the Acela units with a new generation of high-speed trains in the medium term due to capacity bottlenecks.
---