Are MTV Unplugged Shows really 100 acoustical
Scorpions with a new album
Actually, it should be over. The Scorpions have been traveling around the globe on their Farewell tour for three years, but they couldn't refuse this offer. The music broadcaster MTV invited her to take part in the "MTV-unplugged" concert series. And so the Scorpions' first unplugged show took place on September 11 and 12, 2013 in the Lycabettus open-air theater in Athens. "When the idea of ​​an unplugged concert was brought up to us, we immediately thought of Greece," recalls singer Klaus Meine. And guitarist Matthias Jabs adds: "We have great fans all over the world, but the most die-hard fans come from Greece."
Success is back
In the 80s, the Scorpions inspired American rock bands like Bon Jovi. In 1990 front man Klaus Meine (65) composed the hymn to the fall of the Berlin Wall with "Wind Of Change". After that, however, the success didn't really want to continue, the band was in a creative crisis for a long time. Nevertheless, the Scorpions continued, and in 2006 the five rock musicians from Hanover conquered the hearts of the heavy metal community with a performance at the festival in Wacken.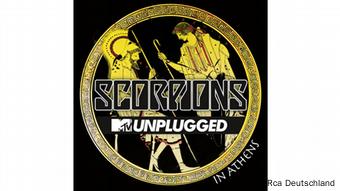 CD cover MTV Unplugged, Scorpions
"MTV-unplugged" is not the band's first foray into acoustic realms. In 2001 they played acoustic sets at their concerts and released the album "Acoustica". The acoustic concert they have now played for MTV in front of 3500 spectators in Athens is completely different. The requirement was to play the show sitting completely on bar stools. "That was a change, but it worked out well in the end," says Meine. You can hear the world hits as well as completely new tracks that have never been played live. With a new instrumentation - including steel guitars, accordion, harmonica, piano and strings - the songs are more poppy, partly country-like. Guest musicians include Johannes Strate from Revolverheld and Morten Harket, singer from a-ha.
It will continue to rock
Scorpions singer Klaus Meine
With around 100 million records sold, the Scorpions are considered the most successful German band worldwide. They have won over their fans primarily with their energetic live shows. In 38 countries around the world, the Scopions wanted to say goodbye to their fans; to date they have visited 23 of them on their Farewell tour. "MTV-unplugged" will be released in 50 countries, and next year fans can look forward to the documentary "Big City Nights" by Katja von Garnier, whose film portrait will be shown in cinemas before it will be released on DVD. It doesn't look like preparing for rock 'n' roll retirement.